Remember my post about those cute gray ankle boots? I still haven't worn them yet but I still love them dearly. (That's okay, right?)
Anyway, that post also featured two fabulous pairs of heels—Chinese Laundry and Nine West—I simply had to buy because they were super great deals. In general I find it pretty hard to resist drool-inducing stiletto heels; if that heel comes with an amazing price tag, I cave every time.
And that weakness is my excuse for the newest addition to my shoe collection: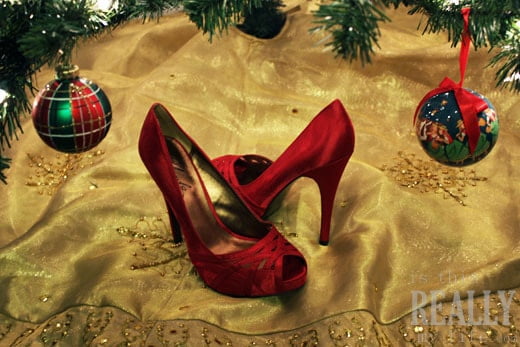 These Charles by Charles David Seduce 2 pumps, which feature a five-inch peep-toe stiletto and red satin, retail for $115. My price? $30.13 plus $2.95 shipping. (Sadly they are no longer available in red.) Oh, how I love a good super fantastic deal—and a very sexy, very festive pair of shoes. Now all I need is a little black dress to go with them!
P.S. I think I just discovered the storyline for my first book!
If You Give a Girl Stilettos
If you give a girl stilettos, she'll want a dress to go with it.
Once she's wearing one of your little black dresses, she'll want you to take her to a party.
After you take her to a party, she'll want to dance. …
Okay, this story definitely needs to be continued because it is SO my thing. Look for the next installment soon! (And don't you dare steal my idea. I will discover where you live and TP your house…in the rain.)