Disclosure: I received sample product and a discount with no requirement to post but I couldn't help sharing because I love supporting local businesses. All thoughts, opinions and true love for my new inner eyeliner is 100 percent honest.
Thanks to a friend of a friend, I was invited to Merle Norman in Draper for an express facial and makeover. When I first read "Merle Norman" in the email, I thought, "Isn't that a mature woman's store?"
If I'm completely honest, the actual phrase may have been "old lady's," not "mature woman's."
I was more than pleasantly surprised to discover Merle Norman is for woman of all ages, even those of us who think they're still 29. The Merle Norman store in Draper carries an impressive collection of makeup and skincare products. Just look at the sheer number of foundations, not to mention the pretty pots of eye shadow and blush.
.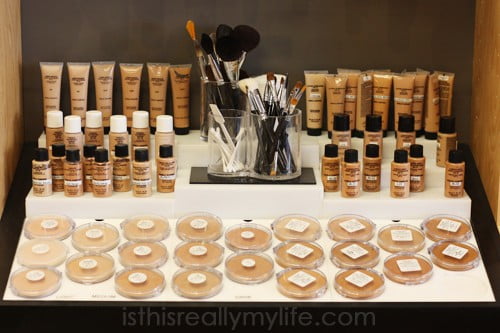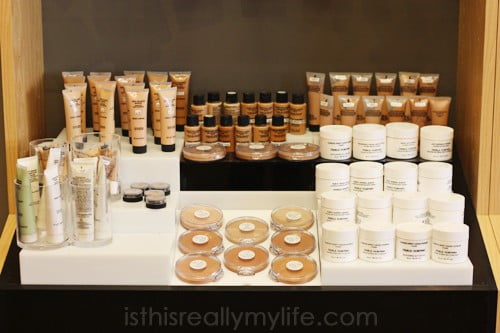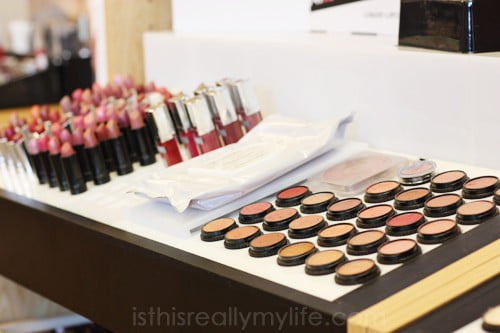 .
What makes shopping at Merle Norman in Draper so fun is the boutique in the back half of the store. It's full of unique clothing, jewelry, accessories and gifts.
But I digress. As usual.
Chelsee (super adorable) greeted me at the door and started me off with their free express facial. Yep, it's free! Feeling like you need a pick-me-up while out holiday shopping? Pop into Merle Norman and you'll get a 10-minute mini pampering with one of four facials: Oat & Chamomile Soothing Facial; Pumpkin & AHA Retexturizing Facial; Lavender & Ginseng Hydrating Facial; Cocoa & Vanilla Brightening Facial. I went with the Cocoa & Vanilla Brightening Facial because let's face it, at 40 my skin can use all the brightening it can get!
.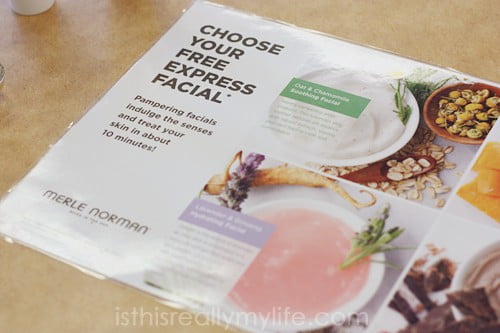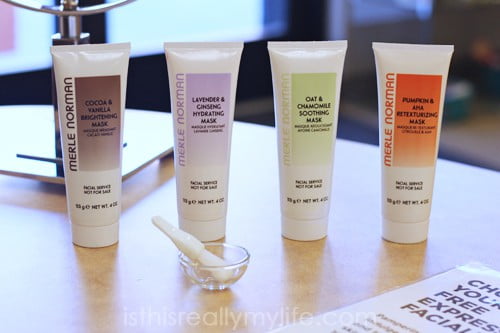 .
It's amazing what 10 minutes can do for your skin and your attitude—both were brightened after a bit of masking and steaming.
I may need to pair an express facial with every visit to Costa Vida. Or Sonic.
Following my super fab facial, Chelsee started my makeover. She asked a ton of questions, which I love because that tells me she's genuinely interested in figuring out a makeup regimen that works best with my skin and preferences (powder vs. liquid foundation; primer vs. no primer, etc.).
Though the application may have been a bit heavier than I'd normally wear, I loved everything I learned…maybe because I too asked a ton of questions. I had Chelsee show me how to:
Properly apply blush (something with which I've struggled).
Incorporate four eye shadow colors for the perfect date-night look.
Use a specific technique when applying eyeliner so smaller eyes look bigger.
.
Here is the before (at home):
And here is the after (also at home):
And here's how the makeover looked via Instagram after driving through Sonic:
After asking a bazillion more questions related to skin care and makeup, I purchased the following. I wanted to purchase a few other items but I'm too cheap to throw out the stuff I'm currently using. Those other items will have to wait.
Pictured:
Brilliant-C Cleanser
Clear Complexion Spot Treatment
Inner Eyeliner in Nude
Retinol Night Complex (one of their newest products)
.
Though I love the Brilliant-C Cleanser because it does a fantastic job removing makeup using a very small amount of product, I'm not sure it's brightening my skin as much as I'd hoped. But I'll continue to use it because it smells amazing, contains Vitamin C and goes a long, long way.
The Retinol Night Complex is supposed to be a miracle worker due to the Retinol and AHA, and while I do think it's helped with fine lines, I may have used it a bit too aggressively leading to some sensitive areas of skin. I'm going to adjust its usage and see what happens.
THE NEXT TWO ARE MY FAVORITES! They deserved their own photo.
I swear the Merle Norman Clear Complexion Spot Treatment is the first acne blemish treatment that really works. Other salicylic acid products are either too drying or don't do their job of cleaning up blemishes in record time. This stuff works, at least on my skin. I am in love with it!
Okay, guys. You have to buy the Inner Eyeliner in Nude. I've tried using a white eyeliner to brighten my eyes but I look like a wannabe teenager. This nude waterline liner (used on my lower lid), is magic—a couple swipes and my eyes look bigger and brighter. I will be buying this until the day someone else is doing my makeup, and probably even then too.
.
*** Get 20% OFF your purchase at Merle Norman in Draper! Simply "like" Merle Norman Draper / Skin Esteem Spa on Facebook and show them you did when checking out. ***
.
Each Merle Norman is individually owned and operated, so you're buying local when you shop at the Merle Norman in Draper. You can get a free facial, pick up some amazing Merle Norman products for yourself and grab a gift or two for a friend. It's basically one-stop shopping—my very favorite!
You can find Merle Norman in Draper on Facebook and Instagram. To learn more about Merle Norman products, visit MerleNorman.com.
.


Feel free to "like" is this REALLY my life? on Facebook. It won't always earn you an extra entry in a giveaway but it will give you warm fuzzies.
Don't forget to sign up for free is this REALLY my life? updates via RSS or email so you don't miss a single awesome post.
.