I'm a McDonald's fan.
They have THE BEST Diet Coke thanks to the proper—and perfect—combination of carbonation and syrup calibrated and serviced by Coca-Cola. (Plus they chill the lines used to dispense the Coke so your ice stays icy instead of watering down all that caffeinated goodness.)
...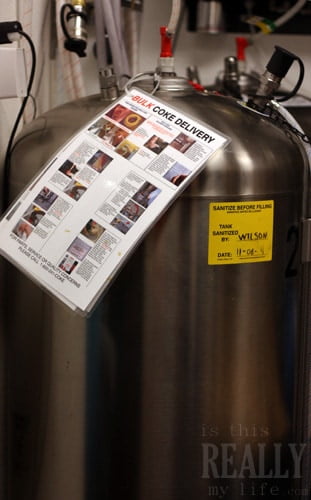 ...
They have the classic Big Mac. Sometimes a Big Mac value meal is the perfect way to battle PMS. Or a crappy day. Or replenish all those calories lost after a triathlon. (Did you know you can add that special sauce to whatever you're ordering? I know! I discovered that after hearing a guy order a McDouble with special sauce. My world has never been the same.)
They have the Fruit N Yogurt Parfait. Combine that with the Fruit & Maple Oatmeal and you have another of my favorite lunch (and breakfast) combos.
...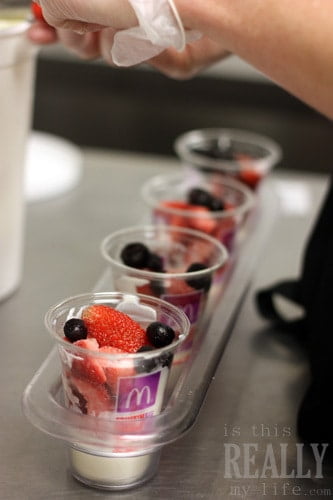 ...
They also have the Happy Meal. My kids are big fans of the Happy Meal. We're talking the drive-thru and a cool toy...it's almost as awesome as Christmas!
...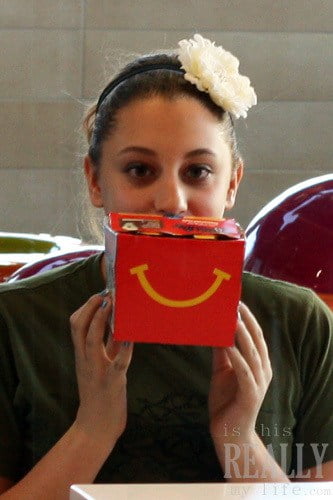 ...
But even better than the Happy Meal's new standard pricing ($2.99 no matter if you order the chicken nuggets or a cheeseburger with only ketchup) is the new and improved McDonald's Happy Meal, which we saw firsthand at a recent McDonald's blogger event in Utah.
The new Happy Meal now automatically includes apple slices; eating a serving of fruit is no longer an option! Apparently even though 88 percent of McDonald's customers knew about the apple slices option, they were chosen in only 11 percent of the Happy Meal purchases. (Sadly, my kids weren't in that 11 percent.)
Beverage choices include fat-free chocolate milk, 1% white milk and a new, smaller size of French fries.
...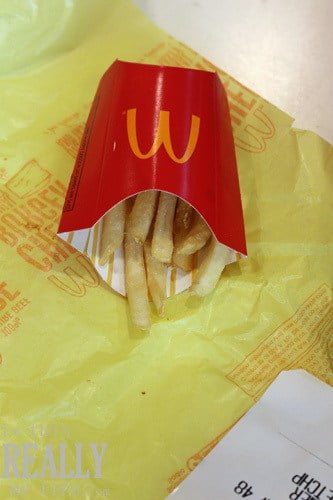 ...
I do love this petite serving of fries because it means a healthier meal for my kids, and the box is pretty darn cute, but it does mean less leftover fries for me to eat. *sigh* And if you have kids who prefer the apple slices, you can get an additional bag in lieu of fries.
After checking out the new Happy Meal, we went on a behind-the-scenes tour of McDonald's.
...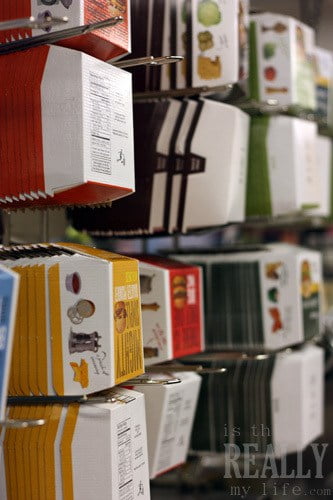 ...
It was cool. Way cool. Like dispelling-common-myths cool.
...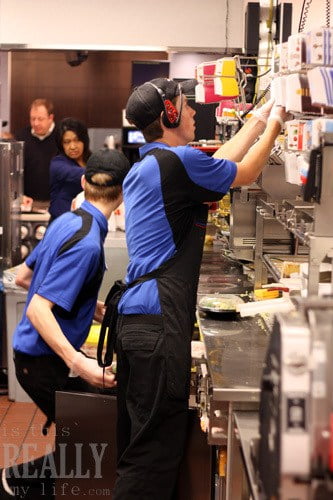 ...
Also, I kind of wish I had a bun toaster in my kitchen. There's nothing better than a pair of hot buns.
...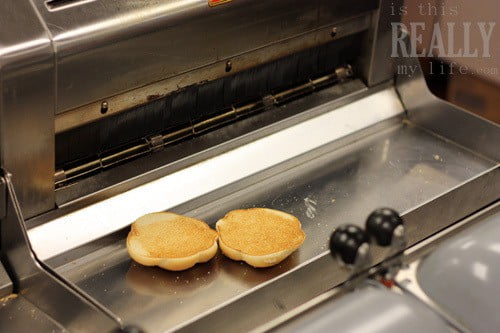 ...
You can see the rest of my behind-the-scenes photos in my McDonald's #HappyUT event Flickr set. You might even catch sight of a Smurf.
McDonald's play dates are some of my favorites because everybody's happy when we go. (Hello, icy Diet Coke on tap.)
And now, thanks to McDonald's, you get to have your very own McD's play date, Happy Meals and all!
One lucky UTAH reader will receive 10 gift certificates for the new Happy Meal, 3 gift certificates for Premium Salads and 3 gift certificates for Premium Chicken Sandwiches.*
For your chance to win, leave a comment telling us your favorite McDonald's menu item. Is it the hot fudge sundae (I love mine with extra hot fudge and nut topping)? Or maybe the pancakes? Perhaps you're a Filet-O-Fish kinda gal.
For extra entries, you can do any/all of the following. Please leave a separate comment for each one you do (each one earns you an extra entry).
~ "Like" ITRML on Facebook (or tell me you already have).
~ Subscribe to ITRML (or tell me you're already a subscriber).
~ Tweet about this giveaway and leave the URL of your tweet.
~ Update your Facebook status with a link to this giveaway.
This giveaway will end at midnight on December 6th and is open to Utah residents only.
* The Premium Southwest Salad and the Premium Grilled Chicken Club sandwich are my faves. (That Big Mac meal is just a treat a couple times a year whereas the Diet Coke is a treat a couple times a week.)
Note: Winner will be notified via email. If no reply is received, a new winner will be drawn.
Disclosure: A big thank-you to McDonald's who provided us with a sampling of their Premium Chicken Sandwiches, the new Happy Meal and the giveaway items for the ultimate McDonald's play date. Now, if only they'd have provided me with my very own McDiet Coke machine...I promise I'd share.