I don't know if it was because the stars aligned or everyone ahead of me on a very long list couldn't make the trip, but somehow I found myself in New York City last week for the McDonald's "Flavors of Summer" event.
…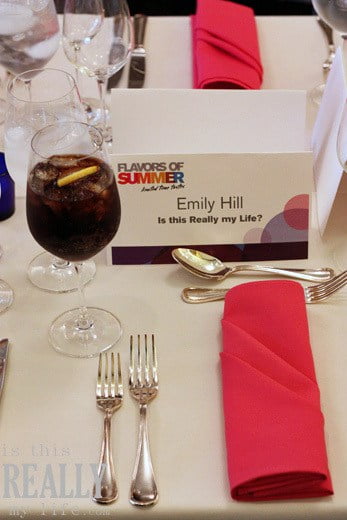 (I totally brought home that place card. I'm such a nerd.)
…
The event was a kick-off for McDonald's new McCafé Cherry Berry Chiller and Blueberry Banana Nut Oatmeal and let me tell you, we tasted summer!
Tuesday evening we found ourselves at the Culinary Loft for a delicious—and somewhat interactive—dinner.
…and a menu featuring fresh berries, a theme of McDonald's new summer menu items. My favorite was the summer watermelon salad with diced watermelon, yellow tomato, fresh basil, mint, goat cheese, olive oil and fresh lime juice. You better believe I'll be whipping it up here at home and posting the recipe.
Also on the menu: apple mango chicken with peach and plum salsa over a bed of red currant, cilantro and almond barley and a warm chocolate truffle cake with raspberry coulis and Chantilly cream.
Yum.
…
…
But enough about how I diced a billion peaches and plums for the salsa while wearing 5-inch heels. (Don't believe me? Just ask this gal who had to put up with me mushing at least half the peaches while trying to remove the pits.)
The true stars of McDonald's "Flavors of Summer" event were the Cherry Berry Chiller and Blueberry Banana Nut Oatmeal. We got a taste (or two or three) of the new summer menu items during Tuesday's midday event on the Empire Hotel terrace.
Disclosure: I am already a fan of their McCafé real fruit smoothies and fruit and maple oatmeal, which meant I had high hopes for these babies.
They did not disappoint.
In fact, I may have suffered from multiple brain freezes as I sucked down the Cherry Berry Chiller.
…
…
The new Cherry Berry Chiller takes ice and blends it with 100% fruit juice with natural flavors. It is made to order, has no added sugar and a 12-oz sports only 200 calories. Not bad for a blended frozen fruit drink!
The Blueberry Banana Nut Oatmeal is made to order and delivers two servings of natural whole grains, fresh in-season blueberries, a hint of real banana and crunchy walnuts. A serving is 290 calories and boasts 5 grams of fiber and 6 grams of protein. Not bad for a quick breakfast.
Also on the menu in New York City? Gorgeous displays full of fresh berries…
…
…
…
…makeup artist Rommy Najor (can't wait to try the eyeliner trick he suggested) and TODAY's style expert Bobbie Thomas and some very, berry clothing and accessories. (I'm almost convinced I should own a pair of white jeans…almost.)
…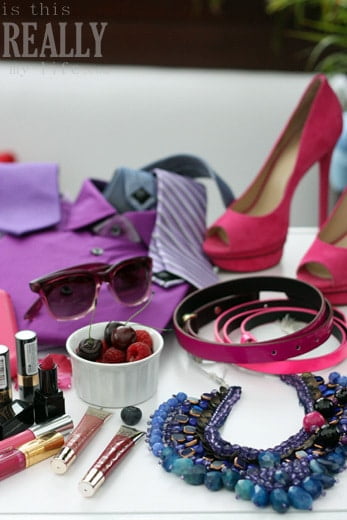 …
I thoroughly enjoyed making new blogging friends, meeting the cutest McDonald's PR people and seeing the sights of NYC—if only from a car window this time around.* Hello, Empire Hotel kitty corner to the Lincoln Center!
For only being there 24 hours, I sure snapped a lot of photos. What can I say? I love my nifty 50 (i.e., my 50mm lens).
…
…
On our way home from the airport I introduced Nathan to the Cherry Berry Chiller and he gave it a thumb's up.
At least I'll take the quickly emptied container as a figurative thumb's up.
* Loralee, Ana and I passed Gerogetown Cupcake while on our way to the Culinary Loft and I nearly hopped out of the car to grab a few goodies. Trust me, I was super tempted. The only thing stopping me were those five-inch heels combined with a moving vehicle.
Disclosure: McDonald's provided me with flight, hotel and other expenses related to the Flavors of Summer event. However, they did not provide me with the multiple rain freezes. Those were totally the Cherry Berry Chiller's doing.