I went to New York City once.
I had no idea it had boroughs.
I had to look up the definition of borough because my best guess was it meant "neighborhood," but it's actually a bit more official than that. A borough is a "self-governing incorporated town in some U.S. states, such as New Jersey" or "one of the five administrative units of New York City."
Don't say you never learned anything while reading this blog.
Because I tend to learn better when information is presented visually, I found this infographic on New York City's five boroughs super helpful.
…
If only it had come out two years ago when my mom, sister and I visited New York. I'd at least have known on which restaurants to focus my appetite attention.
I think we only visited the Manhattan borough during our trip. We bought the New York CityPASS and packed in just about every touristy thing you could do: Empire State Building, Statue of Liberty, pizza, Times Square, Wicked, Mama Mia, pizza, MOMA, the Met, Gray's Papaya, Levain Bakery, 9/11 Memorial, pizza and Rockefeller Center. Yet I knew there was still much to be discovered.
So many subway stops, so little time.
…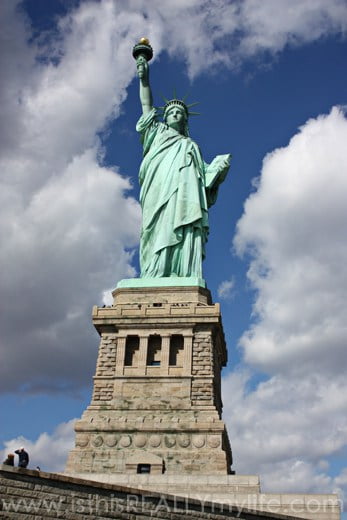 Because it was a girls trip, my dad covered our hotel stay. (Thanks, Dad!) He found a Marriott hotel not far from Times Square that had an awesome continental breakfast. It was super nice to eat a well balanced meal each morning (i.e., lots of bacon) because it was the only way we had the energy to walk as much as we did.
Half of the walking was going from one side of the subway station to the other because we could never get those trains correct.
I fell in love with New York City on that trip. It might have been the pizza (delicious) or the shopping (multilevel H&M), or maybe it was the 9/11 Memorial (stunning) or nightlife (that city NEVER sleeps). Whatever it was, I'm ready to return. And maybe this time I'll stay at the Marriott right in the middle of Times Square.
If I put all our Christmas shopping on our Marriott Rewards card, that should be no problem.
Because I adore traveling so much (and because we may be giving the kids a trip to San Diego in June), I have to share one more Marriott infographic: San Diego Whale Watching.
…
We're planning a trip to San Diego next summer and I'd already planned to visit the San Diego Zoo, LEGOland (for the little ones), the Gaslamp District and the beach (every day), but I had no idea we might also be able to do some serious whale watching. That is definitely going on our San Diego to-do list.
Did you know…
Marriott International has more than 3,800 properties in over 74 countries and territories around the world? I knew they were international but that is a serious international presence. I'm actually a huge fan of Marriott hotels and not just because my dad comped our New York trip. During our recent trip to Europe, we were able to stay two nights in a Marriott hotel just outside Rome, Italy for free thanks to our Marriott Rewards points.
Of course we spent all the money we saved on gelato, panini and fresh mozzarella. Good times.
I was selected for this opportunity by Clever Girls Collective, however all content and opinions expressed here are my own.
…


Feel free to "like" is this REALLY my life? on Facebook. It won't always earn you an extra entry in a giveaway but it will give you warm fuzzies.
Don't forget to sign up for free is this REALLY my life? updates via RSS or email so you don't miss a single awesome post.
…