Disclosure: This is a sponsored post for FitFluential LLC. Thoughts, opinions, and batches of maple pecan granola are 100 percent honest and all mine.
Did you know 80 percent of the world's maple syrup comes from Canada, the majority from Quebec? I mean, I knew Canada was proud of their maple syrup thanks to that huge maple leaf on the flag, but 80 percent? That's pretty amazing. Their maple trees must have some serious skills.
Mad skills indeed considering Canadian maple syrup is 100 natural (nothing else in that bottle, baby) and made directly from the sap of the sugar maple tree. The sap is boiled down 40 times—yes, 40 times!—to make the beautiful Canadian maple syrup you see pictured above and below.
I wanted to make sure you knew this was pure Canadian maple syrup.
I know...the first thing that pops into your head when you hear "Canadian maple syrup" is how delicious it would be poured over pancakes or as a dip for your bacon. But it's so much more than a topping. It adds depth to things like glazes, rubs and barbecue sauces and makes for some seriously tasty maple pecan granola.
...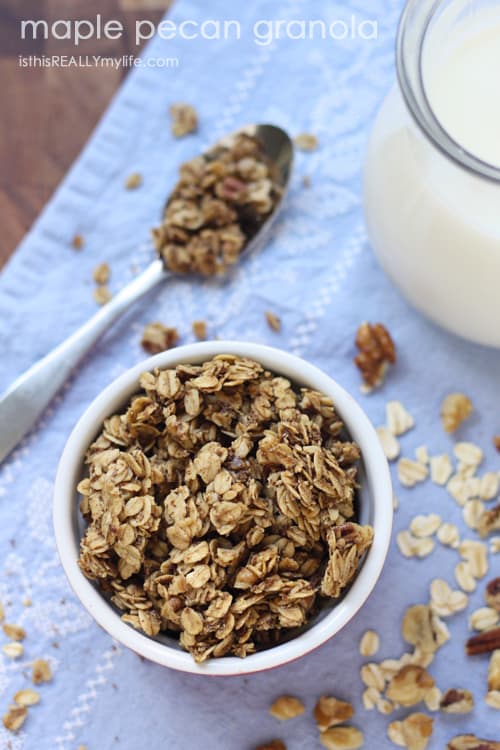 ...
I'm not kidding when I say this maple pecan granola is yummy. I should know because I totally had a bowl of it after the photo shoot. And it's healthy to boot thanks to Candian maple syrup being the only sweetener. And because that sweetener is unprocessed, it contains vitamins and minerals like manganese, riboflavin, zinc and potassium not to mention 54 different antioxidant compounds.
Way to fight those free radicals, Canadian maple trees!
To learn morea bout Canadian maple syrup, visit PureCanadaMaple.com. You'll discover some pretty cool facts about their pure maple syrup and find some tasty maple syrup recipes like an all-natural maple sports drink and chestnut, mushroom and maple quinoa.
WAIT! I almost forgot maple water! I just discovered maple water is basically maple sap, the clear liquid that flows naturally through sugar maple trees. Like its syrup counterpart, maple water is chock full of the electrolytes, minerals and antioxidants naturally occurring in sugar maple trees. Plus it's naturally low in sugar and has only 20 calories per serving (half the calories of coconut water), making it healthy and refreshing. Mixologists (gosh, I love that word!) use pure maple water in ice cubes and cocktails and chefs like to use it in marinades, soups, ice creams and sorbets.
I wonder what maple water ice cubes would taste like in Diet Coke? I may need to try it!
Printable recipe for maple pecan granola below.
...

Maple Pecan Granola
Pure Canadian maple syrup is the secret to the rich flavor of this maple pecan granola. Super easy and super delicious! Throw in a handful of raisins for added texture and flavor.
Author:
Emily ~ isthisREALLYmylife.com
Ingredients
4 cups old-fashioned oats
½ cup chopped pecans
½ cup chopped walnuts
½ cup ground flax seed
2 tsp cinnamon
⅓ cup canola oil
⅔ cup pure Canadian maple syrup
1 tsp maple extract
1 cup raisins (optional)
Instructions
Preheat oven to 300 degrees. Line a baking sheet with parchment paper.
Mix oats, pecans, walnuts, flax seed and cinnamon in a large bowl.
Whisk canola oil, maple syrup, maple extract and salt together in a small bowl. Pour over oat mixture and stir until oats are thoroughly coated.
Spread the granola evenly on prepared baking sheet. Bake 40 minutes or until lightly browned.
Cool completely before breaking into chunks and storing in an airtight container.
...

Feel free to "like" is this REALLY my life? on Facebook. It won't always earn you an extra entry in a giveaway but it will give you warm fuzzies.
Don't forget to sign up for free is this REALLY my life? updates via RSS or email so you don't miss a single awesome post.
...