Have you ever tried Malabar spinach? This nutritious tropical leafy green is a star in our 12 Flavorful Malabar Spinach Recipes round-up.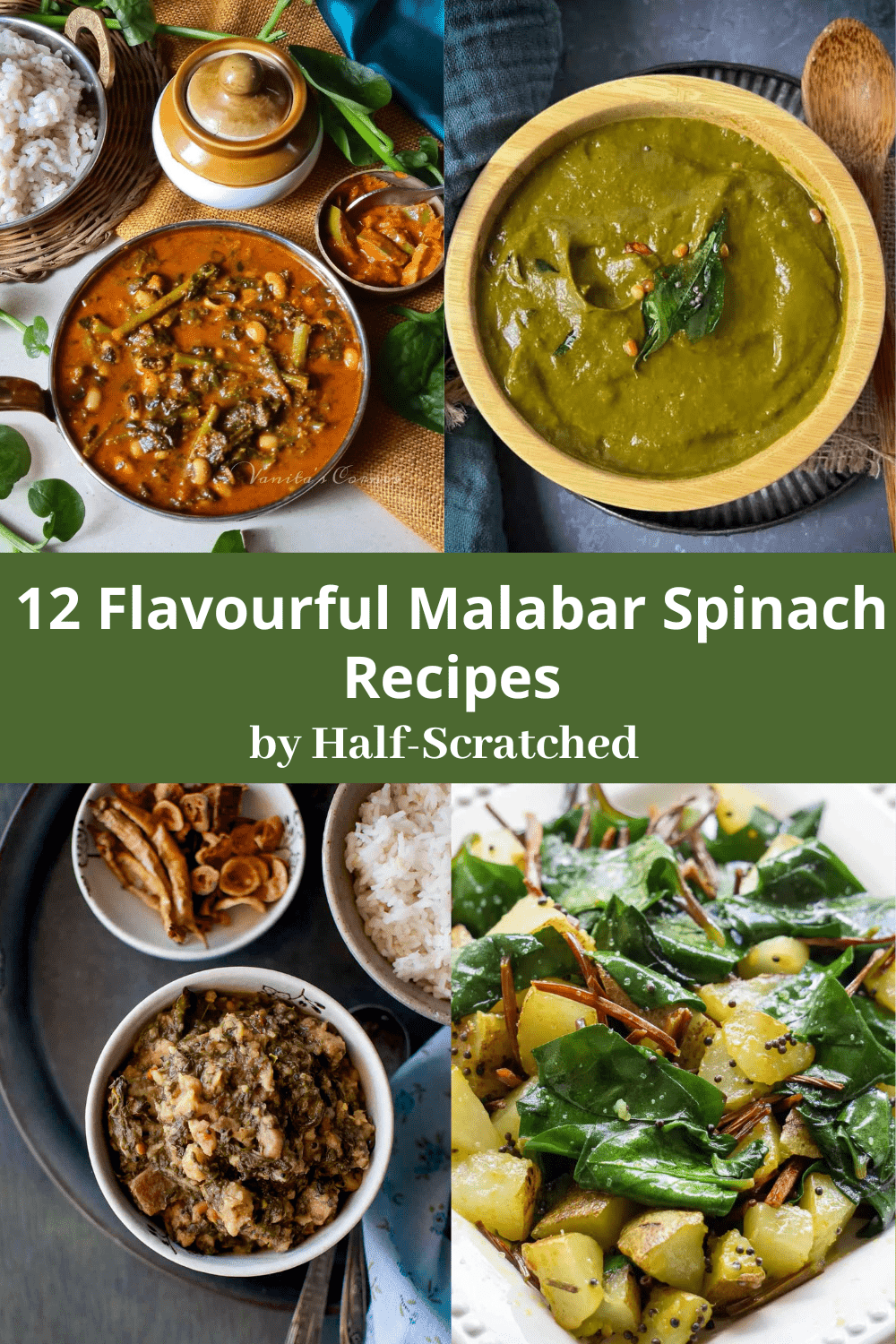 Malabar spinach is a tropical leafy green with heart-shaped succulent leaves and a mild flavor. It has a comparable taste to spinach and it can be eaten raw or cooked, but once cooked it has a similar texture to okra rather than spinach.
It is cultivated in tropical Asia and Africa where it is widely used in local dishes. Malabar spinach is an excellent source of antioxidants, minerals and vitamins. High in iron, calcium, Vitamin C and Vitamin A. It is popular in Indian and Bengali cuisine and used in dal, curry and chutney recipes. In Chinese and Vietnamese cuisine it is commonly used in soups and stir-fries.
In our 12 Flavorful Malabar Spinach Recipes round-up, we have included many traditional recipes to cook this nutritious leafy green. Get inspired below.
1. Malabar Spinach Chutney
This healthy and nutritious Malabar Spinach Chutney by Spicy Tamarind is made with Malabar spinach, chili, jaggery, tamarind and tempering. A very popular recipe in the coastal regions of Karnataka which can be served with a South Indian breakfast or as an accompaniment with Indian-inspired lunch or dinner.
2. Kanda Bachali Kura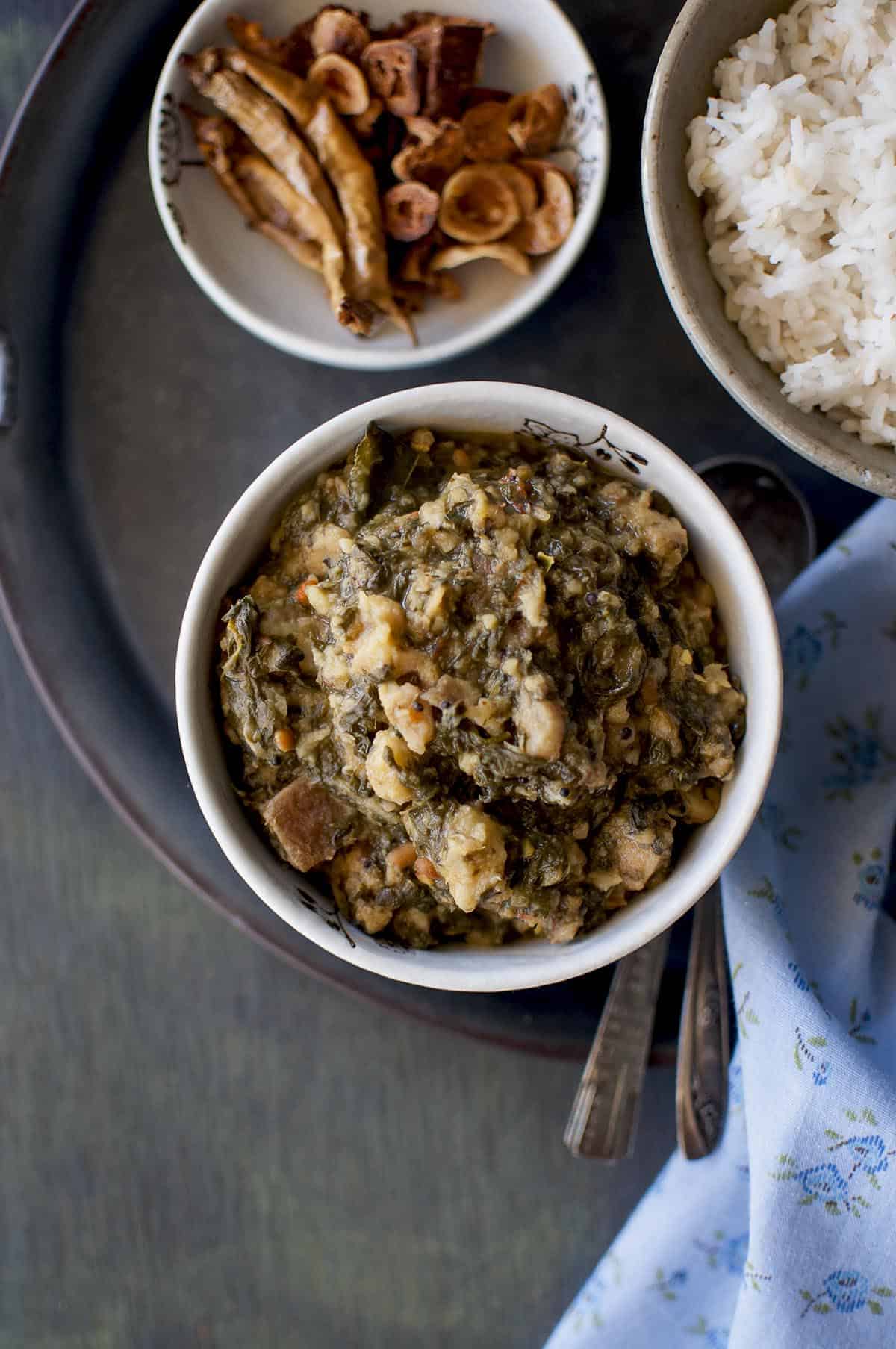 Kanda Bachali Kura is a simple malabar spinach curry. This traditional Andhra recipe by Cook's Hideout with Malabar spinach, elephant yam, dal and Indian spices makes a wonderful side dish for rice or roti.
3. Malabar Spinach Curry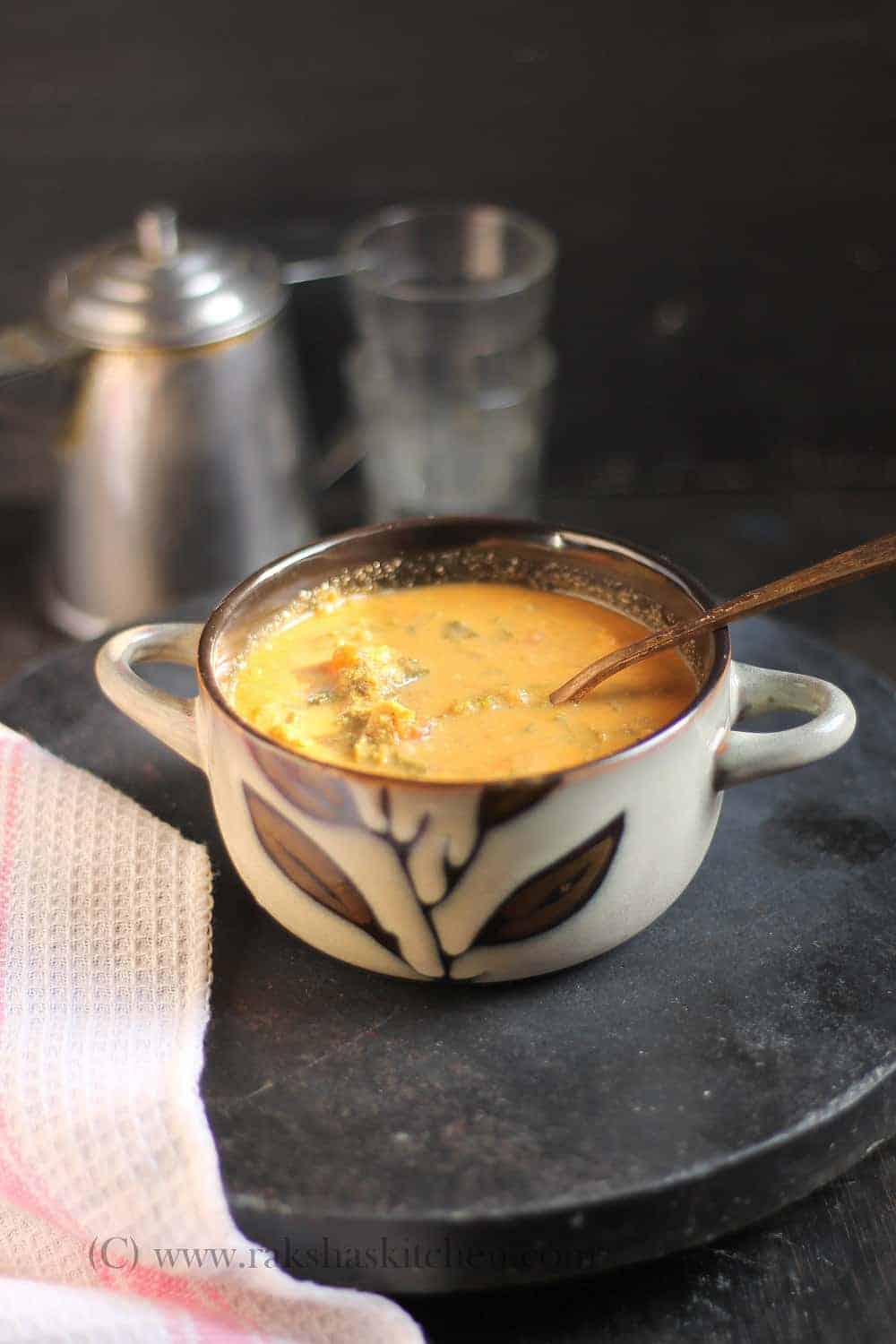 This delicious Malabar Spinach Curry by Raksha's Kitchen also called Vaalchi Bhajiche Tonak is a mildly spiced curry. In this recipe, Malabar spinach leaves are cooked in a coconut-based curry known as tonak.
4. Spiced Malabar Spinach Dal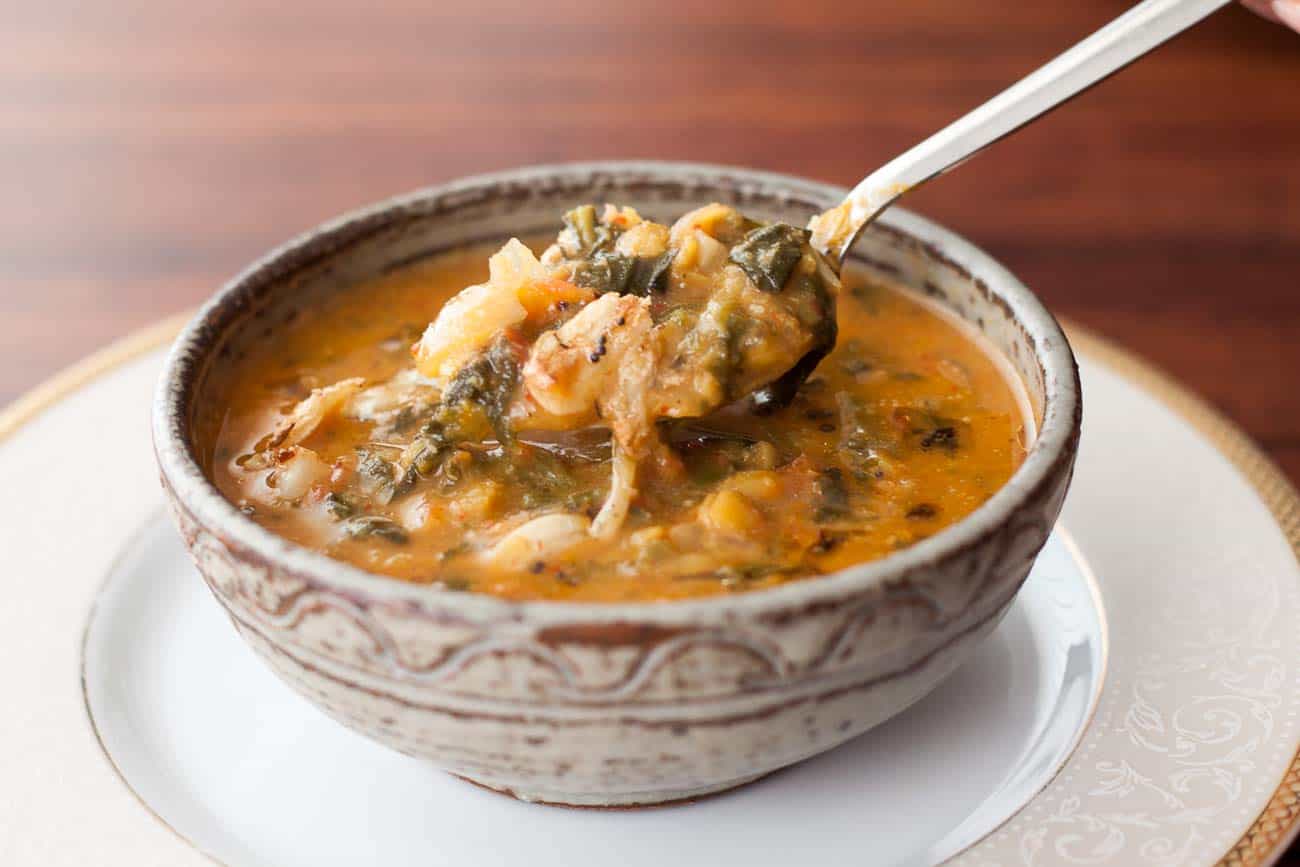 Make this tantalising Spiced Malabar Spinach Dal by Archana's Kitchen. Named Konkan Style Vali Bhajji Ambat this traditional dish originates from the north Kanara, a region of Karnataka. In this recipe, the dal is pressure cooked with Malabar spinach and split toor dal and then simmered with a roasted coconut masala.
5. Malabar Spinach and Potato Stir Fry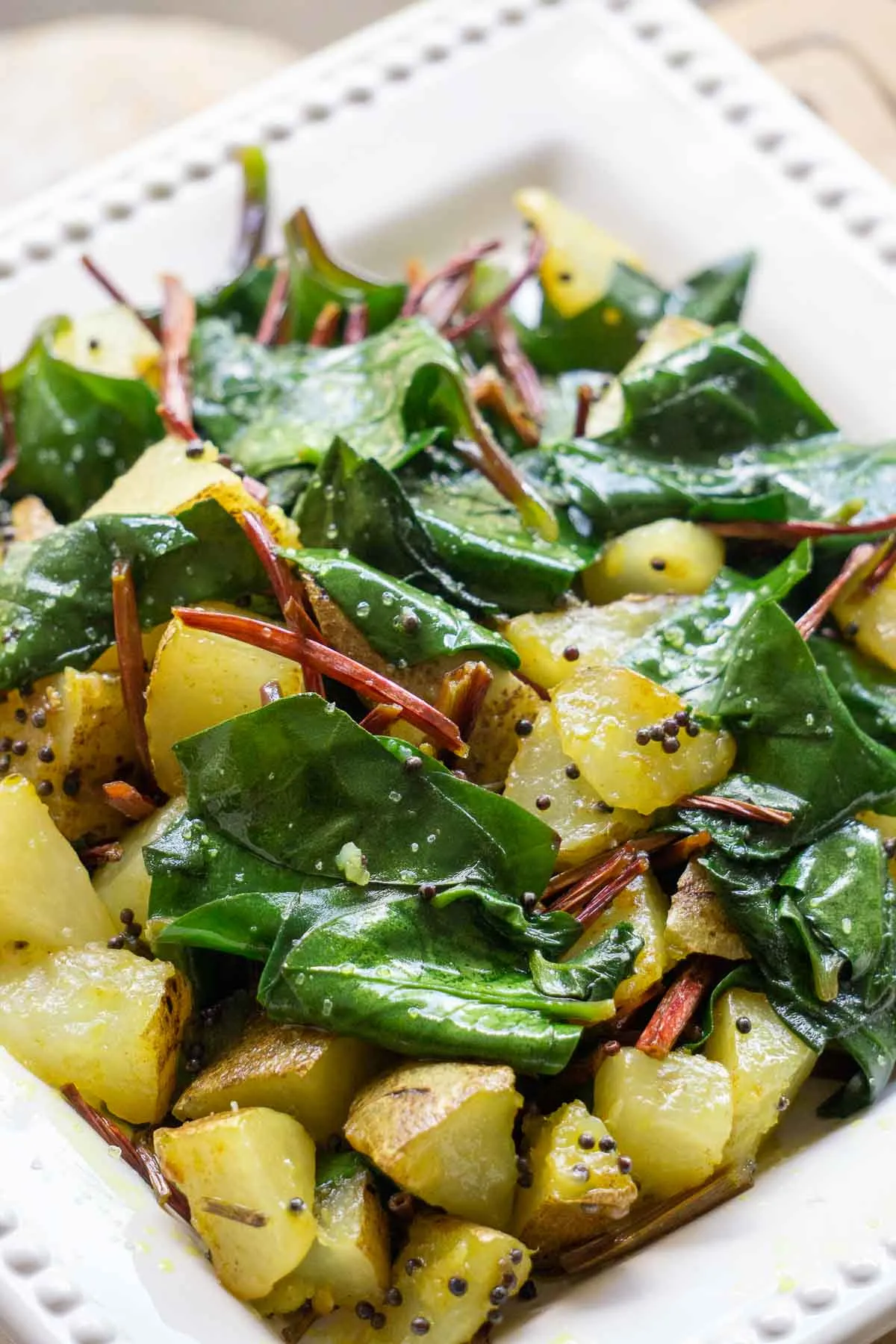 This tasty Malabar Spinach and Potato Stir Fry by Pith and Rind is a simple stir-fry that can be made in 20 minutes. With only a few ingredients – coconut oil, mustard seeds, green chilis, potato and Malabar spinach this recipe makes a wonderful side dish to any meal.
6. Malabar Spinach and Black Eyed Peas Curry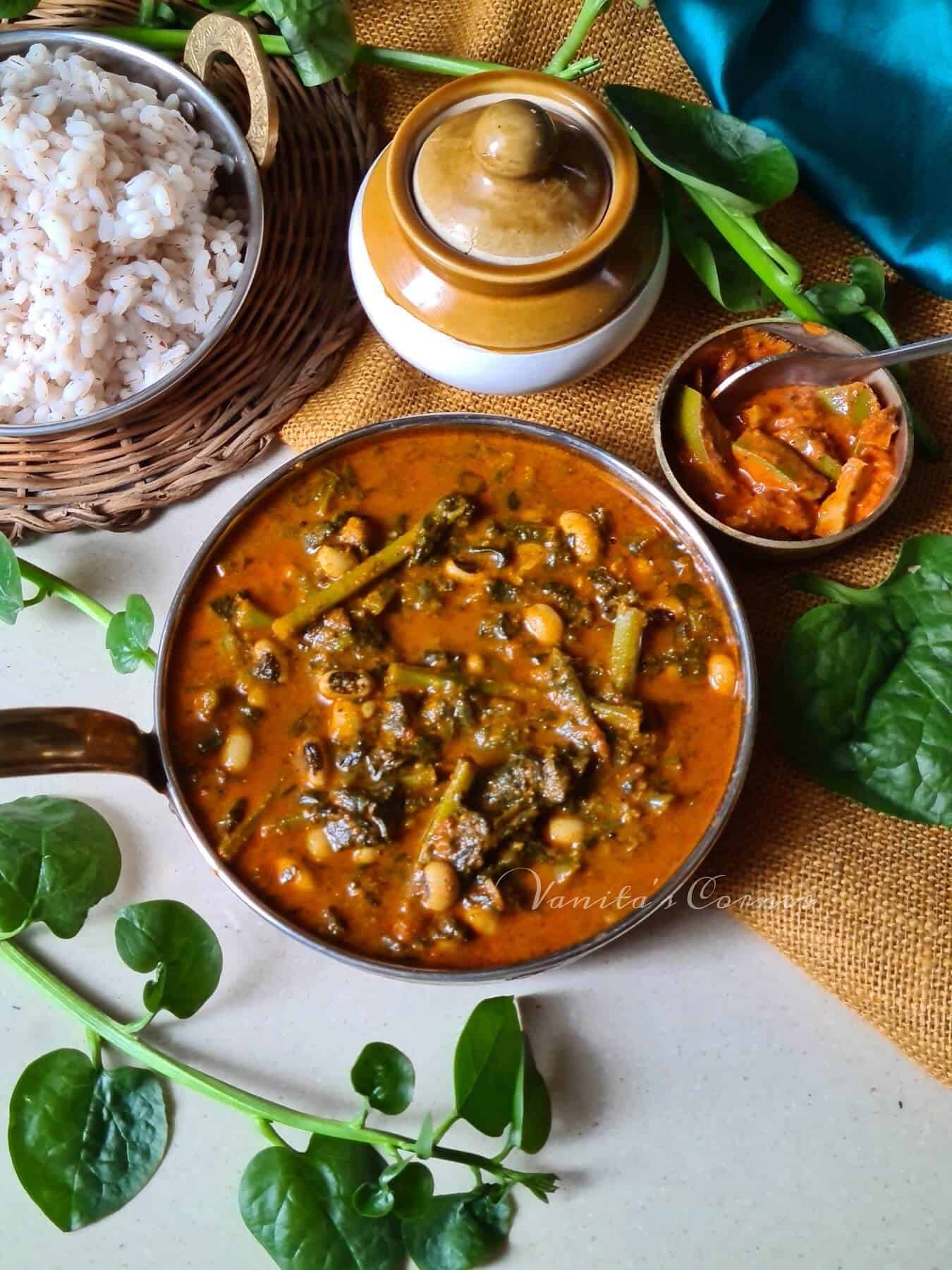 We can only imagine how amazing this Malabar Spinach and Black Eyed Peas Curry by Vanita's Corner tastes. This Mangalorean style Basale Chavli Curry with black-eyed peas and Malabar spinach is cooked in a delicious coconut-based sauce.
7. Macher Matha Diye Pui Shak Chorchori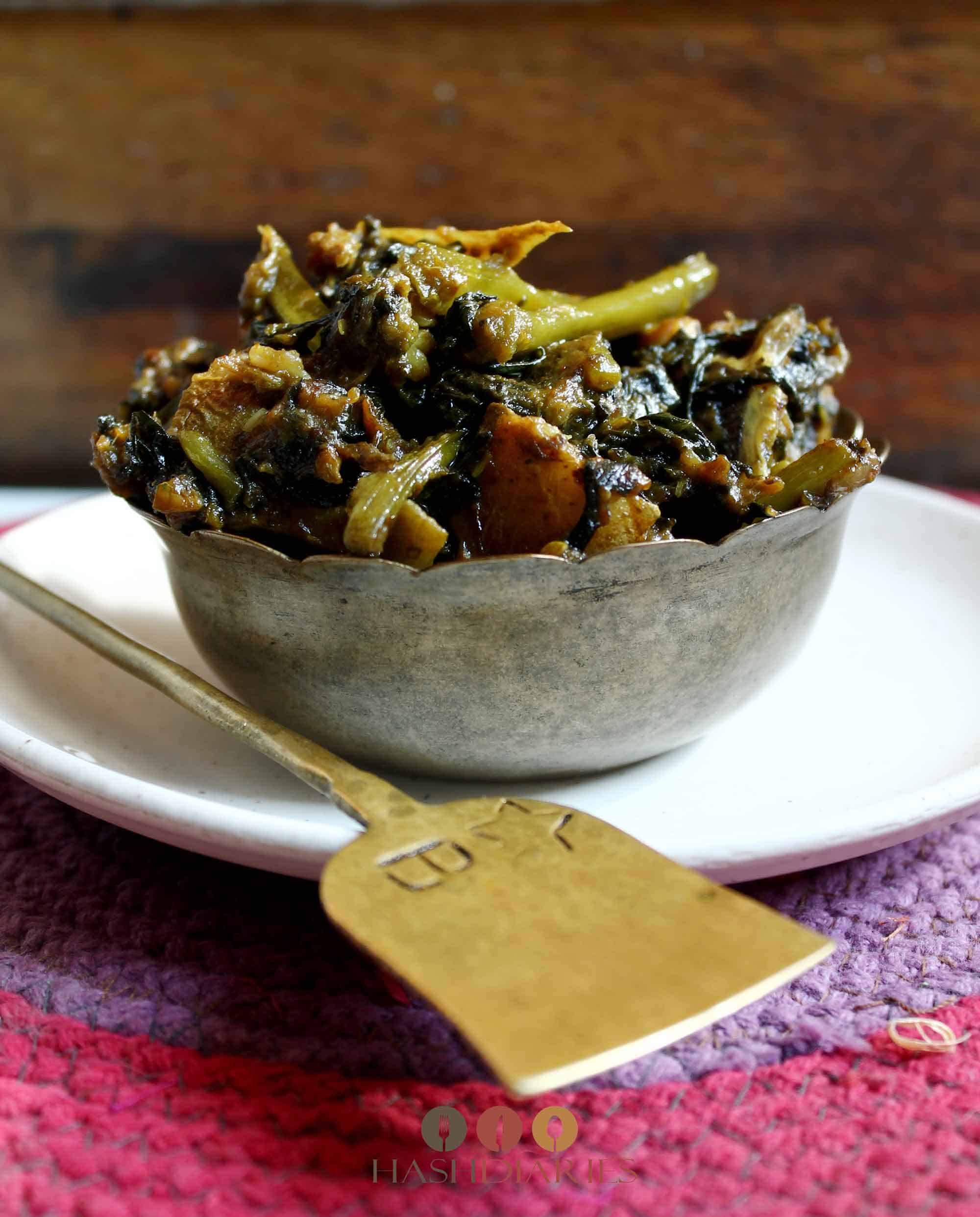 This incredibly tasty Macher Matha Diye Pui Shak Chorchori by Speaking Aloud Magazine is a traditional Bengali recipe. In this vegetable-based dish pumpkin, aubergine, potato, radish and Malabar spinach are cooked with green chilies and fish heads.
8. Malabar Spinach Horsegram Curry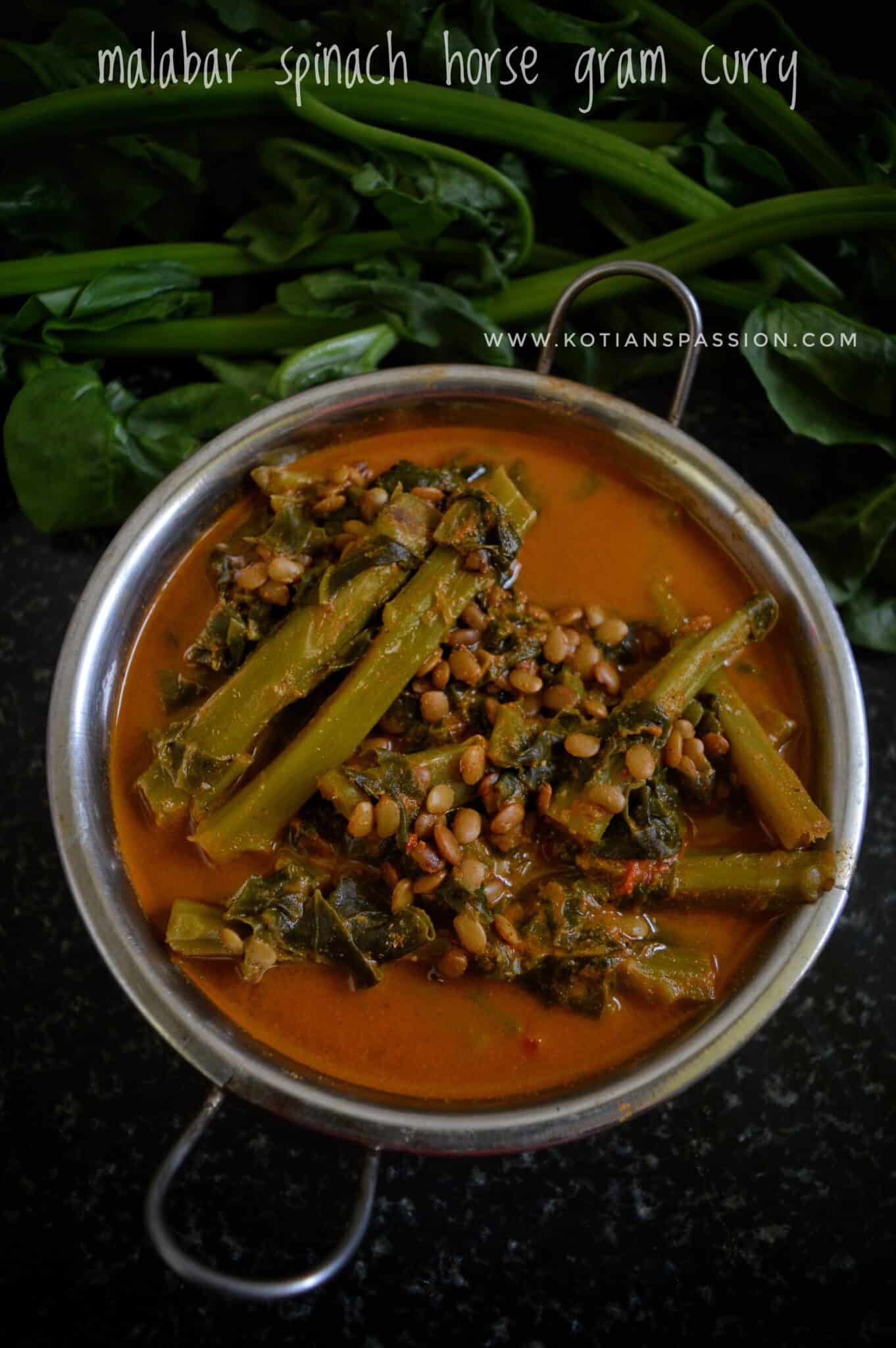 This healthy Malabar Spinach Horsegram Curry by Kotians Passion also called Kudu Basale Saar is a common curry combination in Mangalore. Malabar spinach and horse gram are cooked in masala coconut gravy in this plant-based nutritious dish.
9. Malabar Spinach Stir Fry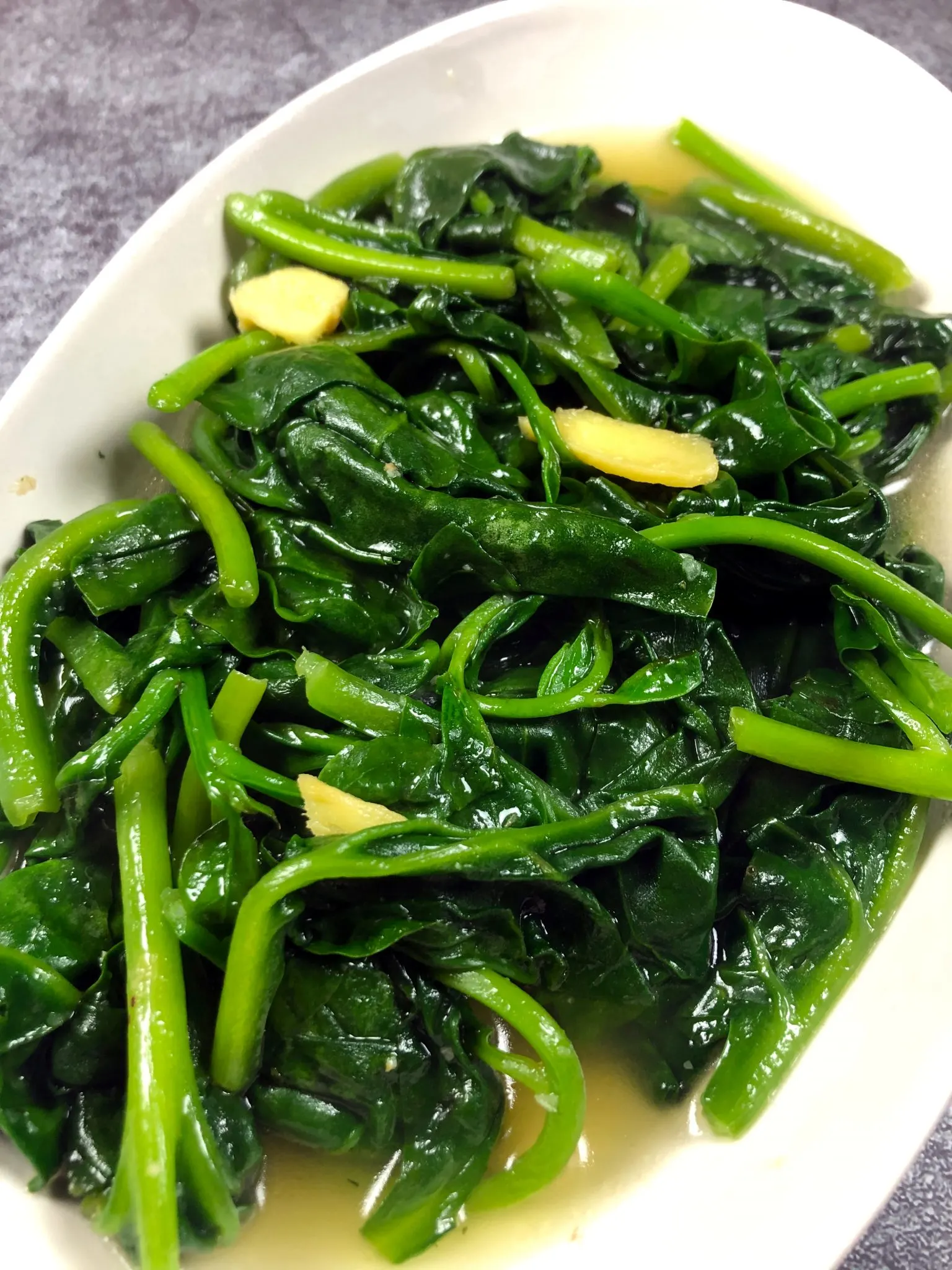 The simplest way to enjoy Malabar spinach is following this Malabar Spinach Stir Fry recipe by Oh Snap Let's Eat. In this healthy tasty stir-fry, Malabar spinach is simply cooked with ginger and little oil.
10. Malabar Spinach Fritters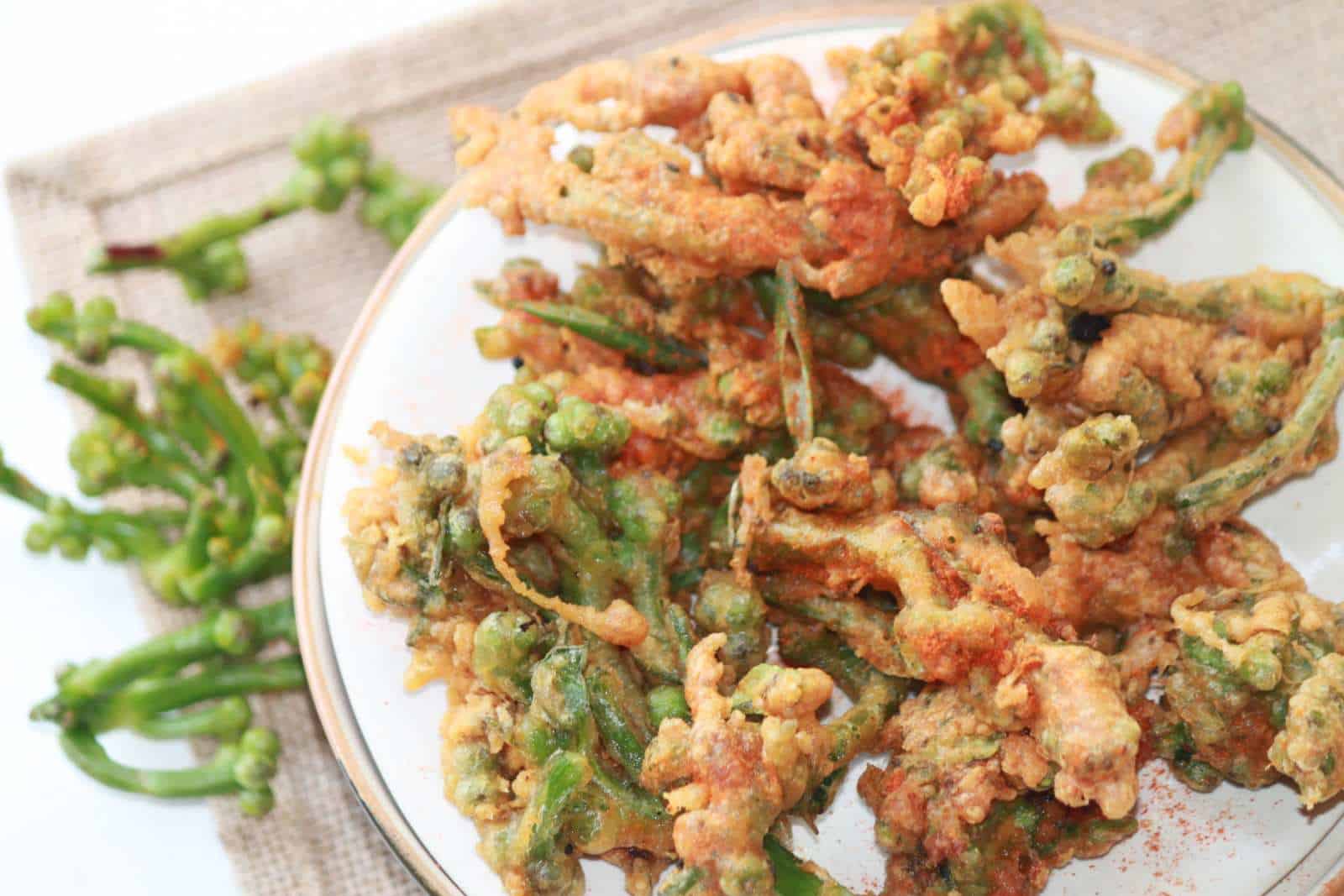 These Malabar Spinach Fritters by Archana's Kitchen are crunchy yummy moreish fritters with a peppery taste. In this fun recipe, each Malabar spinach leaf is simply dipped in spiced gram and corn flour batter and fried until crispy.
11. Vietnamese Malabar Spinach and Ground Beef Soup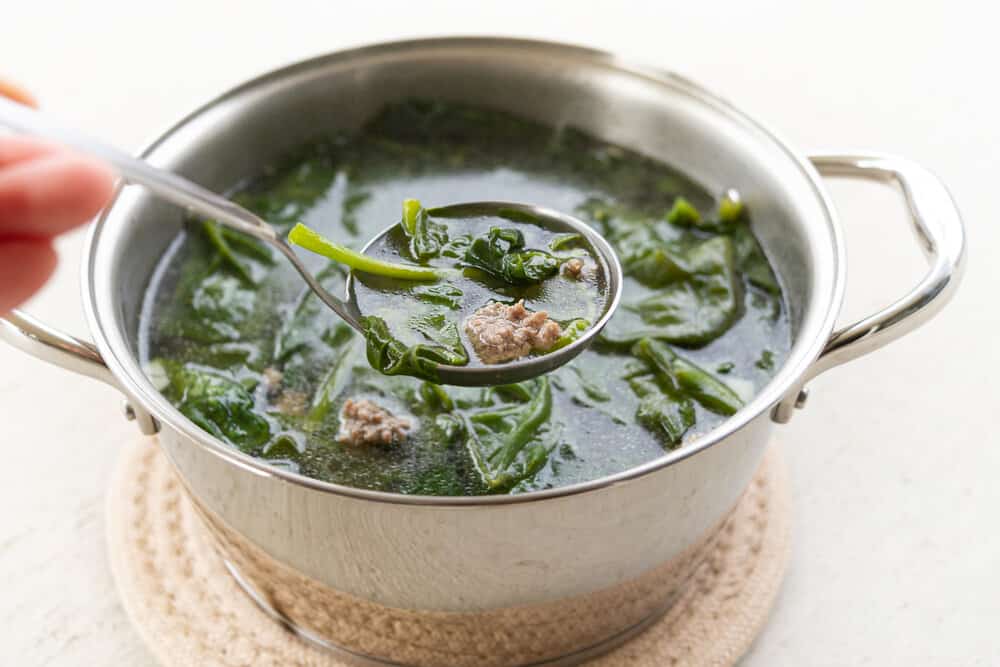 Malabar spinach is commonly found in Asian supermarkets and widely used in local cooking. This easy Vietnamese Malabar Spinach and Ground Beef Soup by Vicky Pham is a quick nourishing recipe utilizing this nutritious vegetable.
12. Chan Choy Tong
Lastly, another traditional Malabar spinach recipe is Chan Choy Tong by Malaysian Chinese Kitchen. This Chinese Malabar spinach soup with ground pork, dried anchovies and salted duck egg makes a nourishing weeknight meal.