No, I'm not talking about the U2 concert at Rice Eccles Stadium on May 24th or the Journey, Foreigner, Night Ranger concert at Rio Tinto Stadium on July 21st, though you'll find me at both of those this summer. What I'm talking about is letting your kids take center stage so they can live out their rock star dream!

I love the idea behind School of Rock, and not just because Jack Black starred in a movie with a similar name. (Holy crap, I love that movie!) Though I've never dreamed of being the lead guitarist in a garage band, plenty of kids have. I swear one of my girls had the dream not too long ago. (Do they teach lead cello at School of Rock? I will have to look into that!)
Why not indulge your kids a titch (the good kind of indulge) and see if they not only have the talent but also whatever it is that makes a rock star a rock star?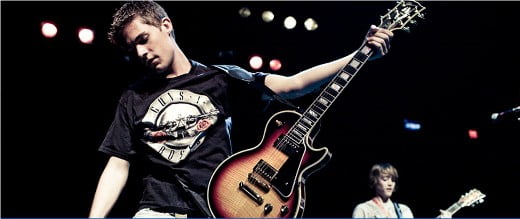 ...
I love the School of Rock YouTube channel. The "tour" (below) is a great peek into what goes on at the various schools (about 70 schools in 26 states plus a couple in Mexico)—the all-stars program sounds amazing! You can also watch videos of the kids' performances...some of those kids can really rock!
...
If you aren't quite ready to commit your dreamers to full-time rock star training, or perhaps you'd just like to test the musical waters, most locations offer summer sessions—a musical boot camp of sorts. Here in Utah you'll find the School of Rock in both Sandy and Park City, and both locations have summer sessions for all skill levels and both kids and adults alike. These one-week all-day summer camps immerse the kids in intensive musical learning experiences. They get to study speed-learning song parts, rehearsing and performing with a band, recording basics and introduction...and that's just the beginning. (For more info on what's covered in the camps, click here.)
Camp is Monday through Friday, 10am to 3pm and tuition is $400 a session. Before you wonder if you've read that right, I've done the math. That's only $16 an hour—a heck of a lot cheaper than your typical music lesson. And these are NOT your typical music lessons, believe you me.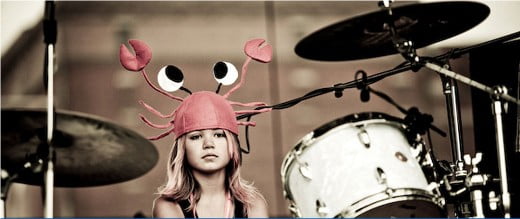 ...
The Sandy camp dates are June 20th-24th; July 11th-15th; July18th-22nd; August8th-12th. Park City offers three one-week summer camp sessions, but I don't have those dates handy. You'll have to contact them to get more info. The sessions do fill up really, really quickly, so you won't want to wait long to check them out and get your budding rock star registered.
...
And now for today's giveaway...because School of Rock wants to make it a rockin' summer for your kids.
...
School of Rock in Sandy, Utah (sorry, non-locals!) is giving away one month of free lessons (4 total) plus one Rock 101 group rehearsal!
...
For your chance to win, leave a comment telling me what instrument your rock star plays or would most like to play.
For extra entries, you can do any/all of the following. Please leave a separate comment for each one you do (each one earns you an extra entry).
~ "Like" School of Rock on Facebook (for another chance to win!).
~ Follow School of Rock on Twitter.
~ "Like" ITRML on Facebook.
~ Become a friend of ITRML on Google Friend Connect (sidebar) and/or subscribe to ITRML.
~ Tweet about this giveaway and leave the URL of your tweet.
~ Update your Facebook status with a link to this giveaway.
This giveaway will end at midnight on Tuesday, May 24th. Note: Options for instruments are guitar, bass, drums, keyboard and vocals. No experience necessary though you do need an instrument.
Winner will be notified via email. If no reply is received, a new winner will be drawn.
Disclosure: School of Rock provided me with the giveaway for this post. They did not provide me with U2 or Journey tickets, but if they had, I'd have been way okay with that.
P.S. You might want to see if you can catch the School of Rock All Stars on tour this summer. The "Rock The House" tour kicks off on July 9th, and the kids are teaming up with the Ronald McDonald House Charities. I couldn't find a link to the tour dates, so I've listed them below:
7/9 Riviera Supper Club, San Diego, CA
7/10 The Echo, Los Angeles, CA
7/11 Camp LA, Los Angeles, CA
7/11 Center for the Arts, Coral Springs, FL
7/12 Rickshaw Stop, San Francisco, CA
7/12 BB Kings, West Palm Beach, FL
7/13 Backbooth, Orlando, FL
7/14 The Spot, Portland, OR
7/15 Chop Suey, Seattle, WA
7/15 Tipitina's, New Orleans, LA
7/16 House of Blues, Houston, TX
7/17 House of Blues, Dallas, TX
7/19 The Studio/WebsterHall, NY, NY
7/19 Stony Pony, Jersey Shore, NJ
7/20 Crazy Donkey, Long Island, NY
7/20 World Cafe Live, Philadelphia, PA
7/21 Red Palace, Washington, DC
7/27 Varsity, Minneapolis, MN
7/29 The Lodge, Naperville, IL
7/30 Schuba's, Chicago, IL
7/31 The Maker Faire Festival, Detroit
8/1 Magic Stick, Detroit, MI
8/2 Rock Hall, Cleveland, OH