This series is written by my daughter Madison. She has the absolute coolest taste in music. Post may include affiliate links to support my Diet Coke habit.
No, it's not "Mike Snow." It's pronounce "maik sno." Miike Snow is a Swedish indie pop band that was formed in 2007. The band consists of producing team Bloodshy & Avant and singer Andrew Wyatt. The bans is usually represented by the image of a jackalope.
The two songs that I most like are "Animal" and "Black & Blue."
.
Miike Snow: Animal
.
Miike Snow: Black & Blue
.
I also really like "Song for No One" and "Cult Logic."
Leave a comment with which one you liked the best!
Credit to Wikipedia.
.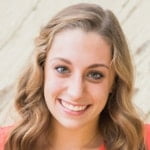 .
~ Maddie
xoxo
.
Past New Music Mondays:
.

Feel free to "like" is this REALLY my life? on Facebook. It won't always earn you an extra entry in a giveaway but it will give you warm fuzzies.
Don't forget to sign up for free is this REALLY my life? updates via RSS or email so you don't miss a single awesome post.
.