This post is part of a new series written by my daughter Madison. She has the absolute coolest taste in music. Post may include affiliate links to support my Diet Coke habit.
Sorry for the late day post; it just gets a little crazy here now that swim has started. Mom and I keep forgetting. :)
This week's artist is Matt and Kim. They have been one of my top artists for a long time. I have their CD Lightning and I put it in while driving almost all the time. My top two songs from them are "Let's Go" and "Daylight." I'll throw in two of their newer songs, "Not Alone" and "Hey Now."
A couple things about Matt and Kim (Wikipedia is my best friend): the band was created in 2004 in Brooklyn, New York; a lot of their songs have been featured in various TV shows and videogames like FIFA and on Late Night with Jimmy Fallon.
.
Matt and Kim: Let's Go
.
Matt and Kim: Daylight
.
Matt and Kim: Not Alone
.
Matt and Kim: Hey Now
.
Some more Matt and Kim songs I love are "Wires" and "It's Alright." Check 'em out!
.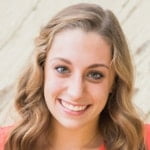 .
~ Maddie
xoxo
.
Past New Music Mondays:
.

Feel free to "like" is this REALLY my life? on Facebook. It won't always earn you an extra entry in a giveaway but it will give you warm fuzzies.
Don't forget to sign up for free is this REALLY my life? updates via RSS or email so you don't miss a single awesome post.
.