This series is written by my daughter Madison. She has the absolute coolest taste in music. Post may include affiliate links to support my Diet Coke habit.
Look who's on time this week!
This week, I picked Chet Faker as the artist to feature. Chet Faker sounds a lot like alt-J who I wrote about already. The songs for him that I picked were "Gold" and "Drop the Game," which is by Chet Faker & Flume.
Some things about Chet Faker (yay for the internet and Wikipedia): his real name is Nicholas James Murphy and he's an Australian. His cover of "No Diggity" by Blackstreet was featured in a 2013 Super Bowl commercial. He came up with his stage name of Chet Faker as homage to Chet Baker.
.
Chet Faker: Gold
.
Chet Faker: Drop the Game
.
Some other songs by him I like are "No Diggity" and "I'm Not You." Check them out!
.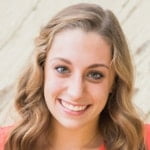 .
~ Maddie
xoxo
.
Past New Music Mondays:
.

Feel free to "like" is this REALLY my life? on Facebook. It won't always earn you an extra entry in a giveaway but it will give you warm fuzzies.
Don't forget to sign up for free is this REALLY my life? updates via RSS or email so you don't miss a single awesome post.
.