This post is part of a new series written by my daughter Madison. She has the absolute coolest taste in music. Post may include affiliate links to support my Diet Coke habit.
Hello, guys! Sorry it's been a while. I'm sure you have missed me.
This week's artist is alt-J (△). I heard about them the first time about a year ago when my friend introduced me to the band. I didn't listen to them, and I regret that! alt-J is way chill and relaxed. The best is awesome. I love them!
A little about alt-J (creds to Wiki): they're an indie rock band created in England by four guys in 2007.
My two favorite songs are "Dissolve Me" and "Tessellate," both from An Awesome Wave CD.
.
alt-J: Dissolve Me
.
alt-J: Tessellate
.
I also love "Matilda," "Fitzpleasure" and "Breezeblocks."
.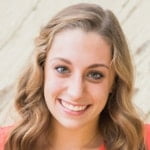 .
~ Maddie
xoxo
.
Past New Music Mondays:
.

Feel free to "like" is this REALLY my life? on Facebook. It won't always earn you an extra entry in a giveaway but it will give you warm fuzzies.
Don't forget to sign up for free is this REALLY my life? updates via RSS or email so you don't miss a single awesome post.
.