(Last week's guest Mad Libber was Quinn from CreatedByChicks.com. You'll love her "Mother, May I?" Mad Libs. So fun!)
I love highlighting really nifty bloggers and so I thought I'd combine the two for what is now affectionately called Mad Libs Monday. Today's "The Brady Bunch" post comes to us courtesy of Michelle from A Little Tipsy and is again from the Dysfunctional Family Therapy (Adult Mad Libs) book. After the story you'll find a few interesting facts about my dear friend, blogger and SassyScoops.com gal Michelle. Enjoy!
THE BRADY BUNCH
by Michelle from A Little Tipsy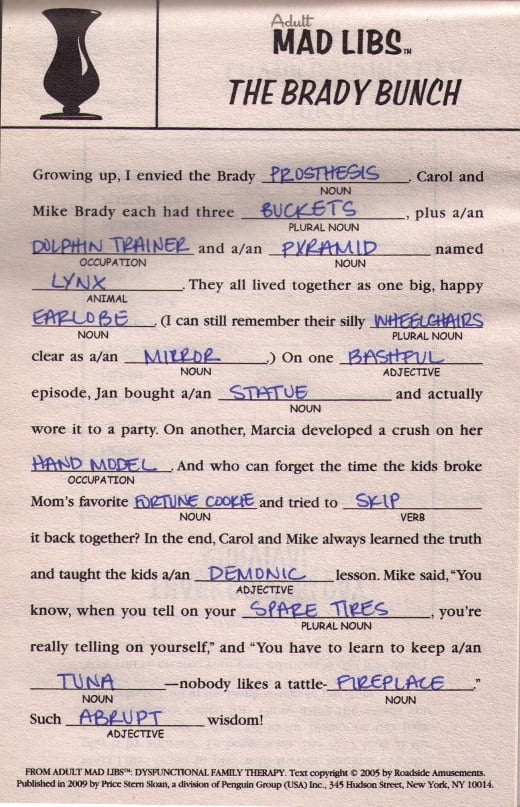 ...
Yes, this is really Michelle's life...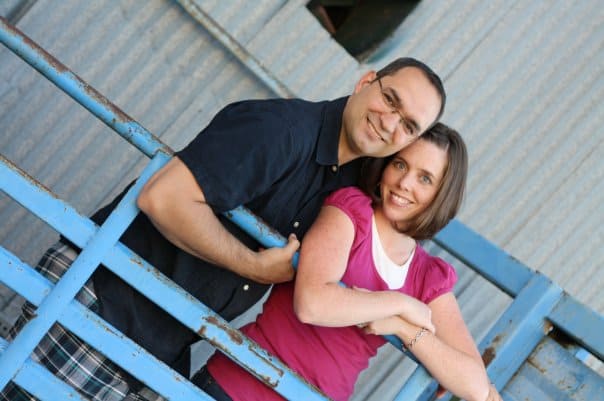 Name and/or nickname: Michelle (I guess that is my nickname too since I go by my middle name. My first name is Emma.)
Blog(s) and/or website(s): A Little Tipsy and SassyScoops.com
Where you grew up: The LBC (Long Beach, Cali) til I was all of eight years old and then good ol' Brigham City, UT
Favorite childhood game: I totally played He-Man and She-Ra everyday. My neighbor boy was one of their toy testers so he had like every one ever made. I also loved "don't get eaten by the sharks" where you could not touch the ground or "runaway" where we would pack backpacks and act like we were running away to somewhere exotic like our back yard.
Super cool mom moment (i.e., one of those moments when you were the coolest mom ever): Recently my little guy has started saying, "Mommy, you're my best friend." That makes me feel pretty dang cool. I think I am at my coolest when we go to the bounce house and I am the mom sliding and bouncing and hiding to surprise the kiddos rather than standing and chatting on the sidelines. It is a great workout and oh so much fun!
Totally uncool mom moment (if you're willing to share): A few months ago we were at Costco when my son said, "Mommy, my finger is dirty." It was dirty, covered in some brown goo. I said, "What is that and where did you get it?!" He pointed to his diaper. Awesome. Gagging, I turned to my husband, handed him the diaper case and said, "I just can't deal with this." Luckily, my hubs is amazing and totally took care of it, just like he takes care of all things involving barf.
Your go-to "drug" of choice (e.g., Diet Coke, chocolate, Peeps, Venti anything from Starbucks): Cinnamon bears (if they are covered in chocolate, all the better!)
Your guilty indulgence (e.g., reality TV shows, pedis, chick lit): I have to admit I am a sucker for America's Next Top Model, Project Runway, GNO, eclairs and the Park City outlets.
If you were stranded on a desert island, preferably in the Caribbean, who would you want with you and why? My boys (hubs and son) because we can make one mean sand castle and hubs could make us an awesome shelter out of driftwood and palm fronds.
Happy Monday!