(Our most recent guest Mad Libber was Sarah from Redhead Recipes. You'll love her "How to Raise Your I.Q." Mad Libs!)
Today's "Should You Dump Him" post comes to us courtesy of April Atwater from Sweet Life in the Valley and Simply the Sweet Life and is from the Test Your Relationship I.Q. Mad Libs
book.

I was trying to remember the first time I met April Atwater of Sweet Life in the Valley, but the moment escapes me. I feel like I've known her forever! She was one of our VIP bloggers at the Moms Who Make It conference, a fellow party-goer at the BowlHer party of 2009 (was it that long ago?!?!), a Chick-fil-A play date friend and a welcome face at many a blogger meet-up. I don't know how April does it all, from managing her popular Utah County blog to her new online magazine to raising teenager as single parent. (I think she even homeschools!) April is pretty dang awesome.
Even more awesome? She is Joanie Atwater's sister. Those two are one dynamic duo!
After the story you'll find a few interesting facts about April. Enjoy!
SHOULD YOU DUMP HIM?
by April

…
Yes, this really is April's life…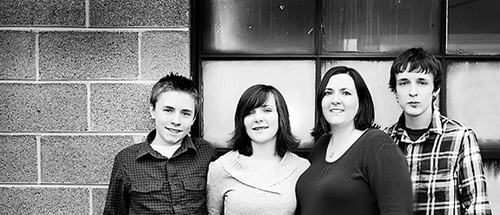 Name and/or nickname: April Atwater but I like my A's as a rounded cursive A not the sharp, pointy, printed A.
Blog(s) and/or website(s): Sweet Life in the Valley and Simply the Sweet Life Magazine-blog
Where you grew up: All over the US including Illinois, Texas, Maine, Colorado and Vermont. Now I live in Utah but who knows where else we might live.
Favorite childhood game: Dress-up. I was always making my brothers and sisters (I'm the oldest of eight) and the neighborhood kids dress up and participate in my plays.
Super cool mom moment (i.e., one of those moments when you were the coolest mom ever): When I got to tell my kids we were going to Disneyland as VIP guests. Then when I got to tell them we were going back again for Christmas. I was their hero!
Totally uncool mom moment (if you're willing to share): Me an uncool mom, never!
Your go-to "drug" of choice (e.g., Diet Coke, chocolate, Peeps, Venti anything from Starbucks): Dr. Pepper all the way!
Your guilty indulgence (e.g., reality TV shows, pedis, chick lit): I love pedicures, spa days, luxury vacations, nice skincare and make-up. Oh and a good hair cut.
If you were stranded on a desert island, preferably in the Caribbean, which famous person would you want with you and why? Oh, this is a hard one. Good conversation would be a must. I wouldn't mind being there with famous Joanie Atwater. She's fun and fun to talk to, plus we're related.
Happy Monday!