Our most recent guest Mad Libber was Caroline from Smarty Pants Mama. You'll love her "New Year's Resolutions" Mad Libs!
Today's "Little Red Riding Hood" post comes to us courtesy of Kim from Mommycosm.
…

…
Kim (@mommycosm), yet another fabulous eBay Parent Panel member I met at eBay On Location, is a tech/vlog/video/podcast guru. In fact, her video prowess makes her a bit intimidating even if she is super nice and super friendly. I only recently found out (thanks to her "about" page on her site) she's also a "live streaming producer, professional product reviewer, social media marketer, freelance copywriter, brand ambassador, recent yoga enthusiast, high school softball coach, Reiki practitioner, dog mom, stem cell donor, Grumpy Slayer, Bon Jovi obsessed fan, latte addict…and much more. …" Whew!
Kim is awesome. Mommycosm is awesome. And her Mad Libs is awesome. After the story you'll find a few interesting facts about kim. Enjoy!
…
LITTLE RED RIDING HOOD
by Kim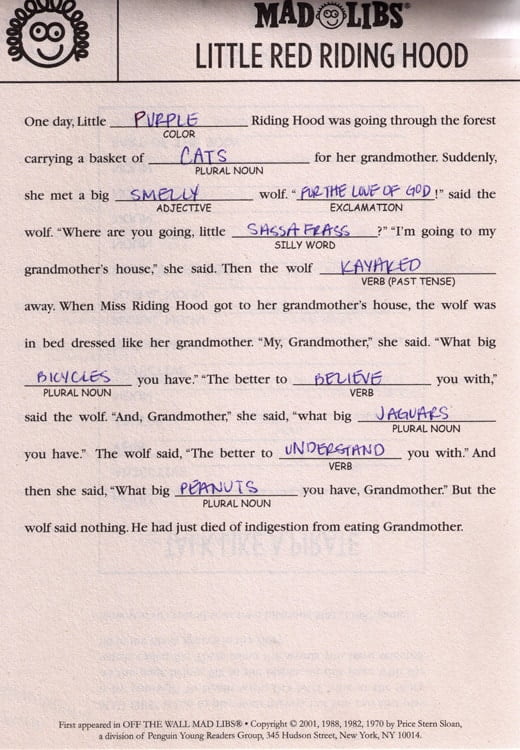 …
Yes, this really is Kim's life…

Name and/or nickname: Kim Grenon (aka Mommycosm)
Blog(s) and/or website(s): Mommycosm
Where you grew up: New Hampshire
Favorite childhood game: Kick the Can
Super cool mom moment (i.e., one of those moments when you were the coolest mom ever): This one time when my kids were about 2 and 5, we were driving… I don't know… somewhere. My son asked if we were there yet. To which I replied, "We're about halfway there." Without missing a beat, he started singing, "oh, OH, living on a prayer." Proudest mom moment.
Totally uncool mom moment (if you're willing to share): The time I forgot to send my preschooler to school with valentines. Moving on…
Your go-to "drug" of choice (e.g., Diet Coke, chocolate, Peeps, Venti anything from Starbucks): Lattes
Your guilty indulgence (e.g., reality TV shows, pedis, chick lit): My acrylic nails
If you were stranded on a desert island, preferably in the Caribbean, which famous person would you want with you and why? Jon Bon Jovi—do I really need to explain the "why" on that one?!
Happy Monday!