(Our most recent guest Mad Libber was Hannah Craner from Sherbet Blossom. You'll love her "Are You Truly Compatible" Mad Libs!)
Today's "How to Raise Your I.Q.: Number 1" post comes to us courtesy of Sarah from Redhead Recipes and is from the Test Your Relationship I.Q. Mad Libs
book.

I love that I get to feature Sarah of Redhead Recipes today not only because she has gorgeous red hair (I love gorgeous red hair) and a slew of delicious recipes on her blog, but also because she is Hannah's sister. How awesome is it those two gals are related?! It appears creativity, great style, sparkling personalities, fab smiles and a love of food runs in the family!
Like Hannah, I've only met Sarah a couple times, which makes her recent move from Utah a sad one for me (and a lot of other Utah bloggers). It's moves like this that make me extra super glad blogging exists. Now I can drool over her recipes across state lines!
After the story you'll find a few interesting facts about Sarah. Enjoy!
HOW TO RAISE YOUR I.Q.: NUMBER 1
by Sarah

…
Yes, this really is Sarah's life…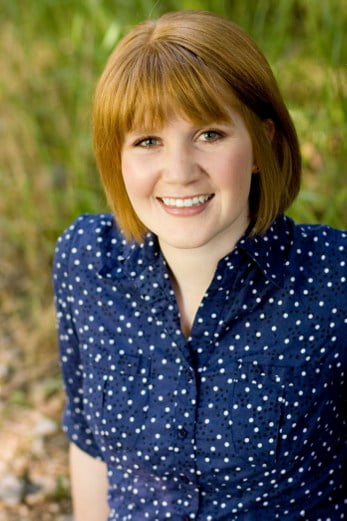 Name and/or nickname: Sarah… never had many nicknames. Some people call me "Sar" for short.
Blog(s) and/or website(s): Redhead Recipes
Where you grew up: Born in Texas, moved to Utah when I was 7
Favorite childhood game: We loved collecting tadpoles from the pond behind our house and waiting for them to grow up. I don't know if it was my mom or if they grew up too fast, but they were always gone the next day.
Super cool mom moment (i.e., one of those moments when you were the coolest mom ever): Not that this was a "cool" moment—but my daughter had a seizure and I stayed totally calm, felt in control (as much as possible) and was a help to my family. (It's the nurse in me I guess.)
Totally uncool mom moment (if you're willing to share): Whenever I get impatient—she's only two, I should know better.
Your go-to "drug" of choice (e.g., Diet Coke, chocolate, Peeps, Venti anything from Starbucks): Sugar—in any form
Your guilty indulgence (e.g., reality TV shows, pedis, chick lit): Using up all the hot water for either a bath or a shower.
If you were stranded on a desert island, preferably in the Caribbean, which famous person would you want with you and why? I'm similar to my sister—not too into celebrities. I would choose someone who was entertaining, make light of the situation…maybe Bill Cosby?
Happy Monday!