(Our most recent guest Mad Libber was Lindsey Johnson from Cafe Johnsonia and Fresh Clean Start. You'll love her "Is He Cheating on You?" Mad Libs!)
Today's "Does He Flirt Too Much?" post comes to us courtesy of Kathy Dalton of Danish Mama and is from the Test Your Relationship I.Q. Mad Libs
book.

I met Kathy via Twitter (@KathyDaltonSLC) first and then finally met her in person at the Casual Blogger Conference last summer. She's one of those women who's just as real, just as likable, just as awesome in real life as she is in virtual life. I first introduced you to Kathy when I featured her Chicken Tortilla Soup on a recent Slow Cooker Anyday. Here is what I had to say about this amazing woman:
Not only is she beautiful with a fabulous smile to boot, she is a super savvy businesswoman. Her Little Stinker Baby Butt Spray and her entrepreneurial acumen (gosh, I like using big words) recently earned her a spot in Utah Business' "Forty Under 40"—and she was one of only eight women in the group! This gorgeous girl is going places, even with a toddler and new baby in tow!
After the story you'll find a few interesting facts about Kathy. Enjoy!
DOES HE FLIRT TOO MUCH?
by Kathy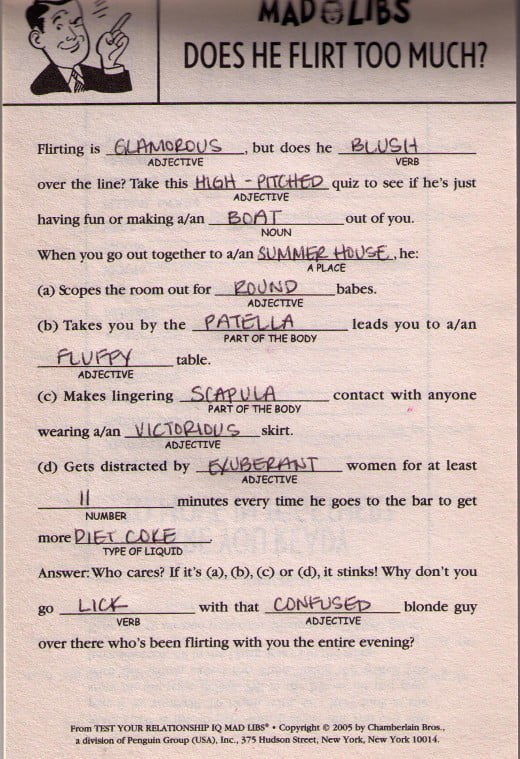 …
Yes, this really is Kathy's life (plus a new baby girl!)…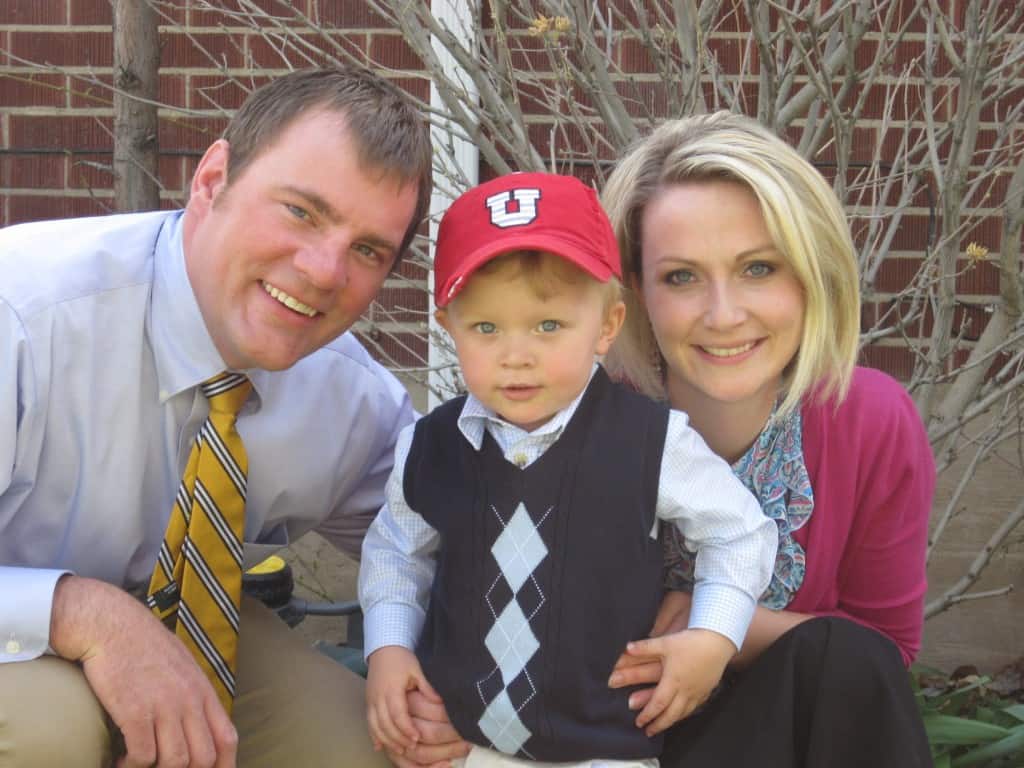 Name and/or nickname: Kathy Dalton aka Danish Mama
Blog(s) and/or website(s): Danish Mama
Where you grew up: Salt Lake City
Favorite childhood game: Heads Up 7-Up
Super cool mom moment (i.e., one of those moments when you were the coolest mom ever): A few weeks ago my dad took my son skiing up at Snowbird. My brother and I were hanging out in the lobby with my newborn baby. I left the baby with my brother to go watch my son ski. My son wanted me to ski so badly that I was able to just take off my boots and put on his ski boots and skied fully dressed in jeans and a long puff coat. I felt pretty awesome for being able to make it work with too big skies and boots but most importantly to sit on the chair lift with my three year old and see the joy in his eyes to have is mama with him skiing.
Totally uncool mom moment (if you're willing to share): I'm sure it would involve baby spit-up and mismatched clothing.
Your go-to "drug" of choice (e.g., Diet Coke, chocolate, Peeps, Venti anything from Starbucks): Diet coke via IV
Your guilty indulgence (e.g., reality TV shows, pedis, chick lit): Lunch from Paradise Bakery and to top it off two Molasses Cookies
If you were stranded on a desert island, preferably in the Caribbean, which famous person would you want with you and why? Gwyneth Paltrow. I've always loved her movies and think she's a pretty sweet mom that's been able to juggle being an actress and raise a family. Sliding Doors is one of my favorite movies. I love the concept of how we make decisions and what the consequences are.
Happy Monday!