(Our most recent guest Mad Libber was Marie from Make & Takes. You'll love her "It's About Time" Mad Libs!)
Today's "A Visit to the Dentist" post comes to us courtesy of Jen and is from the Mad Mad Mad Mad Mad Mad Libs book.

From what I understand, Jen of Tatertots & Jello is famous in the phenomenon that is the crafting blogosphere. Having very little crafting skills, it took me a lot longer to figure this out than most. I will say, for a celebrity, Jen is pretty dang approachable. And nice. And sociable. And cute. And she smiles A LOT. If only I'd been born with even 1/100 of Jen's craftiness (or Becca's or Michelle's for that matter), I might dust off my sewing machine more often than once every three years.
Now that I've met Jen, I am looking forward to catching up with her at future blogger events. Perhaps if I stand close enough, some of that craftiness will rub off on me. One can hope, right? After the story you'll find a few interesting facts about Marie. Enjoy!
A VISIT TO THE DENTIST
by Jen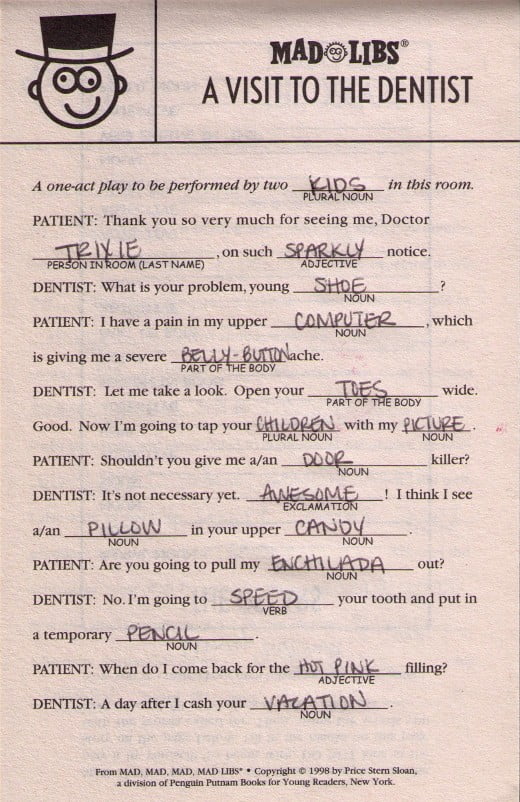 Yes, this really is Jen's life…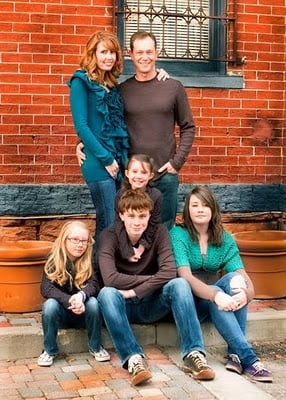 Name and/or nickname: Jennifer or Jen
Blog(s) and/or website(s): Tatertots & Jello
Where you grew up: Michigan , New York , Connecticut
Favorite childhood game: Husker Doo
Super cool mom moment (i.e., one of those moments when you were the coolest mom ever): I haven't had many of those. Crepe night is always very popular!
Totally uncool mom moment (if you're willing to share): So many of those. Embarrassing my children in public.
Your go-to "drug" of choice (e.g., Diet Coke, chocolate, Peeps, Venti anything from Starbucks): Diet Coke plus chips and salsa.
Your guilty indulgence (e.g., reality TV shows, pedis, chick lit): Chick Lit, love to read. Love any Rob Lowe movie or television show. Also I love any sales and getting a good bargain!
If you were stranded on a desert island, preferably in the Caribbean, which famous person would you want with you and why? Umm, Rob Lowe, although my husband might not be too happy about that. I probably should take my best friend instead!
Happy Monday!