I'm not gonna lie. I love Lucky Charms cereal...even those frosted oats. In fact, I'm way okay if the ratio of frosted oats to marshmallows skews in favor of the oats. This is a good thing because those are the only things left in the box by the time I pour myself a bowl.
After making those Lucky Charms cookies last week, I had an extra box of Lucky Charms cereal left over. What better way to use it than to combine this recipe from Classy Clutter and this recipe from Serious Eats to make these delightfully green and marshmallow-y Lucky Charms treats.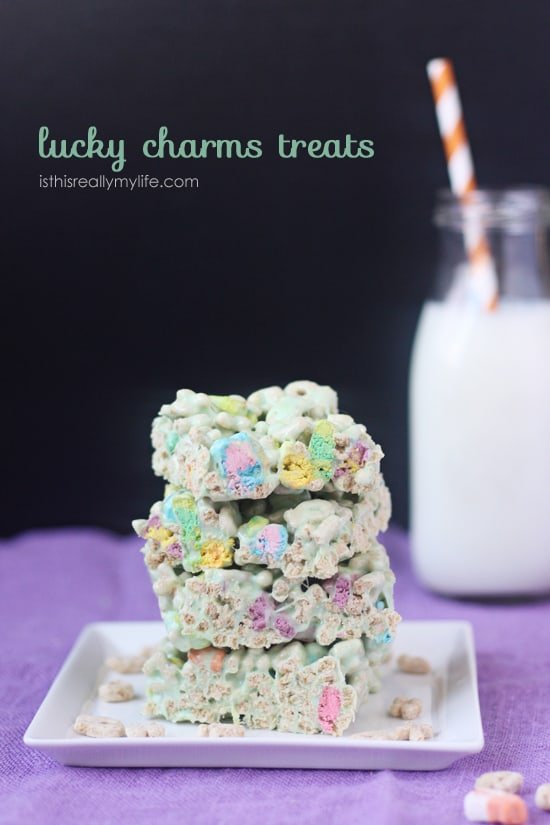 These Lucky Charms treats have only four ingredients (five if you count the food coloring): Lucky Charms cereal, marshmallows, butter and vanilla. And they take about 10 minutes.
Well, 10 minutes to make. It takes only 5 minutes to polish of an entire pan.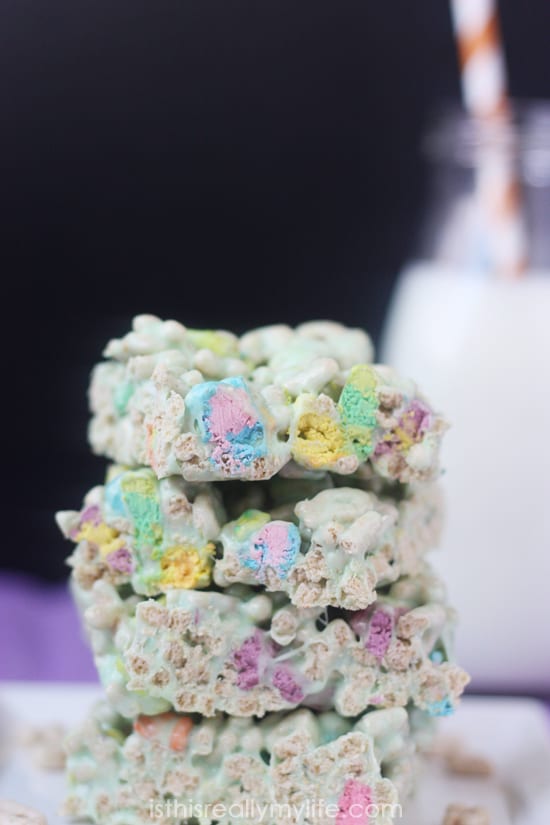 I was truly surprised how much I liked these variation of a traditional rice krispie treat. Every time I walked through the kitchen I had to even out the pan.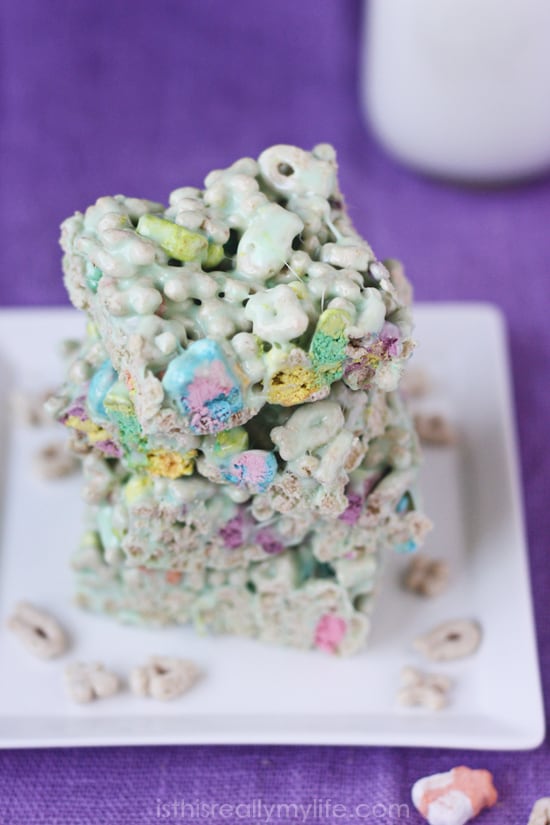 Man, that pan was always crooked!
If you're looking for a last-minute kid-friendly St. Patrick's Day dessert, this is it. And if you leave out the green food coloring, it can be a last-minute kid-friendly dessert for any occasion including the "I survived my 90-minute spin class" occasion.
Printable recipe for Lucky Charms treats below. Enjoy!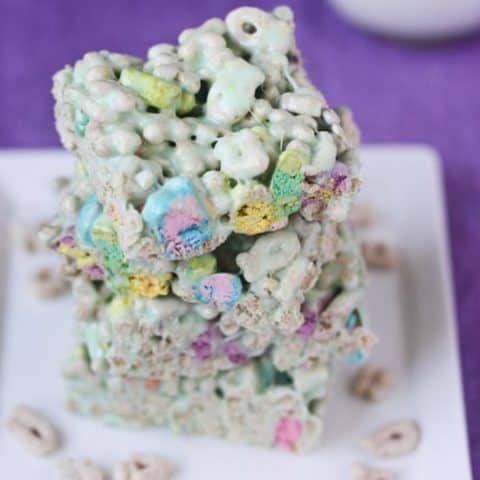 Lucky Charms Treats
These Lucky Charms treats are super easy to make and take less than 10 minutes. The green food coloring is optional so you can serve them all year long!
Ingredients
¼ cup butter
1 (10.5-oz) package mini marshmallows
6 cups Lucky Charms cereal
½ tsp vanilla extract
5 (or more) drops green food coloring (optional)
Instructions
Spray a 9x13-inch baking dish with non-stick spray.
Melt butter in a large saucepan or stock pot over medium-low heat.
Add marshmallows, stirring frequently until completely melted.
Remove from heat and stir in vanilla and food coloring. Fold in Lucky Charms cereal.
Transfer contents to baking dish. Use waxed paper (or your fingers) lightly greased with cooking spray or butter to gently press mixture in pan until evenly distributed.
Let cool before serving (if you can). Store in an airtight container for up to three days (though they're best eaten the day they're prepared).
Nutrition Information:
Yield:

24
Serving Size:

1
Amount Per Serving:
Calories:

52
Total Fat:

2g
Saturated Fat:

1g
Trans Fat:

0g
Unsaturated Fat:

1g
Cholesterol:

5mg
Sodium:

74mg
Carbohydrates:

8g
Fiber:

0g
Sugar:

3g
Protein:

1g
Here are those rather addictive Lucky Charms cookies just in case you need to use up those marshmallows before the kids eat 'em.