I'm fully aware you can eat Lucky Charms cereal year round but it seems especially delicious around St. Patrick's Day. And because I buy sugar cereal for my kids only on special occasions (i.e., Christmas and when I'm out of town), I like to make the most of the time it's in the pantry.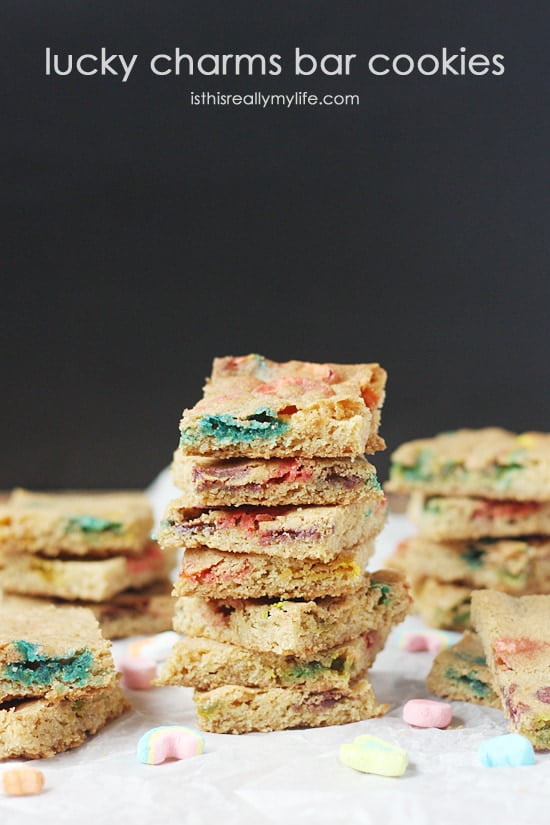 Last year I made Lucky Charms treats and Lucky Charms pudding cookies, so I thought why not try Lucky Charms bar cookies? They require less oven time and a slightly different recipe than pudding cookies but just as many marshmallows.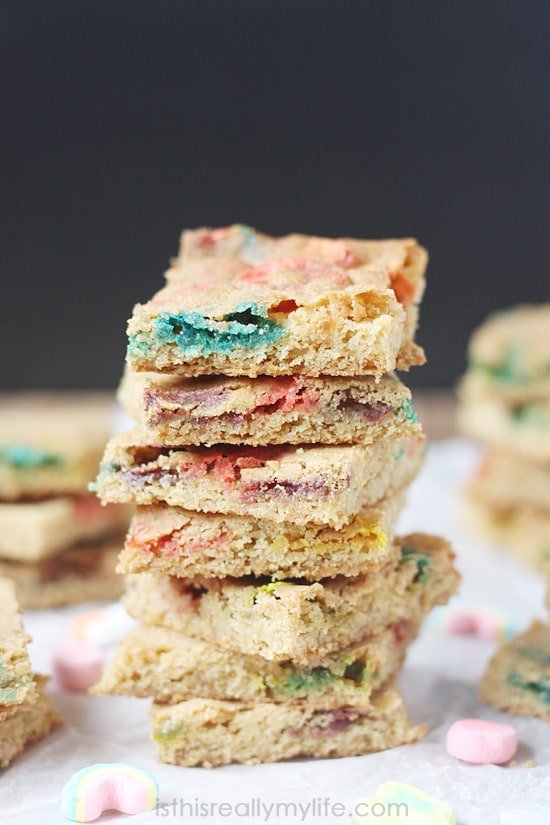 Mmm...marshmallows...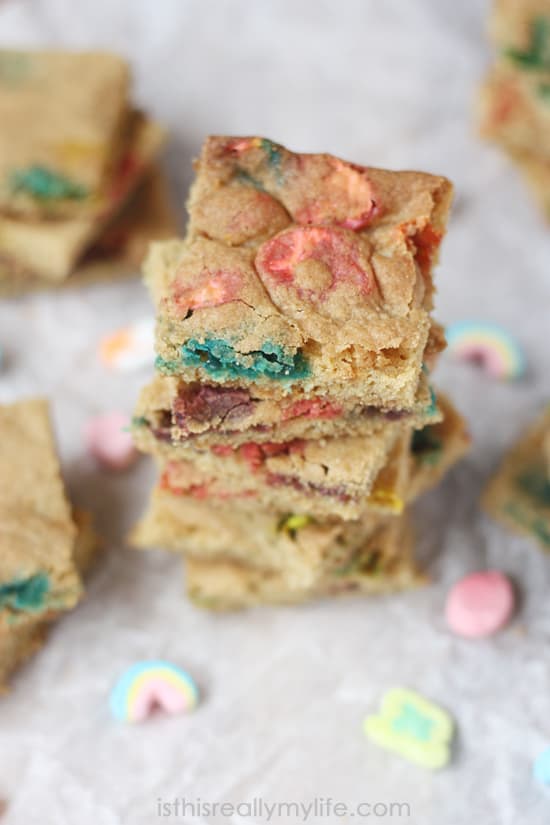 I almost didn't post these Lucky Charms bar cookies because my pan was slightly bigger than called for and my cookie bars slightly flatter than I'd hoped. But they taste so dang good and freeze so well (there's nothing like a frozen cookie at 10:30 p.m.), I thought I'd share them just the same.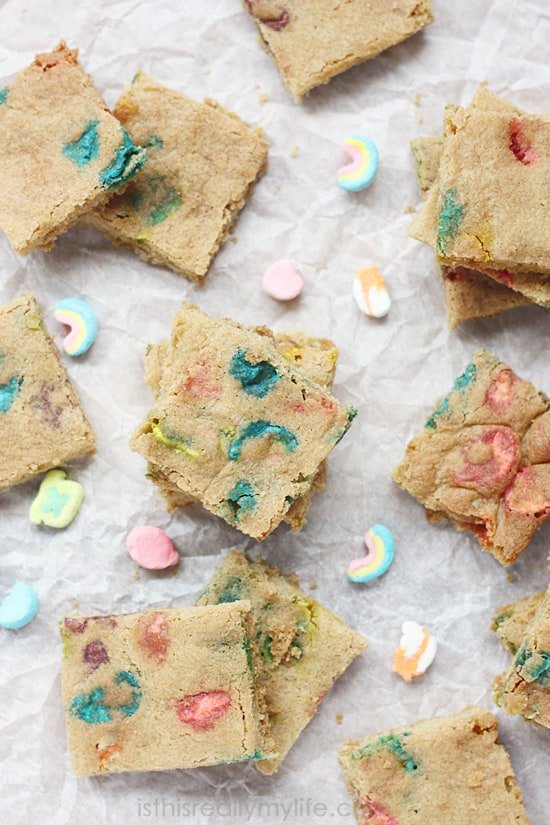 Next time I think I'll try them in an 11x14-inch pan at 350 degrees instead of 375. Or maybe I'll buy a smaller jelly roll pan. I mean, who doesn't love an excuse to buy more kitchenware? Not this girl.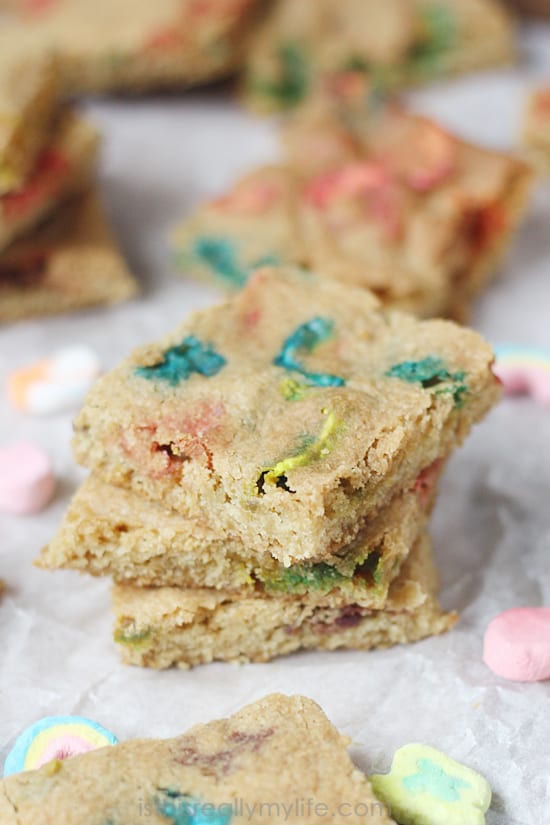 Printable recipe for Lucky Charms bar cookies below. Enjoy!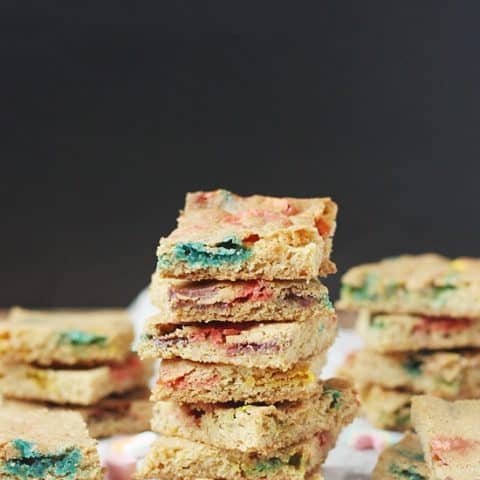 Lucky Charms Bar Cookies
Yield: 24

Prep Time: 10 minutes

Cook Time: 15 minutes

Total Time: 25 minutes

Chewy, marshmallow-y bar cookies filled with Lucky Charms marshmallow goodness! Makes approx. 4 dozen.
Ingredients
1 cup unsalted butter, softened
¾ cup sugar
¾ cup brown sugar
1 tsp vanilla
2 large eggs, room temperature
2 ¼ cups flour
1 tsp baking soda
1 tsp salt
2 cups Lucky Charms marshmallows
Instructions
Preheat oven to 375 degrees. Grease 15x10-inch jelly-roll pan.
Beat butter, granulated sugar and brown sugar in a large bowl. Add eggs, one at a time, beating after each. Add vanilla and mix well.
Combine flour, baking soda and salt in small bowl. Add to creamed mixture and beat until thoroughly combined. Gently fold in marshmallows and spread into prepared pan.
Bake 15 to 20 minutes or until golden brown. Cool in pan before cutting into bars. Store in an airtight container.
Nutrition Information:
Yield: 24 Serving Size: 1
Amount Per Serving: Calories: 175Total Fat: 8gSaturated Fat: 5gTrans Fat: 0gUnsaturated Fat: 3gCholesterol: 36mgSodium: 178mgCarbohydrates: 24gFiber: 0gSugar: 13gProtein: 2g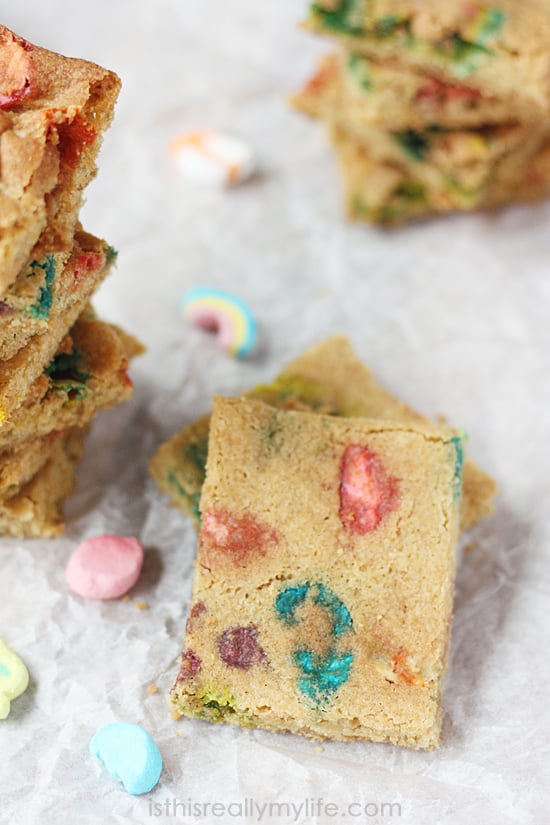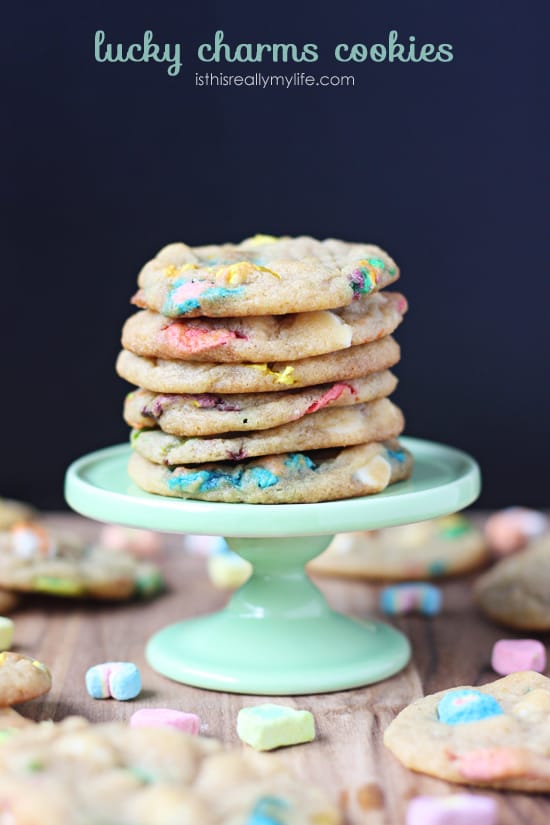 You can also serve this St. Patrick's pistachio pudding salad. It's one of our faves!