There was a little girl,
Who had a little curl,
Right in the middle of her forehead.
When she was good,
She was very good indeed,
But when she was bad she was horrid.
.
My girls have curls, and while they're not in the middle of their forehead (curly bangs aren't really in style), they are everywhere else.
My girls are rarely horrid but let's be honest, teenage girls have their moments.
Lauren somehow ended up with the lion's share of curly hair and it keeps getting curlier as she continues to mature. I love all the curliness going on with those two, but I haven't quite figured out how they feel about it. Sometimes they point out extra curly strands of hair and how cool they are when they spring back like a coil, but other times they complain about the frizzies and the wispies and all the craziness that goes along with a head full of thick, curly hair.
Some of us should be so lucky.
I asked Madison what she thought of her curly hair: "Oh, I love it curly. I used to not, but I like how much it bounces and has so much more life in it than straight hair. Plus it can hold a curl or hold it straight real well. And I like how my boyfriend likes to play with my hair, and also likes my flippies."
And then I asked Lauren: "I have a love/hate relationship with my hair. Sometimes I love it…when the curls are totally un-frizzy and beautiful and frame my face. And sometimes it's just frizz and I look like a lion on a bad hair day."
I think we all have love/hate relationships with our hair but it's a lot more common among women and girls with curly hair. And Dove Hair wants to change that. Through their #LoveYourCurls campaign, Dove Hair is on a mission to teach the curly-haired female population to embrace and celebrate their curls.
Why is this so important? Because:
One in 3 women in the U.S. have curly hair.
Women and girls with curly hair tend to feel less confident.
Only 4 in 10 little girls with curly hair think their hair is beautiful.
Only 10% of women in the U.S. with curly hair feel proud of their hair.
.
I'm all about doing whatever I can to ensure my girls have as much self-confidence as possible, so I'm way on board with Love Your Curls.
One part of the campaign includes the new Quench Absolute hair care line designed specifically for curly hair (more on that in a bit), and the other part includes the Love Your Curls book, a "poetic tribute to curly hair inspired by real women."
.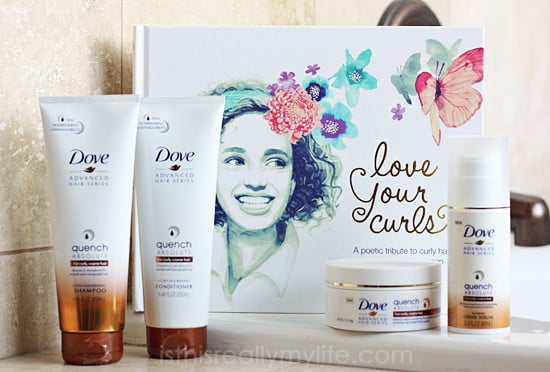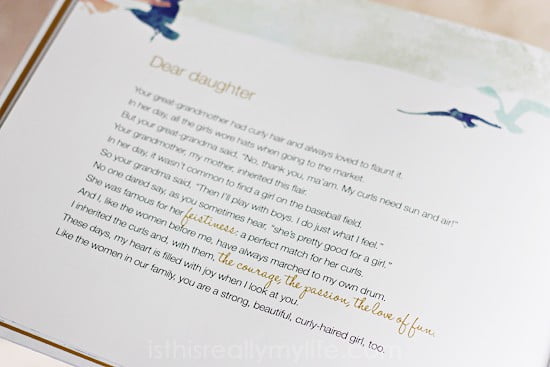 .
Written by best-selling author Taiye Selasi and illustrated by Annick Poirier, my girls enjoyed reading the honest words written by other curly-haired women. Madison's favorite was "Once Upon a Time," the perfect story for those who may have a much younger daughter fighting unruly locks. Lauren really liked "To My Younger Self" and though perhaps she'll end up writing something similar when she gets older.
Oh, the things I wish I could tell my younger self.
The really cool thing about Love Your Curls is the ability to create a personalized e-book complete with dedication AND a custom poem with an illustration designed from your uploaded photo.
.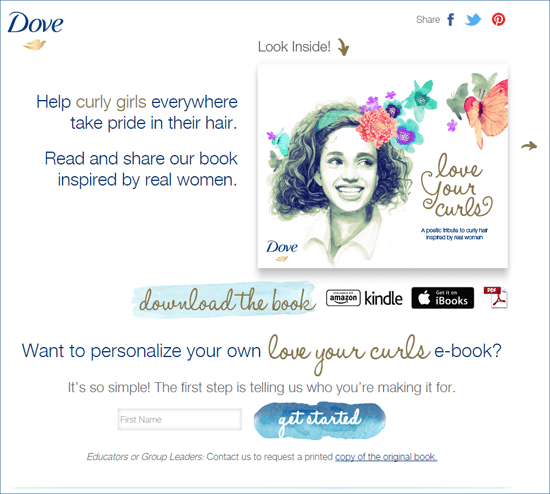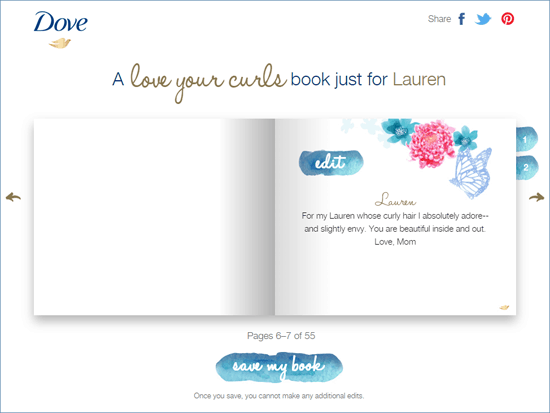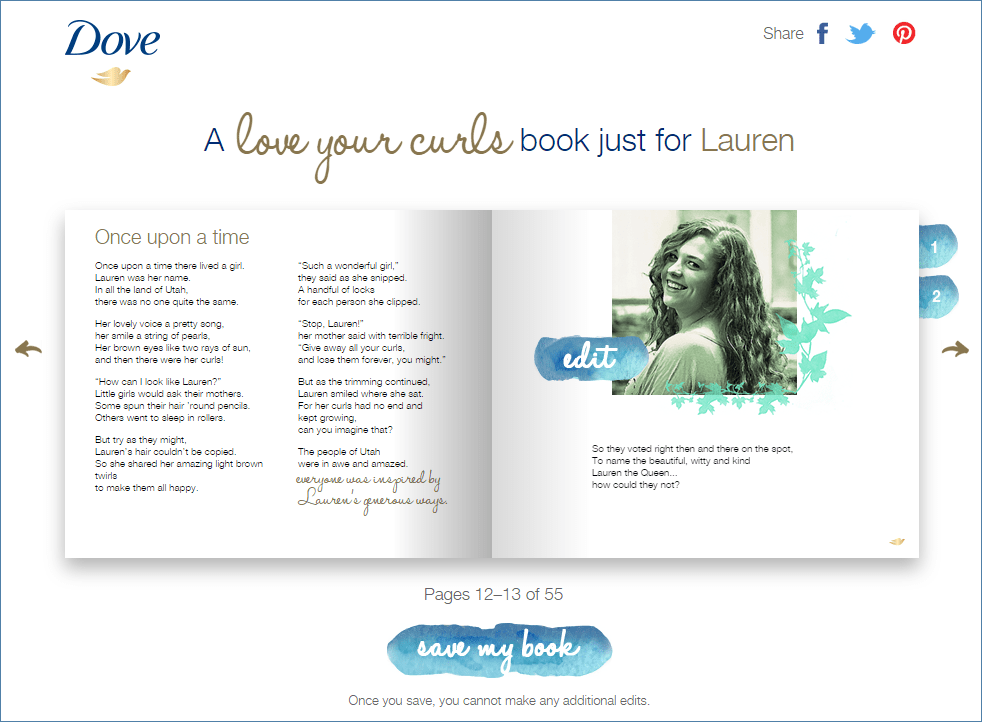 .
If you want to do the same for your daughter/friend/neighbor, head over to Dove.com/LoveYourCurls to download your free custom e-book.
While the Love Your Curls book empowers girls and women, the new line of Dove Quench Absolute hair care products empowers their curls. It provides four times the defined, natural curls and a nourished, smooth finish due to formulas infused with protein, nutrients and Buriti oil.
That buriti oil is a new one for me. Apparently it's amazing like argan oil but even better for curly hair.
The Dove Quench Absolute system includes:
Ultra Nourishing Shampoo: cleanses curly hair, leaving it feeling soft and smooth; nourishing formula leaves hair strengthened from the core
Ultra Nourishing Conditioner: absorbs effortlessly into the hair, strengthening it from the core; increases manageability of curls for a smooth finish
Intensive Restoration Mask: envelopes each curl to deliver intense nourishment for ultimate smoothness and hydration
Supreme Crème Serum: contains high levels of glycerine to penetrate and nourish wet or dry hair
.
Both girls tried their hair—er, hand—at the new Dove Quench Absolute system and both loved how much softer their hair felt after using the products. That's pretty impressive considering how dry Madison's hair always feels (especially the ends) due to swimming and how "tired" Lauren's feels due to her constantly pulling it into buns day after day.
I may have run my fingers through their curls to double check about the softness. They weren't lying.
Those products may have improved the health of their gorgeous curls, but would it have any effect on their ability to whip their hair back and forth?
.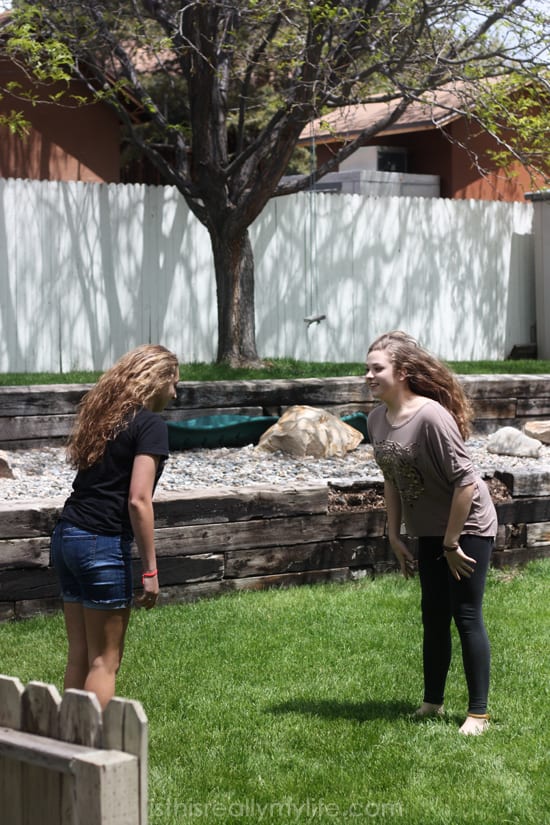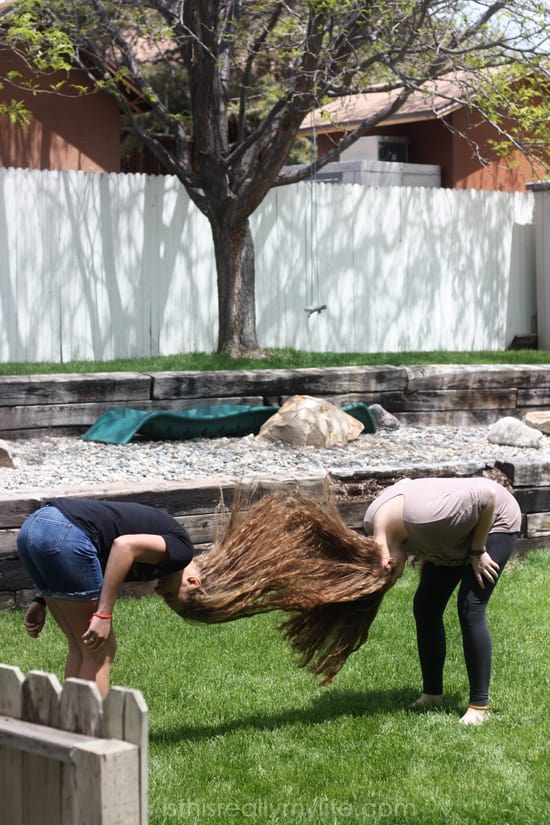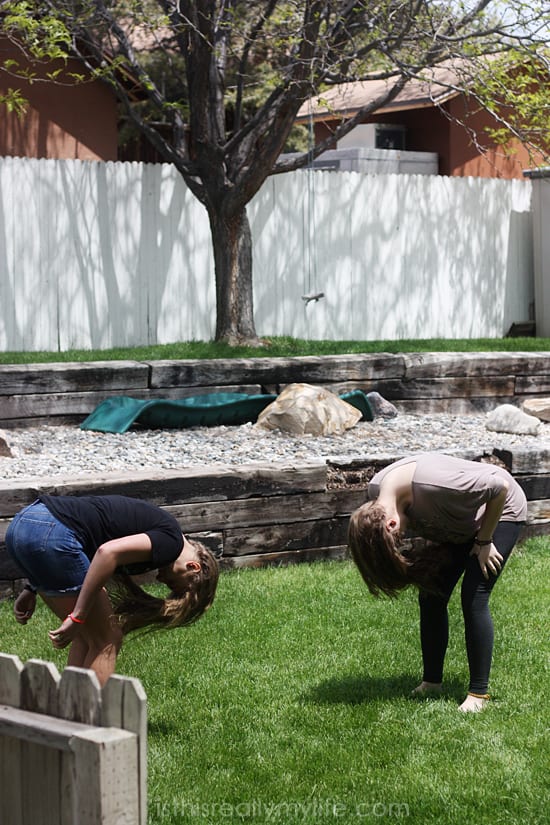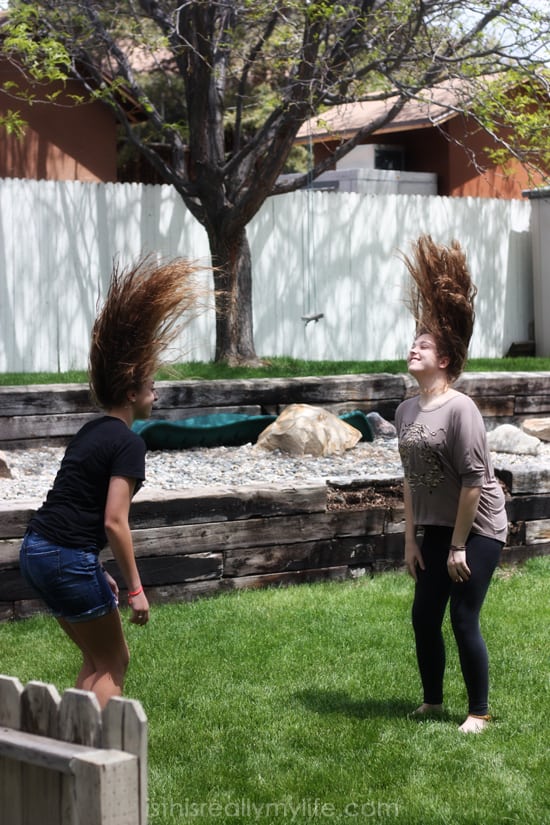 .
Apparently the hair whip is still intact if not more a bit more whippy. Man, I love those girls of mine.
.
I was selected for this opportunity as a member of Clever Girls and the content and opinions expressed here are all my own.
.


Feel free to "like" is this REALLY my life? on Facebook. It won't always earn you an extra entry in a giveaway but it will give you warm fuzzies.
Don't forget to sign up for free is this REALLY my life? updates via RSS or email so you don't miss a single awesome post.
.