This loaded wedge salad features iceberg wedges topped with blue cheese dressing, red onion, tomatoes, bacon, blue cheese crumbles, and pecans. And it's easier to make than you think!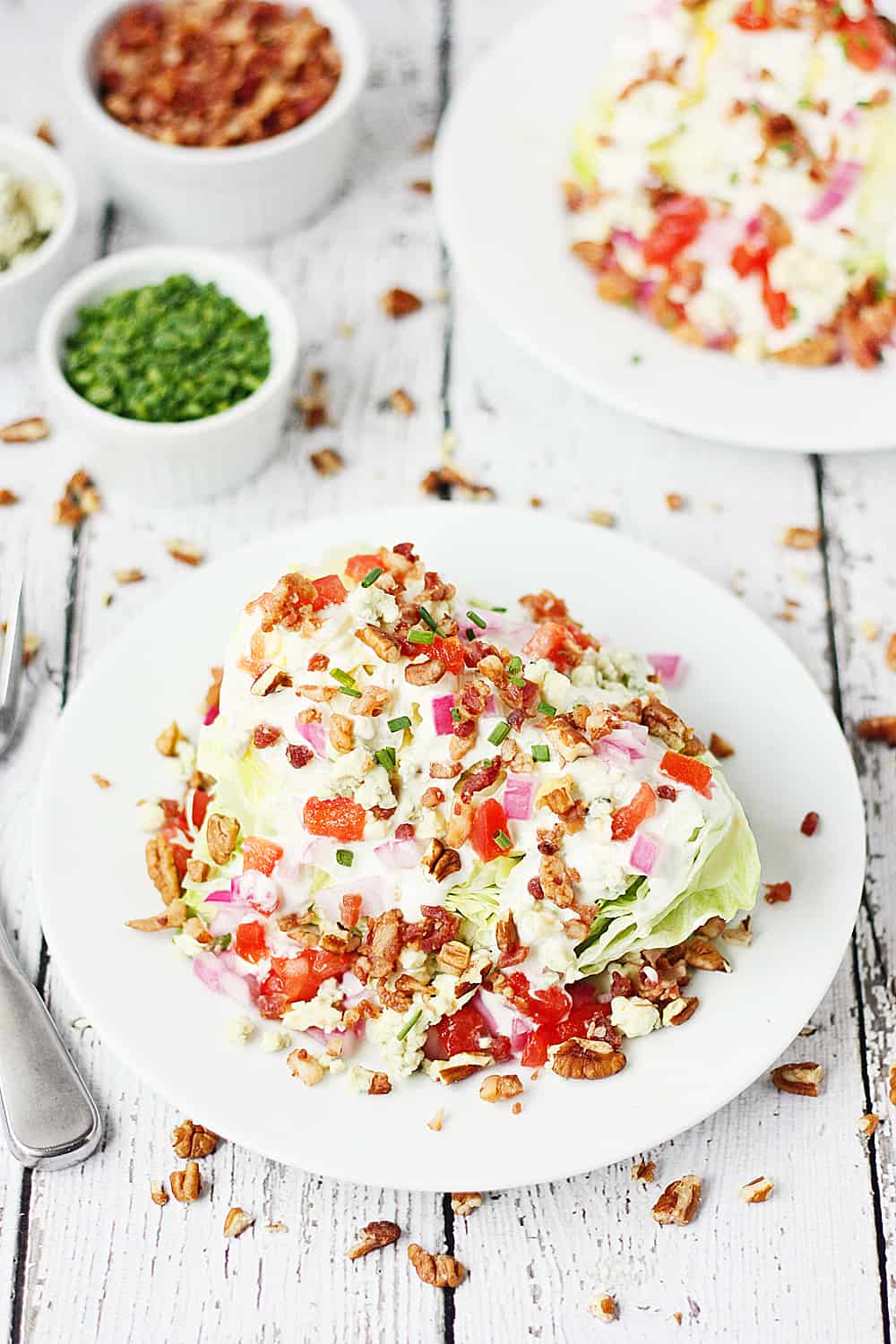 Thank you dahoan® Steakhouse® Soups for sponsoring this post. Treat your SOUP-er significant other to a delicious meal!
I don't know if you remember but back in December I shared a recipe for light and fluffy one-hour dinner rolls that paired perfectly with Idahoan® Steakhouse® Soups. Well guess what? I've come up with another side dish that pairs perfectly with those hearty, ready-in-five-minutes soups: loaded wedge salad.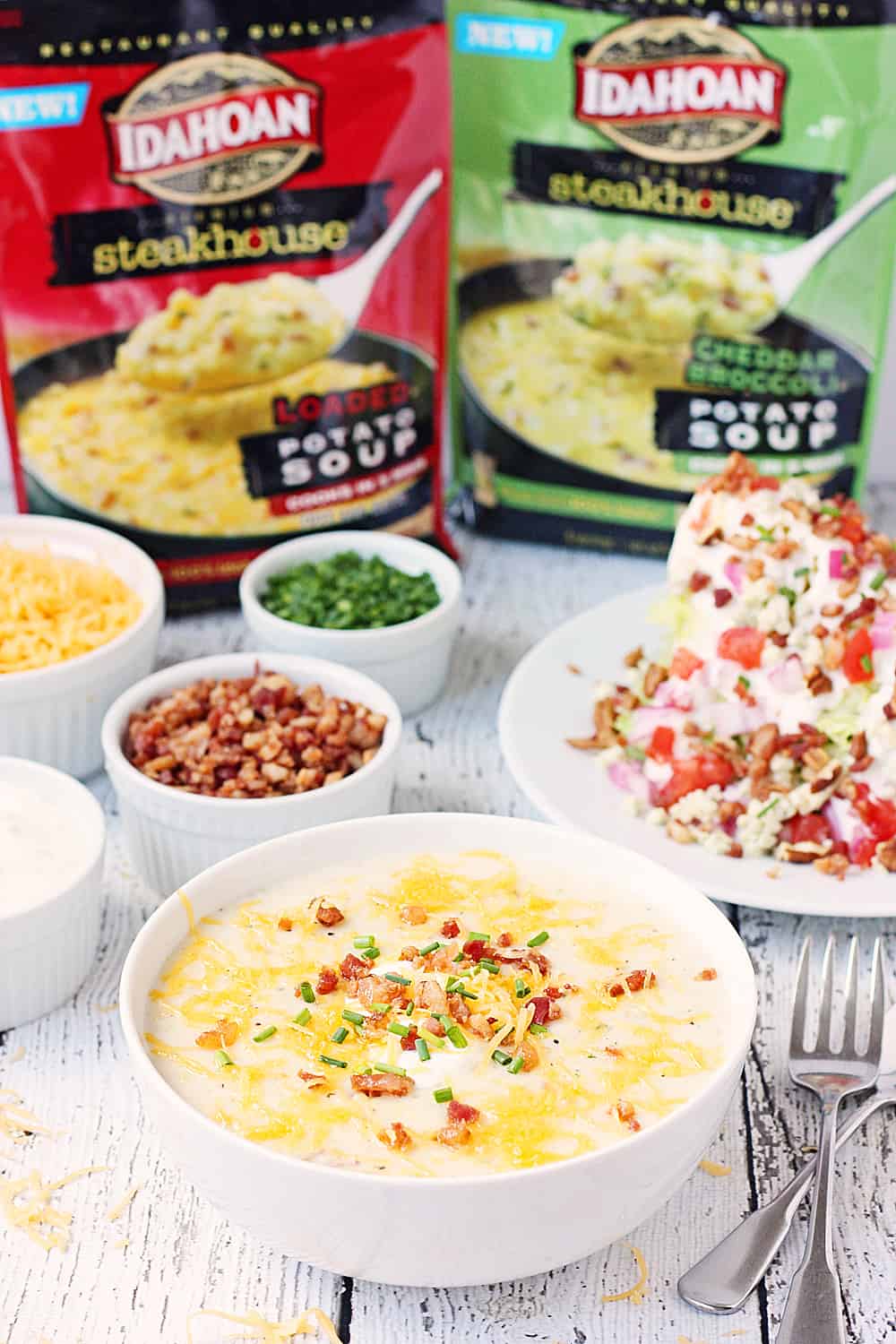 You can see that amazing wedge salad hiding out in the background, and even though you haven't seen it close up (yet), I bet you can tell it's one seriously mouthwatering salad. Because it totally is.
But first a little refresher about Idahoan Steakhouse Soups because they fit perfectly into a stay-at-home date night.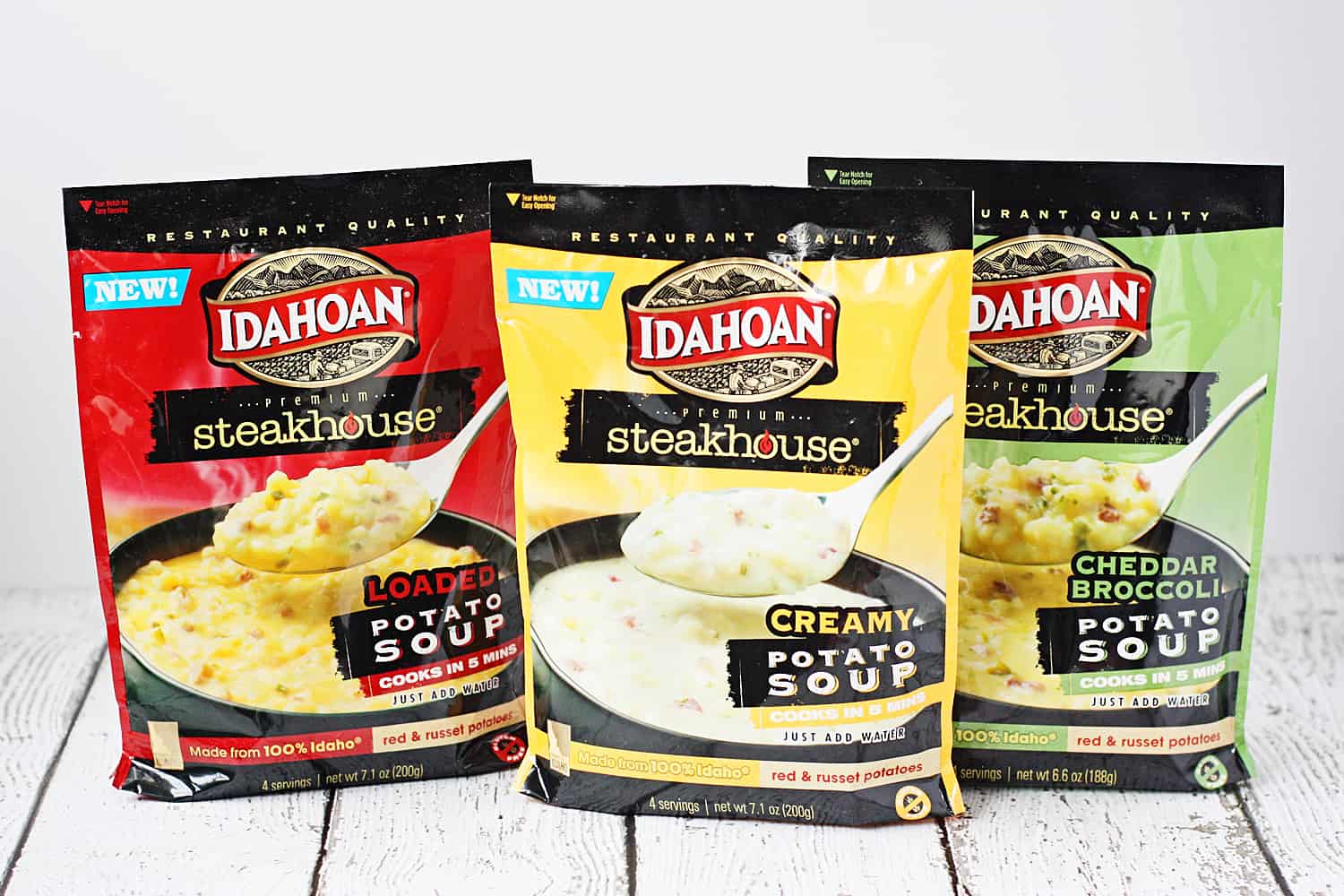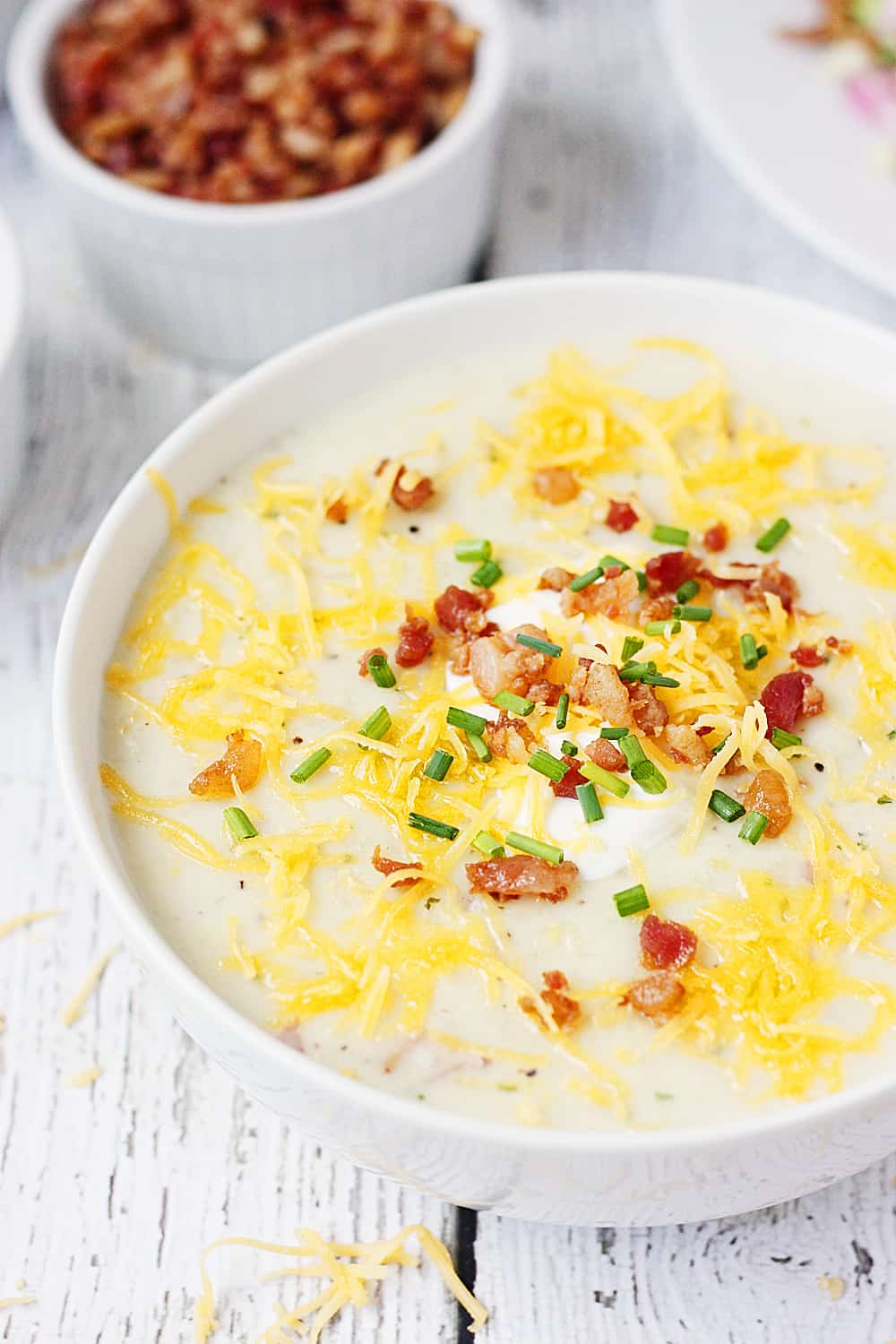 Idahoan Steakhouse Soups are available in four delicious varieties: Loaded Potato, Creamy Potato, Cheddar Broccoli, and Cheddar Potato. These restaurant-style soups bring together real, red Idaho® potatoes with flavorful seasonings and rich cheeses to provide a creamy taste in every spoonful—all you have to do is add water. Well, boiling water. But five minute after you whisk in the soup mix, you have a potato soup that makes for an easy and delicious date night dinner.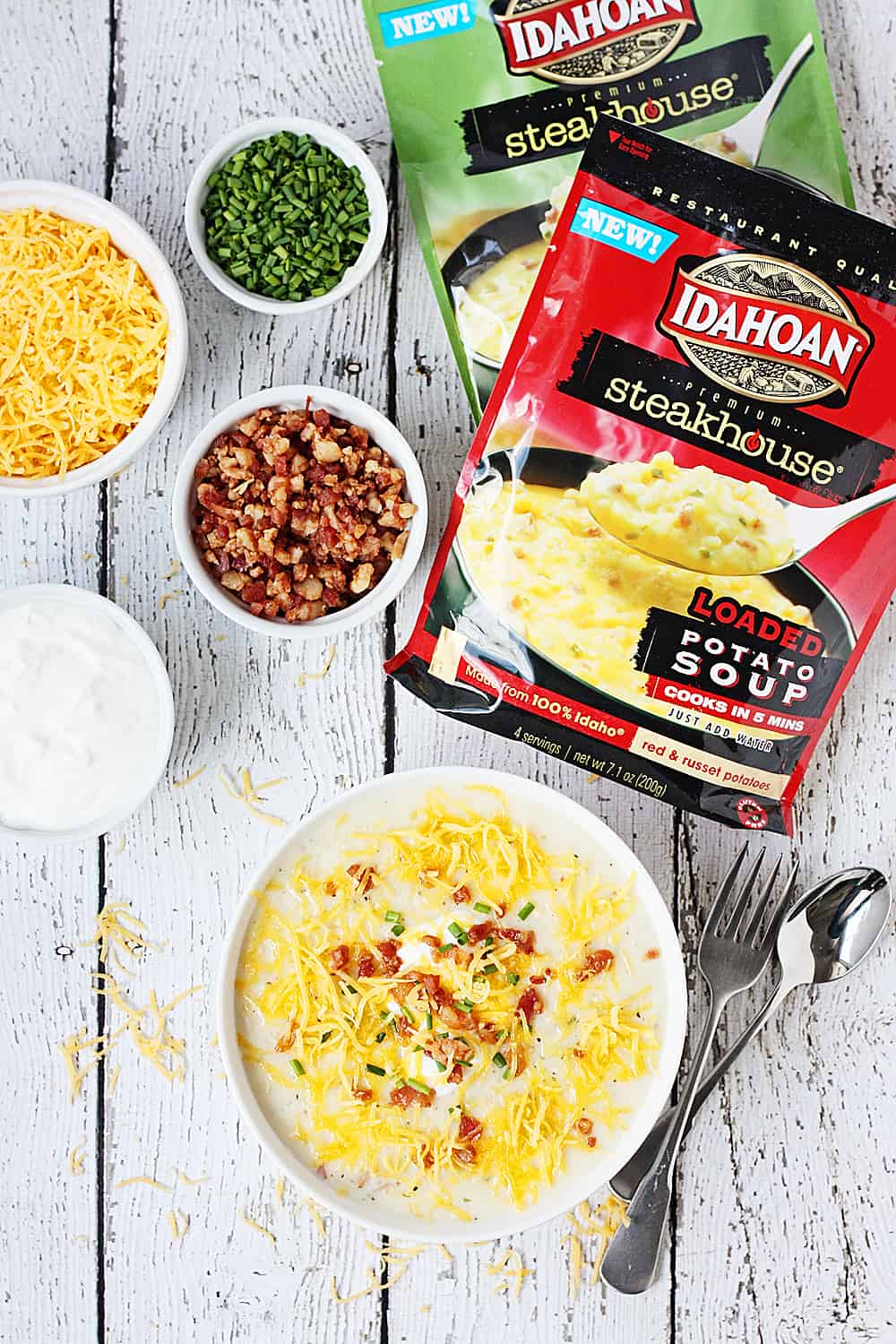 Throw in the aforementioned wedge salad and rolls for a complete meal that will have you wondering why you ever leave the house for date night.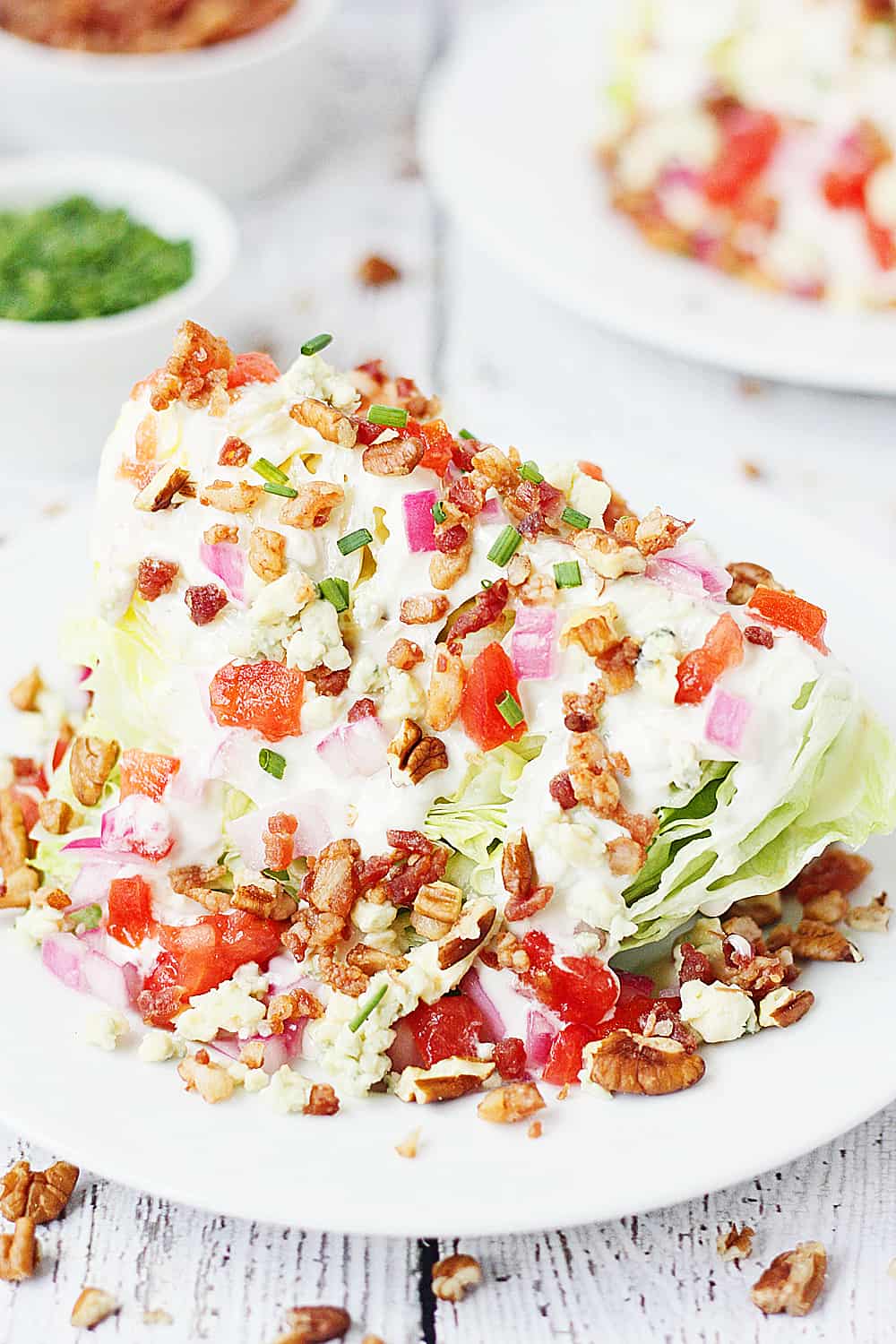 I mean, just look at that salad. It's loaded with all kinds of goodies like red onion, tomato, bacon, blue cheese crumbles, and even pecans.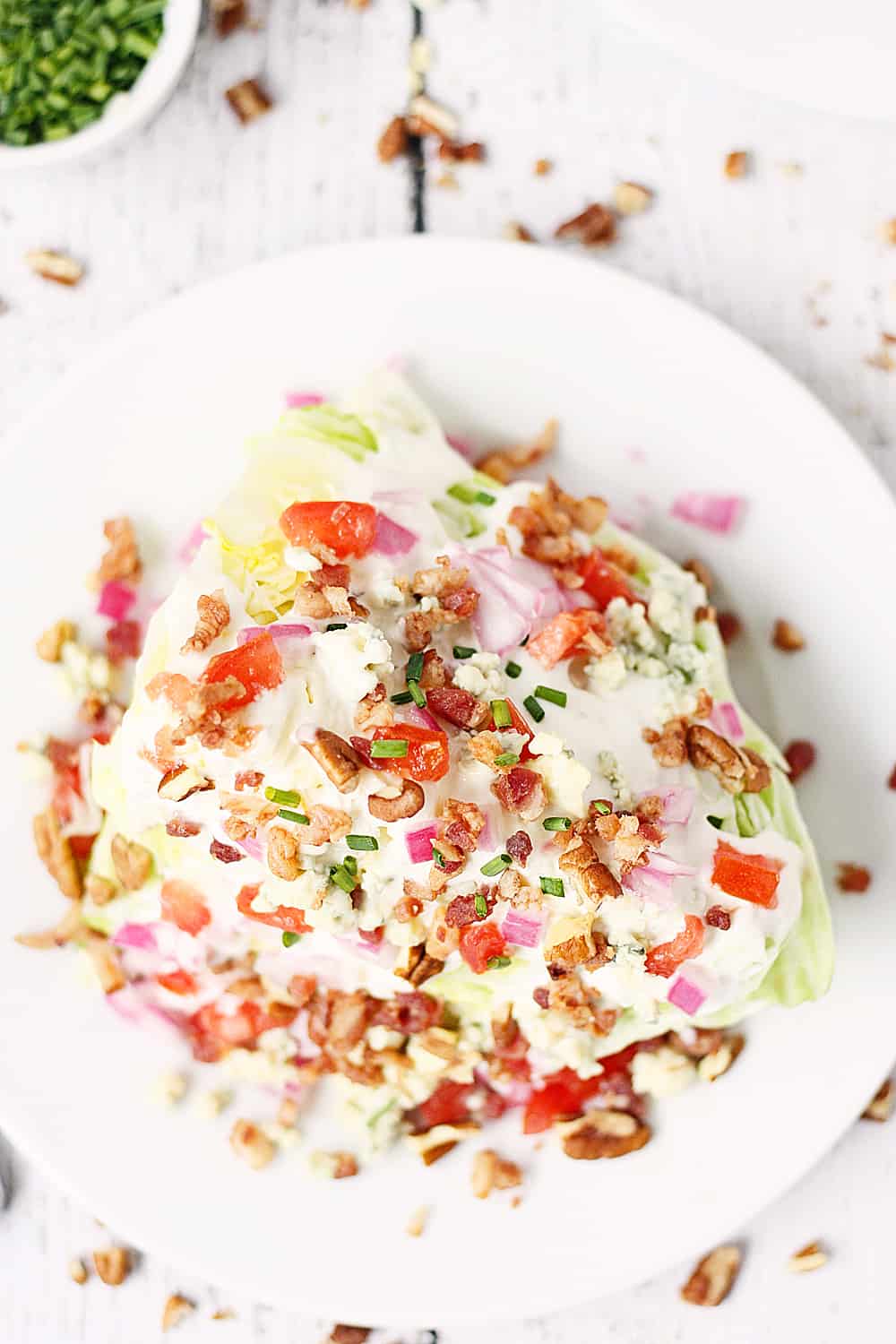 You can jazz up this loaded wedge salad even more by quick-pickling the onions to reduce their strong taste while turning them a vibrant pinkish purple. Follow up that clever move by tossing the tomatoes in kosher salt to help drain excess liquid and concentrate their flavor.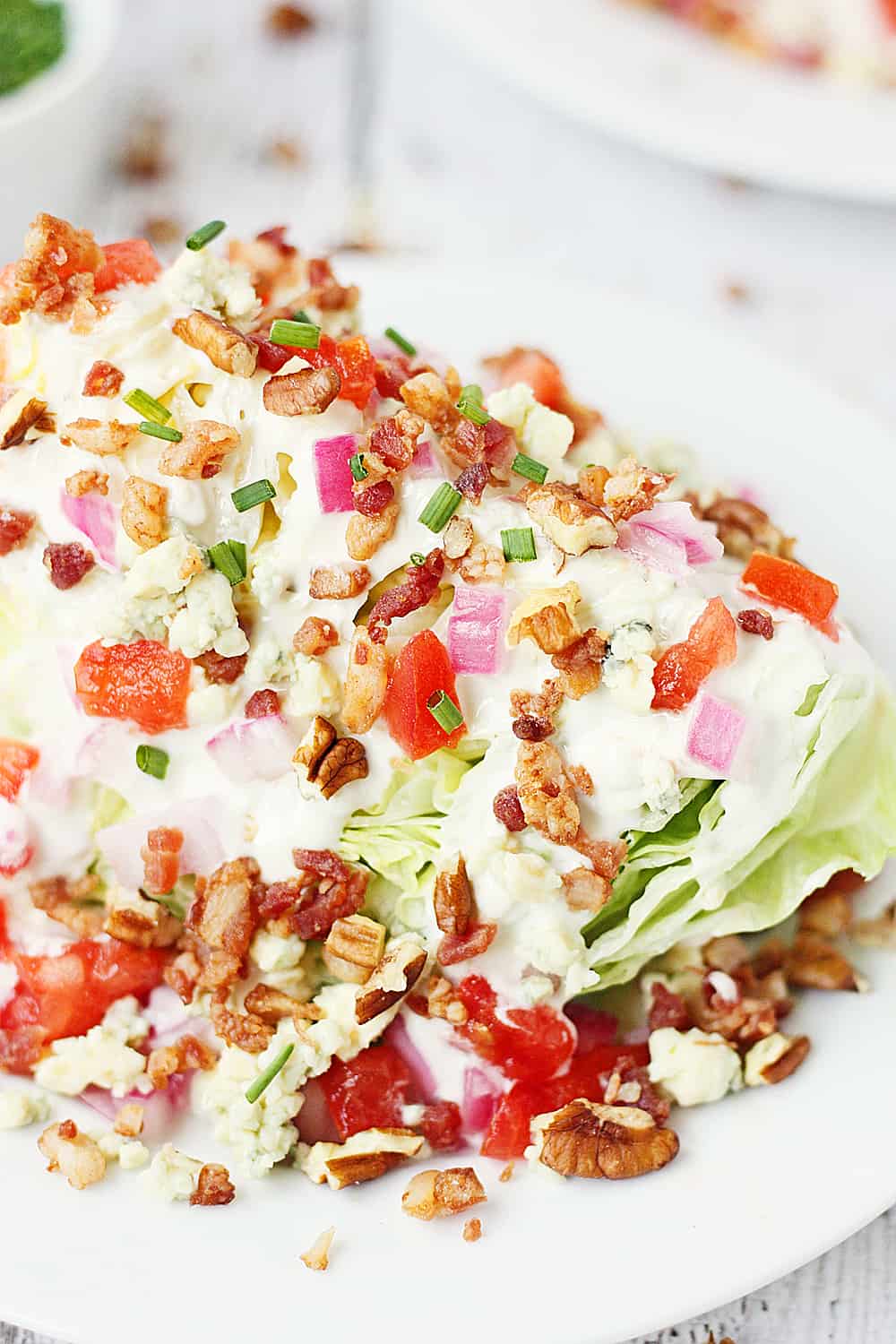 Now that you have your date-night dinner ready, don't forget to plan a delicious dessert! This decadent triple chocolate bundt cake is one of my most requested recipes as are these salted caramel bars.
Here are 15 fun stay-at-home date night ideas:
Watch a chick flick from your high school days.
Give each other a pedi including a nice foot soak and exfoliation; boys may pass up the polish but I bet they won't pass up the soak!
Dip strawberries in chocolate and then eat them for dessert.
Play board games; Twister is always a good date night activity!
Play hide-and-go-seek.
Bring out your inner artist with a classic paint-by-number project.
Try your voices at karaoke.
Wash and detail your cars; don't forget matching air fresheners!
Finger paint with pudding.
Write silly poems for each other.
Build a mini version of your home out of LEGOs.
Bust a move playing Just Dance.
Build a blanket fort and watch Netflix on a laptop or tablet; don't forget the popcorn!
Start & finish a 1000-piece puzzle.
Create a nostalgic Spotify playlist and share your favorite childhood stories while listening to it.
And here's the recipe for that perfect soup side dish, the loaded wedge salad. Enjoy!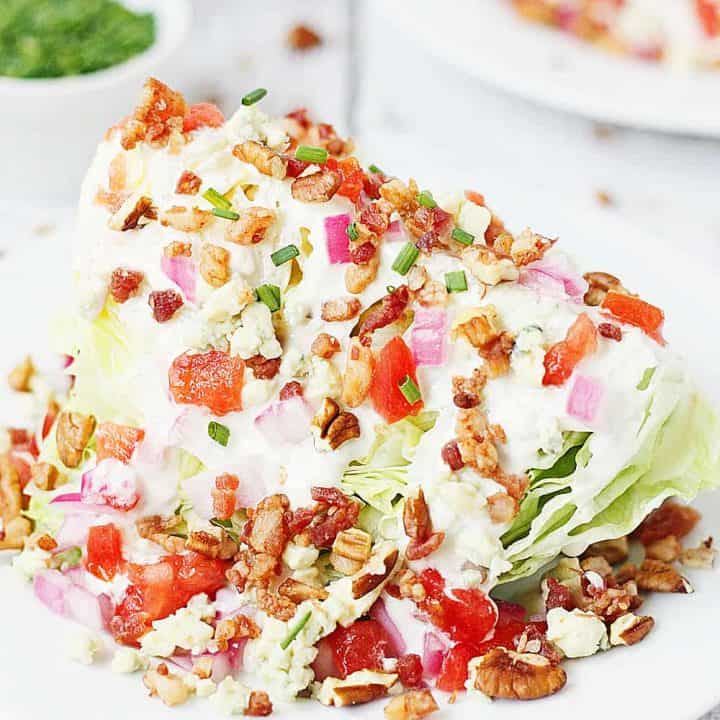 Loaded Wedge Salad
This loaded wedge salad features iceberg lettuce topped with blue cheese dressing, red onion, tomatoes, bacon, blue cheese crumbles, and pecans. It's easier to make than you think!
Ingredients
2 roma tomatoes, diced
1 red onion, diced
½ cup real bacon pieces
½ cup blue cheese crumbles
½ cup pecan pieces
1 head iceberg lettuce, outer leaves discarded, quartered lengthwise so each quarter hold together
1 bottle Blue cheese dressing
Instructions
Arrange iceberg wedges on individual salad plates; drizzle dressing over each. Sprinkle tomatoes, onion, bacon, blue cheese crumbles, and pecan pieces evenly over each wedge. Serve immediately.
Optional preparation: Place diced tomatoes in a fine-mesh strainer over a small bowl and sprinkle with kosher salt. Toss to combine. Place onion in a small bowl and add enough white wine vinegar to cover. Let both stand for 10 minutes. Place wedges on salad plates; drizzle dressing over each. Drain quick-pickled onions and sprinkle over wedges along with diced tomatoes and remaining toppings. (Salting the tomatoes drains excess water and concentrates flavor. Quick-pickling onion reduces its strong taste and brightens the color.)
Nutrition Information:
Yield:

4
Serving Size:

1
Amount Per Serving:
Calories:

249
Total Fat:

20g
Saturated Fat:

6g
Trans Fat:

0g
Unsaturated Fat:

13g
Cholesterol:

24mg
Sodium:

402mg
Carbohydrates:

10g
Fiber:

4g
Sugar:

5g
Protein:

10g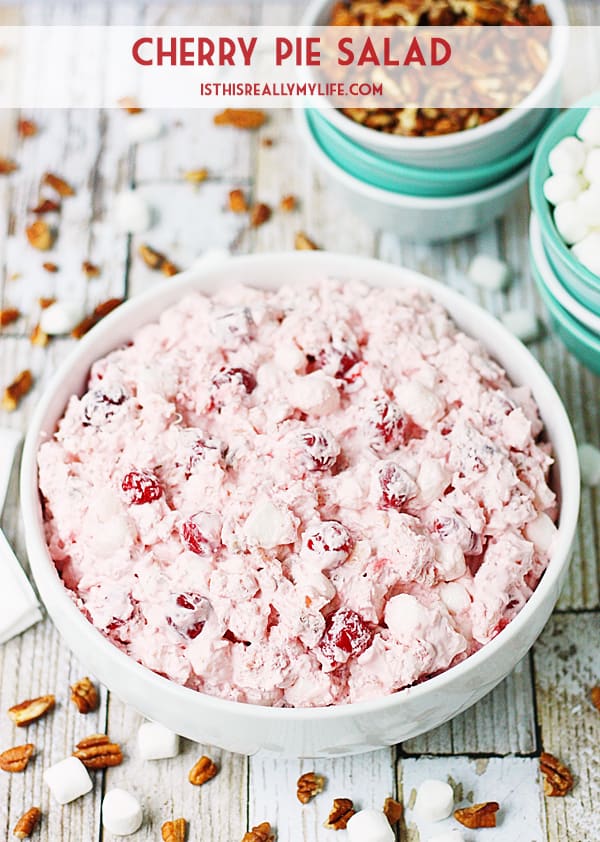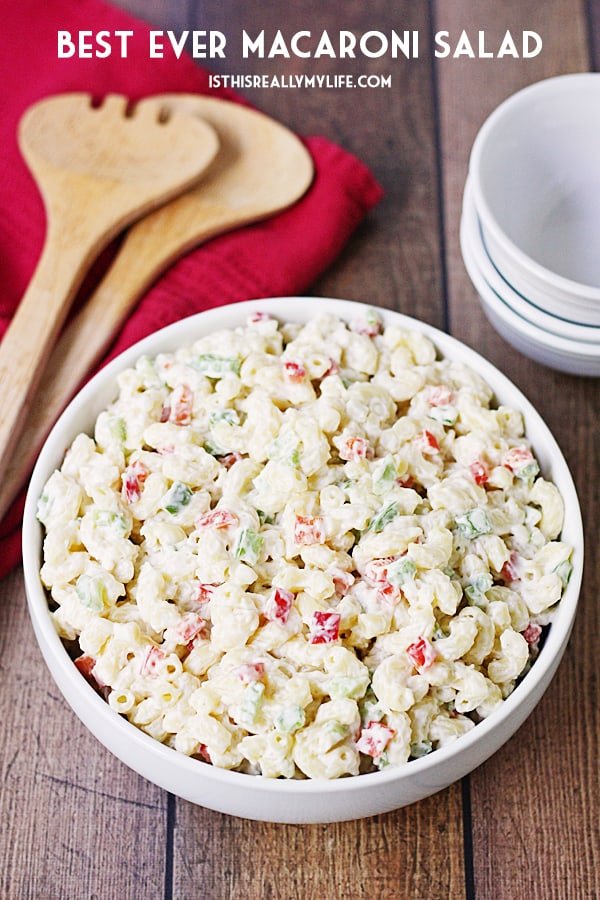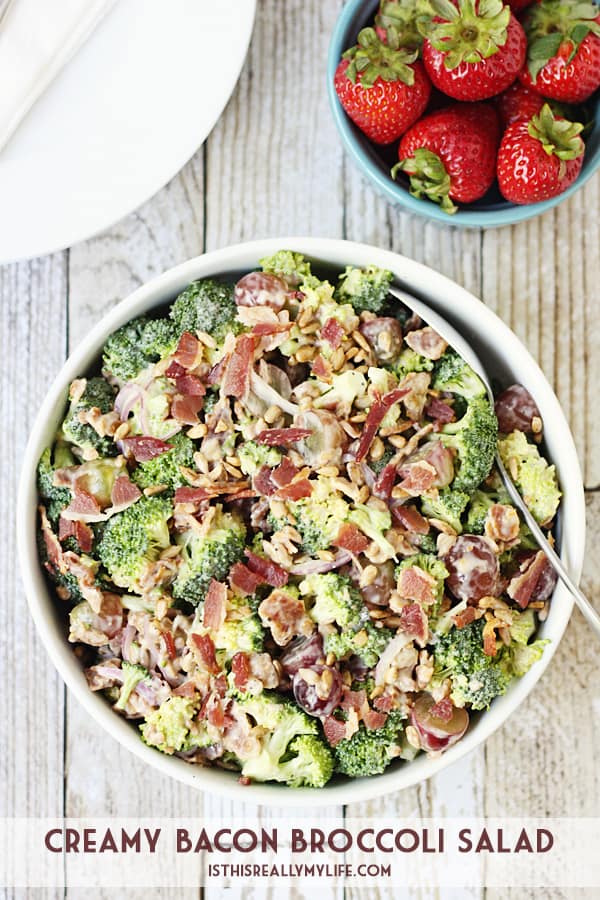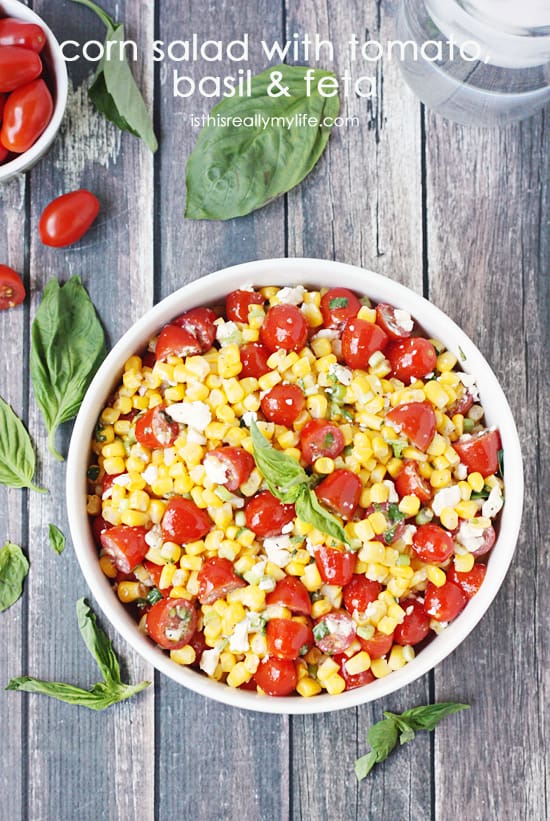 Corn salad with tomato, basil & feta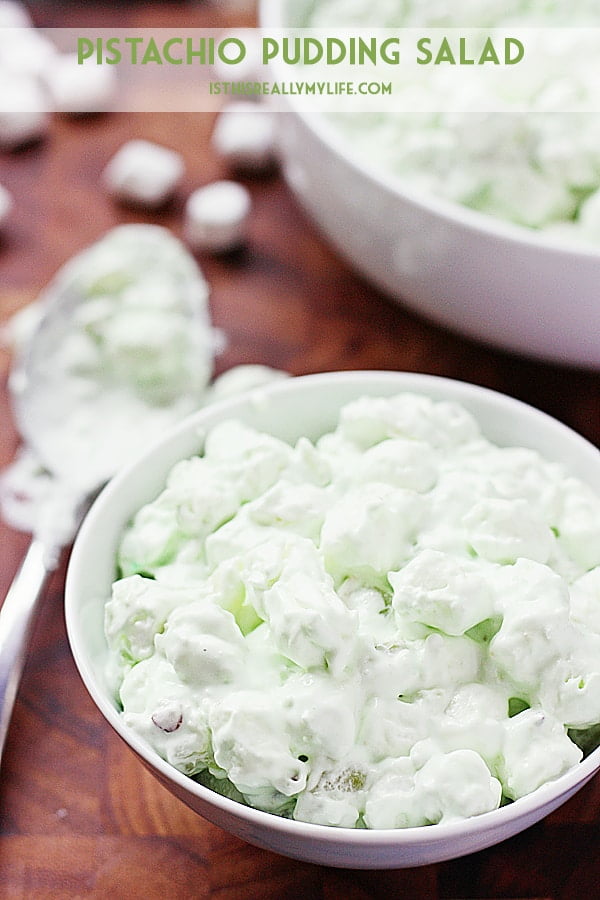 Pistachio pudding salad (my mom's specialty)