This little treasure sits on my bookshelf. The card reads "Live to the point of tears," a quote by Albert Camus. I fell in love with the card the moment I saw it and it fit perfectly inside a secondhand frame I'd also fallen in love with. The saying reminded me of how I'd like to live my life: a joyous adventure with no regrets and lots and lots of good memories.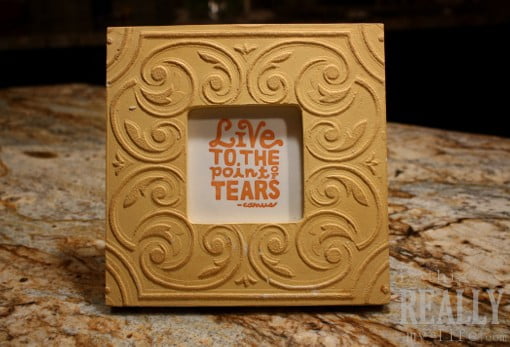 This past week has been a good memory, and by good I don't mean wonderful and fabulous. It's more like it may go down in history as one of the most exhausting, frustrating, put-me-in-a-straight-jacket weeks ever. Oh, I am currently living to the point of tears, but not those kinds of tears.
Don't get me wrong, I know my problems are inconsequential compared to most so I rarely dedicate a blog post to them, but when I found myself asking, "Is this REALLY my life?" on more than one occasion, I thought it fitting to write about why I may run away tomorrow and never come back…or at least not come back until the kids are grown and the husband is out of MBA school. Here's why.
Friday
Discover Livi has an adult louse crawling around her scalp. Call the pediatrician and confirm but feel better because it's not an infestation. One shampooing should do the trick.
Drop Madison off at school and hit Walgreen's for lice shampoo. Spend far too long trying to figure out which $@%*& box to buy.
Discover an adult louse in George's hair while looking at lice shampoo boxes. Exclaim, "You've GOT to be kidding me!" loud enough everyone in the store can hear.
Head home and proceed to de-lice the kids. Listen to them cry as I pull that fine-toothed lice removal comb through their hair. Look forward to doing it again in 7 to 10 days.
Pack everyone's bags and finally shower.
Take 5 hours to drive to St. George thanks to traffic.
Saturday
Wake up desperately hoping Livi will sleep better the next couple nights.
Who the heck knows. I think it involved swimming in a frigid pool, cold even with the 102-degree weather. It may have also included a nap and a few chapters of The Girl With the Dragon Tattoo.
Sunday
More swimming and shivering and sweating at the pool.
Enjoy a few blissful moments at a fabulous playground.
Face reality when Nathan tells me he thinks he saw another louse in George's hair. About lose it thinking I have to spend another $20 and de-lice my son's hair while on vacation.
Visit the St. George LDS Temple, which looks gorgeous lit up at night.
Leave the temple grounds, cross the street and hear a loud thump followed by Madison and George in tears. Turn around and notice both have fallen down, hard, after stepping off the curb into a storm gutter (sloped rather than flat).
Realize Nathan is going to help her and immediately turn on my heels. Storm to the car, totally annoyed because someone had to go and get hurt while on vacation.
Quickly remember it's not a vacation if the kids are along for the ride. (Family vacations often involve strange rashes, trips to InstaCare and vomiting. Why not add lice and sprained ankles to the mix?)
Stop at Walgreen's for lice shampoo, ibuprofen, an ace bandage and a bag of peanut butter M&Ms.
Monday
Watch Madison hop on one foot part way, crawl part way to subzero pool. Try to have sympathy but give up. Come to the realization (again) I'm a horrible mother.
Clean the condo. (Stripping beds, scrubbing bathrooms and cleaning floors is what truly makes a vacation a vacation.)
Eat some yummy chips & salsa at Panama Grill. Discover I never again want to use the bathroom at Panama Grill. Gross.
Drive home.
Tuesday
Take Madison to Dr. Pete and learn, via x-ray, she has a moderate to severe sprain and some funky benign cyst we needn't worry about.
Indulge my growing grumpiness in a Big Mac meal from McDonald's, large Diet Coke included of course.
Agree last-minute to bring goodies to a Childhelp.org meeting that night. Bake a batch of oatmeal raisin cookies and peanut butter swirl brownies and try not to eat them all on the way to said meeting. (Stress will make me do crazier things.)
Receive a call from Madison at 10pm on the way home from the meeting. Listen as she tells me she thinks she found a louse in her hair while showering. Exclaim, "Seriously?!?!" into the phone and hang up.
Spend a good 1 1/2 hours de-licing Madison's hair.
Open the garage fridge and find a can of Diet Coke has exploded inside due to partial freezing. (You think I would have learned the first time soda went "pop" in my fridge.)
Clean caffeinated slush out of the fridge and ponder the meaning of life, or at least why in heaven's name everything always has to happen at once.
Wednesday
Mow the lawns because one daughter has a sprained ankle and the other has so much else to do she'll throw a royal fit if I remind her she needs to mow the lawn and I can't deal with any royal fits today.
Take some aggression out on the dandelions scattered here, there and everywhere in said lawn.
Check Lauren's hair for lice. Find one. Spend 1 1/2 hours de-licing her hair.
Open the garage fridge and discover a can of Fresca has also exploded all over the inside, though a bit better contained this time. Take every last $&%@ soda off the shelf and leave them on the garage floor.
Consider making a paper chain that counts down the minutes until I leave for a girls' trip to L.A. with my mom and sister.
Amidst all this I've been lucky enough to vacuum nooks and crannies, do about a hundred loads of laundry, comforters and all, plus sanitize hair brushes, combs and clips. Nathan and I also sported the lice shampoo last night just to be safe. (Fortunately we are lice-free but the image of us picking nits out of each other's hair reminded me of our recent 2 1/2-hour Tarzan experience.)
Oh, and I've been averaging about 4 or 5 hours of sleep a night, worked out once and have my last sprint triathlon on Saturday morning. It's going to be awesome.
Living to the point of tears? It's more like hysterics.