I was going to say "quick and easy" instead of "light and delicious" but I think I use the quick-and-easy thing far too much. Trust me, I like quick and easy when it comes to a lot of things (yes, even that), but when it comes to recipes, it's nice to spice up the post title once in a while.
But this pasta salad recipe is truly a simple one—one of those "throw in this, toss in that, chill and serve" sort of salads. With the holidays as crazy as they are, and side dishes always on the sign-up sheet, what's not to love about something that takes less than 10 minutes to assemble? And believe it or not, I created this recipe myself. Yes, I made a dish—and served it to friends, no less—without using a recipe. (Has anyone checked to see if hell's frozen over yet?)
I consider this cold pasta salad "light" because I use just enough Italian salad dressing to give it flavor without making it super oily or overpowering the other flavors. It's also "light" thanks to part-skim mozzarella cheese, though the not-so-light mini pepperoni slices may cancel out the whole part-skim thing. Whatever. It's the holidays. Calories don't count.
So here is another go-to recipe if you're asked to bring a salad or side dish to a holiday potluck. I tripled it for last night's church party and only a single serving remained in the ginormous bowl. I'm guessing it was a hit. Either that or not enough people brought salads. (I'm going with the "it was a hit" thing.)
Note: Feel free to vary the amount of the various ingredients in this salad. Cheese lovers can add more cheese; olive haters can eliminate the sliced olives. Of course, if you eliminate the olives we are no longer friends.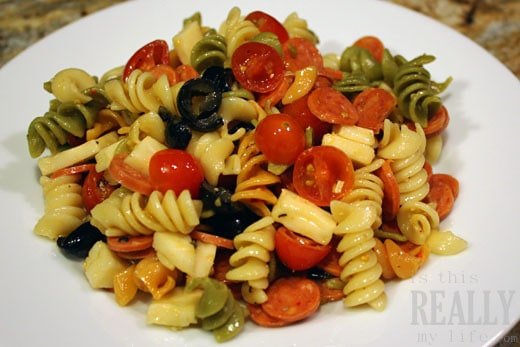 Tri-color pasta salad
1 package tri-color rotini pasta
1/2 bottle Italian salad dressing*
1 package mini pepperoni
Mozzarella cheese, diced
Sliced olives
Grated Parmesan cheese, to taste (optional)
Freshly ground black pepper, to taste (optional)
Shredded Romano-Asiago cheese (optional)
Cook pasta according to package directions. Drain and let cool. Once cool, toss with the Italian salad dressing and add the mini pepperoni, mozzarella cheese and olives. Add a couple tablespoons of grated Parmesan cheese and a pinch or two of the black pepper and toss. Chill until ready to serve. Before serving, toss the salad again and add a little more dressing if you prefer a stronger flavor. Top with the shredded Romano-Asiago cheese and serve.
* I love Ken's Steak House Italian with Garlic and Asiago Cheese salad dressing for this recipe. It seems to have the perfect flavor!
P.S. You can't see the yummy shredded Romano-Asiago because this is all that was left after the church party...and I forgot to sprinkle more on the pasta salad before I took the photo. It was 12:30 a.m.