…because Kellogg's FiberPlus cereals taste just about as good as cake and are a heck of a lot healthier. Trust me.
I am a breakfast person. If I skip breakfast, not only am I super grumpy—and extra tired—after spin class but I tend to eat a lot more throughout the day than I usually would had I fueled up first thing in the morning. Being a breakfast person AND a fitness enthusiast AND a fan of a slim waistline, I'm always on the lookout for healthy breakfast options.
My current breakfast of choice has been steel cut oats, but any steel cut oats fan will tell you that's a 20-minute commitment…and often sometimes I don't have 20 minutes to eat before rushing out the door in time to grab a decent spin bike before they're gone. Most mornings I grab a weight loss shake and drink on the run. But those shakes don't fill me up and I'm starving by the time I get home.
Cereal is another option, and I've definitely been making healthier choices when it comes to that food group. My kids are a little disappointed they get to eat Frosted Flakes and Cocoa Puffs only when company is in town, but they are getting used to healthier cereal options—you know, cereals that have sugar listed no earlier than the third ingredient and don't contain high fructose corn syrup. Believe it or not, those cereals are hard to find but you can find a few gems your kids will eat with you, like Grape Nuts, Kix and Honey Bunches of Oats.
Unfortunately, only a few healthy cereals are high in fiber and use whole grains, so when Kellogg's asked me to try their new FiberPlus Berry Yogurt Crunch and FiberPlus Cinnamon Oat Crunch cereals, I was on it like Splenda on generic Cheerios!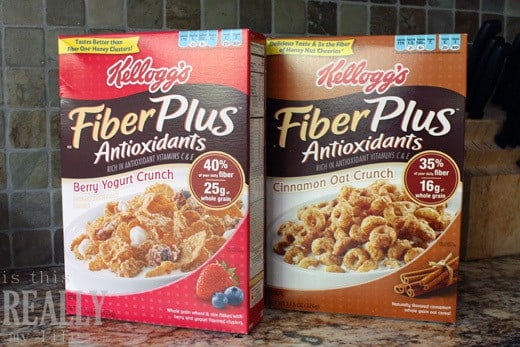 …
These babies are high in fiber (10 grams and 9 grams, respectively), made with whole grains (26 grams and 16 grams, respectively) and contain antioxidant vitamins C and E. That's like half your daily requirement of fiber (and probably whole grains too) in one bowl of cereal! But does that much fiber and whole grain actually taste good?
Definitely. And that could be due to sugar being the second ingredient in both Kellogg's FiberPlus cereals. Yes, I said second ingredient. I was kind of thrown for a loop, as you will see in this video, but you can also see how much my kids (and myself) enjoyed both the Berry Yogurt Crunch and Cinnamon Oat Crunch. George's double thumbs-up at the end makes it worth watching the entire thing, promise.
…
How can you not find these cereals delicious when you have cinnamon-covered, crunchy oat circle of goodness like these: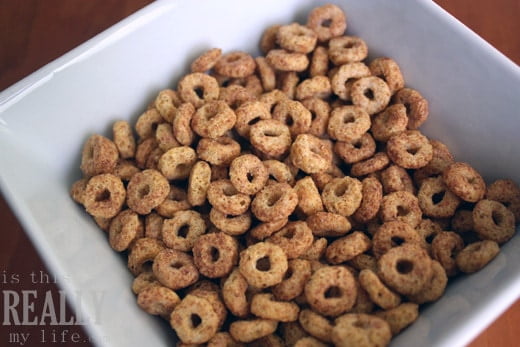 …
And a bowl like this of crispy wheat and rice flakes sprinkled with berry- and yogurt-flavored clusters:
…
I will say the whole sugar-as-a-second-ingredient thing isn't my favorite, but in the cereals' defense—because they can't speak for themselves—the ingredients list doesn't seem to have anything else too scary. No HFCS, no trans fat, no enriched white or wheat flour. And that whole high-fiber thing keeps me fuller longer (long past spin class), which means I'm snacking on less peanut butter M&M's, so overall my sugar intake is a lot less!
With how tasty the FiberPlus Cinnamon Oat Crunch cereal is, I'm thinking it would be a delicious and healthy substitution in this Popcorn Snack Mix Recipe. Just substitute honey for the corn syrup like one reviewer suggested and it's nearly guilt free!
By the way, our FiberPlus cereals were gone in about two days. And here I'd hoped the kids would forget about them so I could enjoy the cinnamon and berry goodness over the course of a week. Dang.
Disclaimer: This post was sponsored by Kellogg's. I received one box of Berry Yogurt Crunch and one box of Cinnamon Oat Crunch and we devoured them in record time. The opinions—including George's double thumbs-up—are all ours and completely honest. (Obviously. If they weren't I'd still have boxes of FiberPlus cereal in my pantry.)