Before I share the recipe for these surprisingly healthy lemon cranberry muffins from Melt in Your Mouth: Sweet Treats You Can Freely Indulge In, the latest cookbook from Melissa Chappell…
.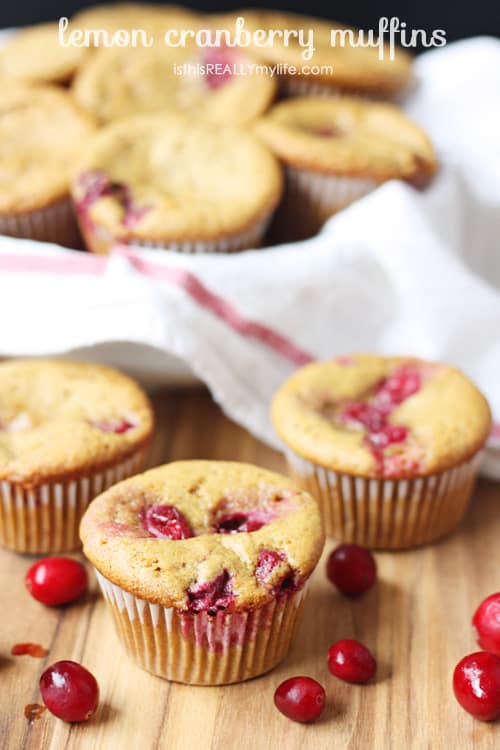 .
…I need to give you a little background.
Only long-time readers will remember The Raw Melissa Project, a three-part series of posts in which I compared the contents of Melissa Chappell's fridge, freezer and pantry with the contents of my fridge, freezer and pantry:
Would a woman who is all about avoiding processed foods and eating as organic, fresh and local as possible have anything in her freezer? Would she have a completely bare pantry except for some grains and organic coconut for her to-die-for macaroons of which I can eat an entire carton by myself? And wouldn't it be fun to take photos of her fridge/freezer/pantry and compare them to what we have in ours? Those thoughts—and an email to Melissa with all my crazy ideas—were the beginning of the Raw Melissa Project, a series of posts I can't wait to share with you.
I unveiled my findings here (the contents) and here (the videos and Melissa's recipe for a true breakfast of champions), and then I gave a thorough review, including recipes, of her Fresh Food Workshop. Since that time I've watched as Melissa Chappell has continued her mission of "a gentler and happier approach to health."
I love her manifesto so much I had to share. It's something every woman needs to hear.
.
.
This woman is amazing; everything I said about her still rings true: "I was immediately drawn to this woman who had a glow about her. She's beautiful—I'm talking gorgeous hair, engaging smile, flawless skin, generous, easygoing and passionate. … You can't help but absolutely adore this woman."
Back to her cookbook, those delightful lemon cranberry muffins and how you can get 20% off your purchase (because Melissa loves my readers as much as I do).
I'm going to be totally honest—I love my white flour, white sugar and all things butter treats. That's why when Melissa told me about her new cookbook featuring treats I could feel good about baking and eating, I used it as the perfect excuse to catch up with her and find out more about what we could expect from Melt in Your Mouth. You'll quickly learn why I love this woman so much.
***
First, a bit about you…
Can you tell us a bit about the life experiences that have helped guide you over the past few years?
I am a single mother of three teenagers and one baby. The road to both doing what I love and making a living has been a very arduous and difficult one, but I wouldn't have it any other way. My parents are entrepreneurs and I grew up knowing that doing what you love is the key to true happiness. I knew I could get some 9-5 job, and I respect people who do that, but it wasn't for me. I saw great freedom in what my parents did and more than "stuff" and "things" I wanted a full life, so when I became a single mom, over ten years ago, I worked and worked and worked to have that big, challenging, joyful, tiring path because it ultimately meant a more meaningful life to me.
.
Your manifesto is amazing. Why did you feel it was important to have a manifesto? (I love it, by the way.)
I took Marie Forleo's B-School training this spring and it was AMAZING. One of the things she suggested is for us to write a manifesto. I've seen so many women over the years, in my work as a birth professional, as well as my work as a nutrition coach and food educator, berate themselves and literally become immobile in life because they are incapacitated by the negative thoughts about their bodies. I myself have been in that place. After much emotional and "soul" work, I've come to regard my body as capable and strong and valuable. I've seen positive changes in my physical body just by changing my thinking patterns and I wanted to share all this with women. I want women to take a more gentle approach to health. I want them to be happy and joyful and full and abundant TODAY, not in 30 days after they've completed the latest food fad challenge or hurt their bodies after working out too hard at the gym. The manifesto not only allows me to share with women exactly what my aim is, but it also reminds me what it is I'm trying to do. Of course, this particular manifesto is only one aspect of my life and I plan to write manifestos for every passion and desire I have.
.
What is the most important thing women need to do in order to better love themselves unconditionally and wholly?
Learn to let go of guilt and shame. It's so easy for me to say, but it's so keenly important. Notice I said "learn to let go" instead of "let go"? It's a years' long process for many people and it's not something we can usually do without resources and help. Women are trained to feel bad about everything they do that isn't "perfect" and it's a very hard learned behavior to let go of. There are many philosophies and ideas for how to let go of guilt. Brene Brown (see her on TED) has some of the best and most sound ideas for how to let go, however, I think the number one best way to begin is to realize that one's purpose in life, the reason you were put here on this planet, will never be fulfilled as long as you are stymied by guilt. Women are nurturers, we love to serve others, so considering it from this angle can sometimes help women realize that they can't ever serve the world in their own unique and purposeful way if they can't let go of shame and guilt.
.
What was your inspiration for your new website and how long was it in the making?
I've wanted to create a new website for a long time that isn't related to "raw food." If you looked closely at my old site, you realized that I wasn't myself a raw foodist and that I wasn't promoting raw foodism, but the name "Raw Melissa" obviously led people to believe that I was. It's true that my products fit within a raw foodist parameter, but they also fit into many different parameters such as gluten-free, dairy-free, sugar-free, etc. Ultimately, my goal was to create healthy treats that many people could indulge in freely. Still, I had a lot of people come to my classes that were coming because they had been told or had read that being 100% raw was the healthiest thing they could do. I got frustrated when I saw the guilt and shame, obsessiveness and physical harm that often came along with that. I didn't want to be a part of making women's lives harder than they already were, specifically around food, so I made the new website.
I started it at the end of March and we launched on June 21. It was a crazy and hard journey, but I have an amazing designer and had many people who contributed articles and such to make it happen. Side note: do you know how hard it is to make a website when you're nursing a baby? I'm pro at typing with one hand. ;)
.
What is your favorite thing about MelissaChappell.com?
Hands-down, my favorite thing is the cooking shows section. I love everything about the cooking shows. I love the planning, the creating of recipes, the securing and picking of guests, etc. The shows are intense and so much fun!
.
I can't be the only one who feels creating fresh, healthy and seasonal meals is time consuming and expensive. What do you tell people like me?
I agree with you! It's sometimes overwhelming. I think the number one best thing that people can do is to learn to cook, and I don't mean learning to make mac and cheese. That's not cooking (though it is helpful to know in college). For example, tonight I was able to make a nice pasta dish and a side dish of cabbage salad for dinner. The extraordinary thing is that I've just been out of town teaching a training in another state! I have no fresh groceries in my house and I've been spending so much time catching up, that I haven't made it to the grocery store. Still, I was able to make a nice meal because I knew how to combine ingredients and spices and the odds and ends I do have into a nice meal.
Another thing that works well is to eat whatever you've got (yes, even mac and cheese) but add some peas to it or some chopped tomatoes and serve it with a bowl of grapes and a bowl of carrots and a bowl of almonds or whatever you've got on hand. The point is that even when you don't have time to cook, you can still produce a healthy meal just by putting things on the table that require no preparation or cook time and are fresh and healthy. Being healthy doesn't mean you should eat only good food all the time and stress out so much about it that you end up hurting yourself emotionally. That defeats the purpose!
.
And now a bit about your new cookbook, "Melt In Your Mouth"…
.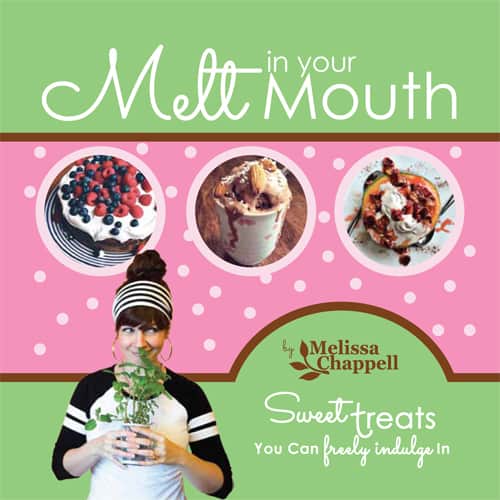 .
When did you first realize you had a passion for food, specifically healthy food?
Very early in my life. I remember having small notebooks as a little girl where I wrote down recipes that I made up. I also learned to cook at a very young age. The very first really hard thing I ever made was a lemon meringue pie. My mother facilitated the whole project and she helped me make it. I helped a lot with cooking as I grew up and I watched my grandmother and mother make food all the time, they even catered events every once in a while. My grandmother was very into health food and it spilled over into my mother's cooking, as well. I remember my grandmother taking me to a tiny little health food store that smelled like herbs and spices and we used to sit at the counter and eat "Bible Bread Sandwiches" with Spike seasoning. To this day, I use Spike seasoning on the whole wheat veggie sandwiches that we sell commercially.
.
You used to focus mainly on raw foods. What was the first raw recipe you tried and was it a success?
Wow. That's such a good question. I don't remember the first recipe I tried because when I first decided to become a personal chef for raw foodists, I went to a raw food restaurant and ordered a couple things so I could get an idea of what I was doing. I then bought a fat raw cookbook, read it from cover to cover and made plenty of notes along the way. I picked out about five different dishes, bought the ingredients and ended up spending a full day making them all. I tested the finished products on my raw foodist friend who had previously owned a raw food catering business and she loved them! We also took samples of those products to some potential clients and they ended up loving them too, so I guess you could say, yes, they were a success.
.
Other than a focus on desserts, what should readers expect?
Speaking of desserts, they should expect to find some of their favorite traditional treats like oatmeal cookies, chocolate pudding, vanilla ice cream and banana cake, but done in a really healthy way. Additionally, they should expect to find that the recipes are almost all very simple, with a couple being a little more technical for the foodie/cooks out there.
.
Did you learn anything while publishing your first cookbook that changed the way you approached this one?
My first cookbook was self-published and my second, Melt in Your Mouth, has an actual real-life publisher, so you could say that is one thing I learned. It's nice having a publisher and mine is very flexible, allowing me to be completely in charge.
The biggest thing I learned with the first one is that deadlines are meant to be missed. Truthfully though, deadlines are meant to keep us on track, but aren't meant to kill us off. I had to push my deadline back several times because of life events and work-related situations and I realized that it was okay in the big scheme of things. I love deadlines, though, because they keep us focused and continuing to work on the goal without quitting.
.
What did you most enjoy about writing this cookbook?
I just love testing recipes. I also love the whole creative process of sitting and coming up with ideas for recipes. Sometimes, in the early stages of this cookbook, I would fall asleep by dreaming up different combinations and ideas for what might work. I also love choosing the colors and photos for the cover and taking the pictures that go with the individual recipes.
.
What do you think will most surprise and delight readers when they buy this cookbook?
I think readers will be surprised by the photos and how I took and edited them. I think (hope!) they will be delighted by the way that I write about the backstory of each recipe, as if I'm writing to a friend, which I really felt I was doing. I think they'll also appreciate the detailed ingredient list which describes each of the most common ingredients, so that they have no questions when sourcing ingredients. I think readers will also enjoy the famous "Guess What?" sections that I also had in my last cookbook. These are sections that talk about the health properties and history of some of the ingredients used in the book and people really seem to love them.
.
What do you hope readers will most take away from your book?
I want readers to realize that this is a fun, light-hearted cookbook that is first and foremost about treats. The fact that they happen to be healthy and use whole food ingredients is a delightful but secondary perk. I hope readers will read through the different recipes and will be thrilled with the selection of treats and excited to get into the kitchen and make some of their favorites.
.
Of course I have to ask, what is your favorite dessert recipe from the book?
Oh wow. Let's see here. This is almost like choosing a favorite child, but not quite. I think I can do it. Can I say more than one? Ok, here goes: I LOVE the chocolate puddings, the Chocolate Peanut Butter Ice Cream about kills me, it's so good, and, (lest I name all chocolate containing recipes) I have to say that I really love the Lavender Bread Pudding with Toasted Hazelnuts and Dried Cherries.
.
If you could use only three words to describe the new cookbook, what would they be?
Guilt-free (can that be one? haha), happy, indulgence.
.
Do you have plans for a third cookbook and if so, can you share what kind of recipes we can find among the pages? I promise I won't tell!
I do have plans for a third cookbook. It's a meatless main dishes cookbook. One of the recipes I've already tested several times is a Savory Bread Pudding with farm eggs, tomatoes and spinach. It's SUPER easy and delicious. I want to fill it with recipes that are so good and hearty and filling, you don't even think about the fact that there's not meat in them. I think the dishes will end up being very ancestral and traditional (think Old England or the South of France) and will use lots of hearty ingredients like artisan breads and grains, vegetables, and cheeses.
.
Final question. Over four years ago (yes, four!), you were kind enough to let me interview you for what I affectionately called The Raw Melissa Project. I was able to compare what was in your fridge/freezer/pantry with what was in mine. It was no surprise yours looked a heck of a lot healthier. After four years, are they still packed with whole-food goodness? Have any of your habits changed since then?
I would say it pretty much looks the same. I remember that we had a homemade cheesecake in the fridge, along with all the healthy foods, and that is still largely my philosophy, that is, cooking from scratch is first and foremost the most important thing anyone can learn or teach when it comes to food education. More than food education, learning to cook is a valuable life skill that is necessary for better health, better food production practices and good financial health.
Oh, incidentally, I've got a homemade Tres Leches cake in my fridge right now, but yes, I made it from scratch. :)
***
.
If Melissa's recipe for lemon cranberry muffins is any indication of what you'll find among the pages, then Melt in Your Mouth is a must-have cookbook this holiday season. It makes the perfect gift for yourself and friends and family.
You know what else makes the perfect gift? Melt in Your Mouth at 20% OFF!
.
*** Use code ITRML to get 20% OFF your order of Melt in Your Mouth: Sweet Treats You Can Freely Indulge In. ***
.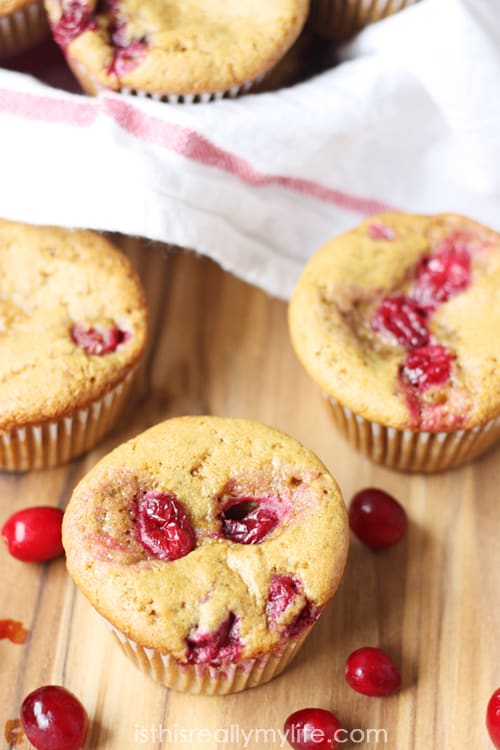 Melissa was nice enough to let me share this recipe with you. I guarantee one bite and you'll be jonesing for the entire cookbook.
.

Healthy Lemon Cranberry Muffins
These lemon cranberry muffins are so yummy you won't believe they're actually good for you. Just one of the many delicious recipes found in Melissa's new cookbook, Melt in Your Mouth. You can get your copy here: http://melissachappell.com/shop/shop.shtml.
Author:
Melissa Chappell - "Melt in Your Mouth" cookbook
Ingredients
2 cups whole wheat pastry flour or organic sprouted wheat flour
1½ cups frozen cranberries
1 cup sucanat or coconut sugar
½ cup almond milk, coconut milk, cow's milk, kefir or yogurt
⅓ cup walnut or sunflower oil
2 T fresh lemon juice
Zest of one lemon
1 T apple cider vinegar
1 tsp baking soda
1 tsp baking powder
½ tsp salt
Instructions
Mix everything but the cranberries in a bowl. Once ingredients are well incorporated, fold in the cranberries.
Fill muffin papers about ¾ of the way full. Bake at 350 degrees until brown and the middle springs back to the touch, about 20 minutes.
.
Learn more about Melissa Chappell by visiting her website
MelissaChappell.com
. You can watch her
cooking shows
, read
health and wellness articles
and shop for all kinds of
yummy things
like her incredible macaroons and cookbooks.
You can also find Melissa on Facebook and Instagram where she posts some of the most delicious photos of her recipes.
.


Feel free to "like" is this REALLY my life? on Facebook. It won't always earn you an extra entry in a giveaway but it will give you warm fuzzies.
Don't forget to sign up for free is this REALLY my life? updates via RSS or email so you don't miss a single awesome post.
.