Disclosure: This post is part of a social shopper marketing insight campaign with Pollinate Media Group™ and Lean Cuisine, but all my opinions are my own. #pmedia #HonestlyGood #ad http://cmp.ly/3/8vNxcO.
If you're a long-time reader of this blog then you know I'm a huge believer in smart health and fitness—no fad diets or crazy workout regimens. I prefer sensible, doable, sustainable stuff like:
Incorporating more grains into your diet.
Adding fruits and vegetables to each meal.
Drinking a heck of a lot more water.
Cutting down —not out because, hey, moderation in all things—on breads, pasta and dessert.
Choosing a workout (or workouts) you enjoy.
Throwing in exercise whenever you can (taking the stairs, playing at the park, walking the kids to school).
…
I'm not perfect, trust me.
I still eat brownies at 11:00 p.m. at night and drink Diet Coke pretty much every day. (Pebble ice cancels out all the aspartame, right?!) But I am trying to make some healthy changes, especially when it comes to food.
That's why I was intrigued by the new Lean Cuisine Honestly Good meals.
No, really. I was intrigued.
…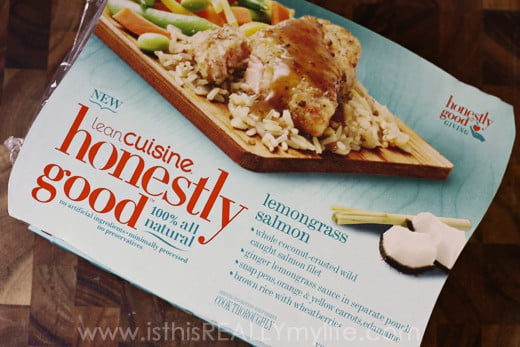 …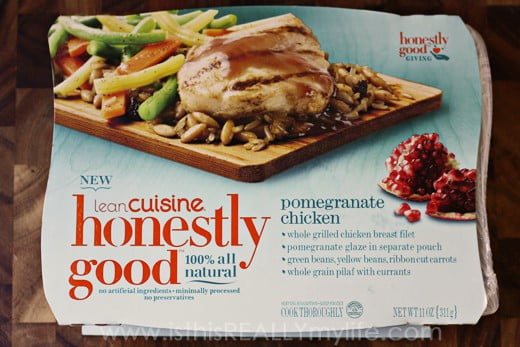 …
In the past I've stocked up on a variety of "healthy" frozen meals for lunchtime because lunchtime is always my downfall. I don't know if it's because I'm crazy busy trying to get work done while the kids are in school but I don't have the time or energy to bust out a buffet of salad fixings. Sadly those meals rarely tasted any healthier than the drive-thru and on top of that, I never felt full after eating all 300+ calories.
But after sampling the new Honestly Good meals, I was pleasantly full—and my taste buds were pleasantly happy. Maybe it's because the new Lean Cuisine meals feature six different varieties and are full of 100% all natural, wholesome ingredients. And you can totally taste it.
Guess what else? Together with their farmers, Lean Cuisine is donating a portion of the vegetables grown for their Honestly Good meals to local communities.
…
…
…
My favorite is the Pomegranate Chicken (top) while Nathan, always the seafood lover, preferred the Lemongrass Salmon (bottom). I'd have sampled the Honey Citrus Chicken, Pineapple Black Pepper Beef, Plum Ginger Grain-Crusted Fish and Roasted Red Pepper Chicken but my local Target didn't have those in stock.
See? I'm not the only who's fallen in love with these "honestly good" meals.
I'm definitely returning to Target and stock up on more Lean Cuisine Honestly Good meals (hopefully in a handful of other flavors so stop buying them already!). I could eat pomegranate chicken multiple times a week and be very, very happy.
Speaking of happiness, I can't wrap up this post without sharing one of my loves: yoga.
I found yoga a couple years ago and now I can't live without it. Though I only go twice a week, it's enough to keep my mental health in check. In fact, I highly recommend adding yoga to any workout regimen. Not only is it good for stress relief but it also lengthens and strengthens muscles, increases flexibility and improves balance.
In fact, the other day I finally held crow pose for 30 seconds…a new PR. Crow (Bakasana) looks something like this:
My other favorite poses? The yoga head stand (Shirshasana)…
Half Moon (Ardha Chandrasana)…
And Plow (halasana), a great yoga pose for insomnia (though it took me a while to get comfortable breathing in this pose).
Of course, it wouldn't be a Saturday in-home yoga photography session without a few extra family members, but I was more than happy to help George and Livi get their yoga on.
The photographer found herself in a few shots as well.
…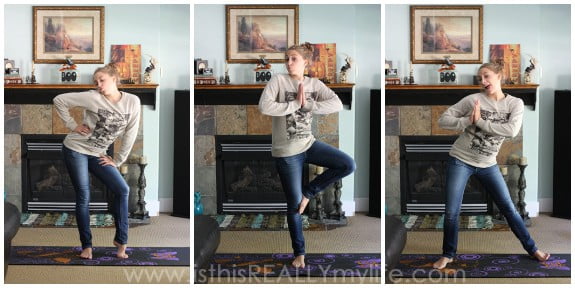 …
…


Feel free to "like" is this REALLY my life? on Facebook. It won't always earn you an extra entry in a giveaway but it will give you warm fuzzies.
Don't forget to sign up for free is this REALLY my life? updates via RSS or email so you don't miss a single awesome post.
…