I've thrown myself into the world of printables thanks to the Young Women Personal Progress program and Pinterest. I stumbled across a collection of Young Women printables but couldn't find anything for the YW values that truly floated my boat. The obvious alternative was to create my own.
At least that was obvious after I was seriously caffeinated. The less caffeine, the less obvious.
I started with a Divine Nature print because that was the value I focused on for January's lesson, but you'll have to wait for the next post to download that one. My Type A personality prevents me from sharing these out of order, so I bring you the Young Women printable: Faith download first.
…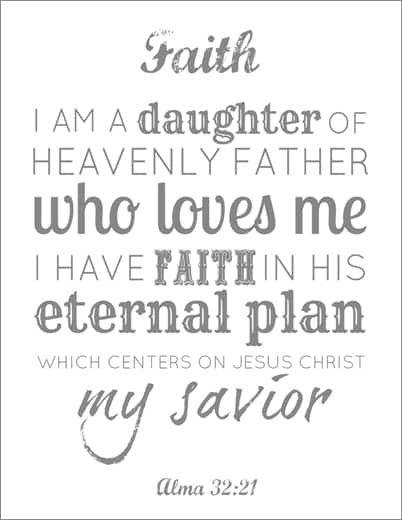 To download the Faith printable(s), click on the image(s) and save the file(s) to your desktop. But before you do, please read the following rules:
ITRML printables are for personal use only.
If you decide to re-post or use the image on your blog or website, you MUST cite the source and include a link to this post.
Personalization and other customizations are not available on free printables; they are offered "as-is."
…
Rather than waiting another month to post the next Young Women printable, I'll try to post one a week. Each ward has a different way of doing things, and if you're crazy enough to like these little prints of mine, I don't want you to miss a value.
Oh, and I totally created the cutest—and simplest—"divine" necklace for the girls. (If you follow me on Instagram, you saw a sneak peek late Saturday night.) I'll post that tutorial later this month…once I buy more beads and take photos.
I so totally didn't want to snap photos while madly cranking those out at 11pm. Can you tell I'm a huge fan of procrastination?
Other YWs printables (list will be updated as more are designed):
…

Feel free to "like" is this REALLY my life? on Facebook. It won't always earn you an extra entry in a giveaway but it will give you warm fuzzies.
Don't forget to sign up for free is this REALLY my life? updates via RSS or email so you don't miss a single awesome post.
…