How do you single parents do it?
How do you cook, clean, do laundry, help with homework, drive the family taxi, work, manage the finances and raise a child (or children) without little—if any— time off?
How do you do it without going certfiably insane? (Or if you are certifiably insane, how do you hide it so well?)
I have a few friends who are doing the single parent thing and I am constantly amazed by what they do and how well they do it…even when they don't think they're doing anything well at all. Single parents are true superheroes. I think they need their own superhero cape.
As nifty as I think know single parents are, what really knocks my virtual socks off (because I only wear socks when I have to), is the single mom or single dad who's in school working towards a degree. Throw attending college into the cook / clean / laundry / homework / taxi / work / finances mix and my head spins. Talk about superhero.
But even superheros need help sometimes. I mean, Batman needed his Robin and Superman needed his Lois Lane (if only for moral support). Single parents going to school need much more than a sidekick…even if the sidekick can cook, clean and drive. Many also need HOPE, and this time HOPE comes in the chance at a college degree.
I am a firm believer in the power of education. That's why I am excited to be working with LDS Philanthropies and LDS Business College to help raise money for the Stella Harris Oaks Horizons of Hope Scholarship, a scholarship specifically for single-parents. Pure awesomeoness, right?
Our group of bloggers (pictured below) were given a goal of $7,200 for the month of November, an amount equal to 4 full-tuition (and books) scholarships ($1,800 a semester). But like the other bloggers in the group, I'm thinking we can totally blow that number out of the water.*
…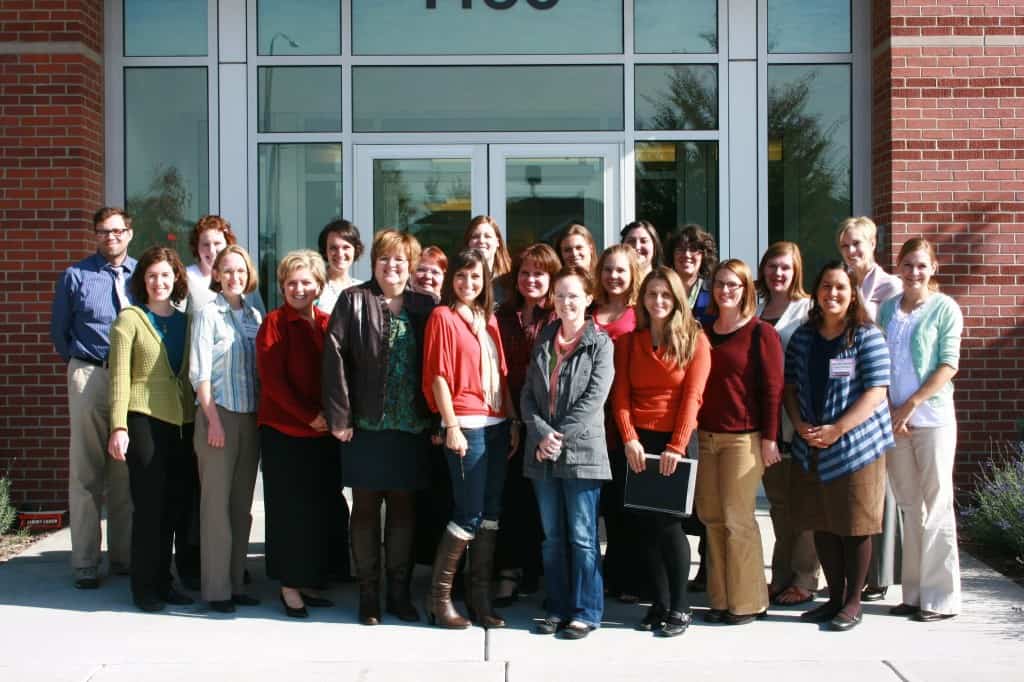 …
Don't you think we can do better than that and raise enough money to send more than one student through the two-year (4-semester) program? How about $28,800? That would mean four single parents with college degrees and the chance to greatly improve their families' lives.
It's a no-brainer…even if you're not a college graduate.
Still not convinced you should donate? Take a sec and listen. (Click on the speaker to take the sound off mute.)
* Apparently the group has already managed to raise over $5,000 and this is only Day 1 of the fundraiser.
I am probably the smallest blog in the group, but that doesn't mean my readers are any less spectacular. No donation is too small. I've donated, and though my donation may only buy 1/3 of a textbook, every little bit helps. YOUR little bit helps.
I would love for you to spread the word about our fundraising goal by tweeting (use the hashtag #giveohgive), Facebooking and/or adding the widget to your sidebar. (You can add it buy clicking on the "share" button in the sidebar widget at the top of this page.)
For those of you who like stats, this is for you. And no, you don't have to be LDS to attend LDSBC.
Why single moms (and dads)?
28 percent of children now live with just one parent.
40% of children under 18 experience a parental breakup.
90% of single parent families are headed by females.
Single moms with children have the highest poverty rates.
60% of children living in mother-only families are impoverished.
Single moms are more likely to be poor because of lower earning capacity.
Single moms median income is only about 25% what a married couple make.
Why LDS Business College (LDSBC)?
LDS Business College has developed an approach to help single parents, especially
women, improve their earning potential.
Single parents at LDSBC use scholarship funds to pay tuition, books and other fees.
Students enroll in one of six career-oriented programs: accounting, business,
computers, medical careers, interior design, or office technology.
LDSBC has placed 90% of its graduates
Each students is assigned a faculty mentor.