The inspiration for this post comes courtesy of the 5:31pm timestamp on my microwave and still no idea what I'm fixing for dinner. In fact, I'm staring at my cupboards as I type this. The plan was to have roast, asparagus and rolls but I forgot to put the roast in the crock pot AND forgot to thaw the dinner rolls. Typical.
When this sort of an evening happens—and it happens more than I'd like to admit—we resort to some of our favorite quick-and-easy dinners…and pancakes top the list!
…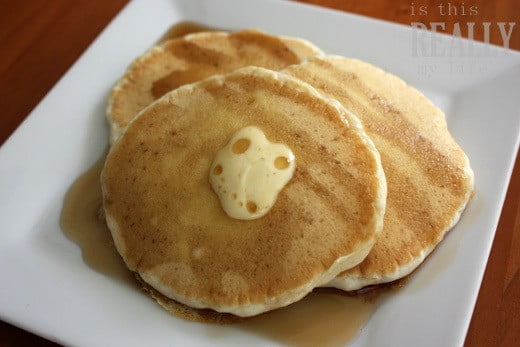 Pin It

…
And now for the list!
Pancakes with scrambled eggs and applesauce cups (Out of eggs? Try this vegan pancake recipe. And don't forget the homemade buttermilk syrup!)
Waffles with the same sides as above
Breakfast burritos (eggs scrambled with real bacon pieces and topped with shredded cheese and salsa) with a green smoothie on the side
Spaghetti with either marinara or pesto (we love Costco's jar of pesto sauce
Grilled cheese or grilled ham and cheese with sides of yogurt and mini peeled carrotss
Quesadillas, sometimes with leftover taco meat, and a side of veggies
Toasted Eggo waffles topped with peanut butter and jam for yummy toasted waffle sandwiches (sides of yogurt and applesauce too!
Dino Nuggets, corn dogs or whatever else frozen goodies we have on hand…with a side of peeled mini carrots and apple slices
Picnic lunch (sandwiches, Veggie Straws, carrots, apple slices, string cheese, etc.
Nachos (tortilla chips topped with shredded cheese and melted in the microwave, served with a side of refried beans and corn)
Top Ramen cooked with frozen peas and a couple whisked eggs (they scramble while boiling) served with the ever popular mini carrots
 Fried egg with bacon and cheese on a whole wheat English muffin served with green smoothies
Those are just the ones I came up with while sitting here watching my kids attempt sun catcher kits that didn't come with nearly enough paint.
Not good.
What are your favorite easy, go-to recipes when you're in a crunch (or failed to defrost something on time)? I'd love to add a few more to my arsenal!