This recipe for cowboy cookies makes just over 6 dozen of the yummiest oatmeal + chocolate chip + coconut cookies you've ever tasted!
.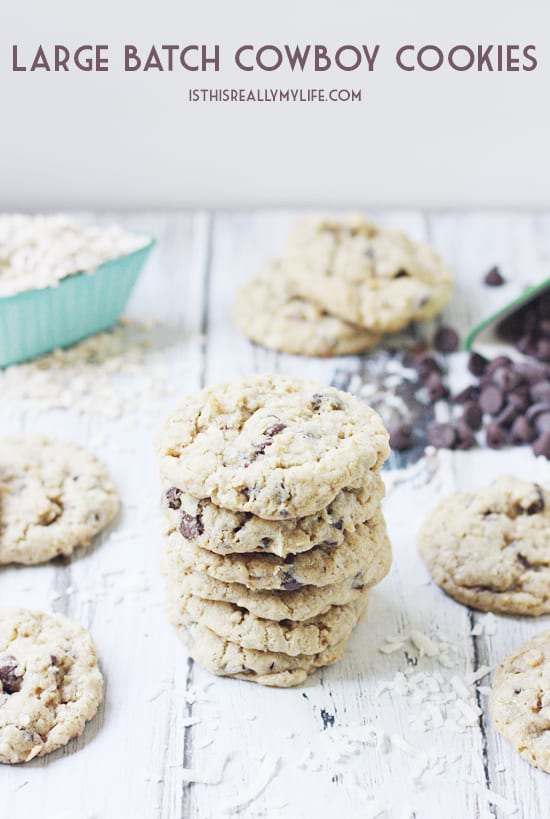 Post may include affiliate links to help support my Diet Coke habit.
.
From coconut chocolate chip saucepan bars to coconut monster cookies, I've shared many a recipe for cookies featuring the chocolate-coconut combination. I'm not gonna lie, it's one of my favorite cookie combos.
.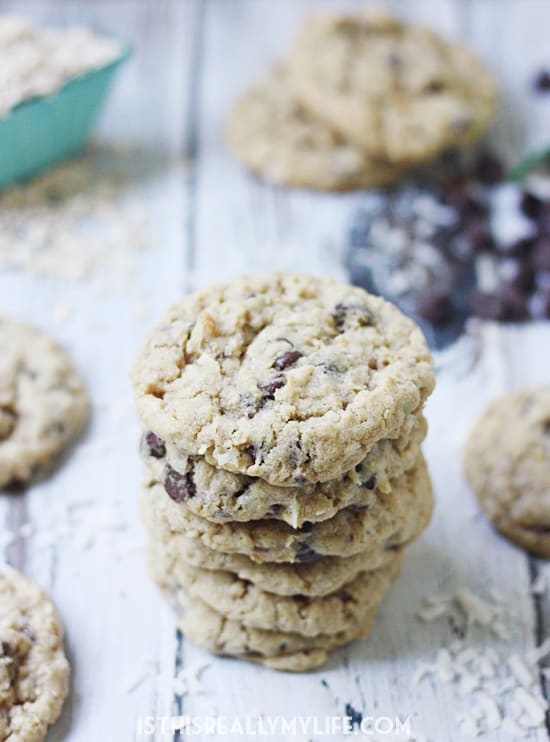 .
Not wanting to dive right into work on a Monday, I flipped through a few recipe books to see what I could easily make and bake...and if lucky, freeze for later indulging. When I found this recipe for cowboy cookies and noticed chocolate chips, coconut and oatmeal in the ingredients list, I was sold.
.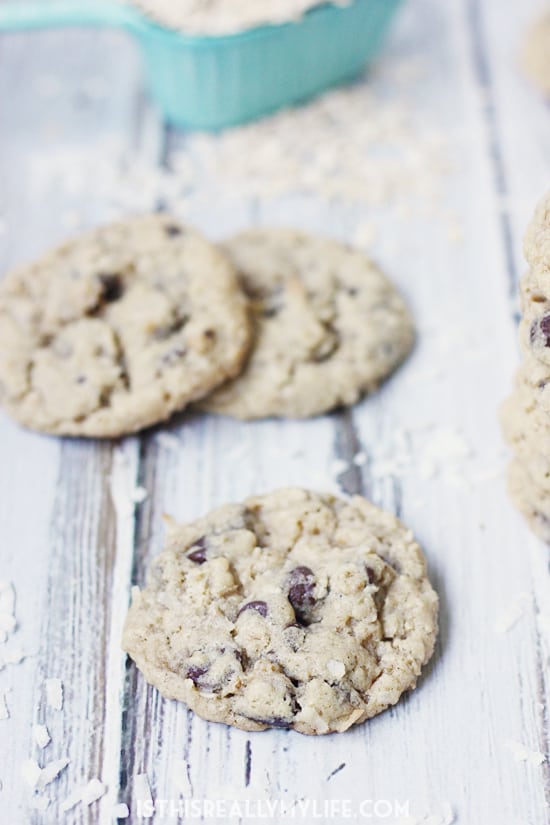 .
Though their official name is simply cowboy cookies, by the time the dough was done it nearly overflowed from my KitchenAid mixer. I realized I had more than a single batch but not quite a double batch; that's when the name "large batch cowboy cookies" was born.
Not that I'm complaining...more to hide in the freezer!
.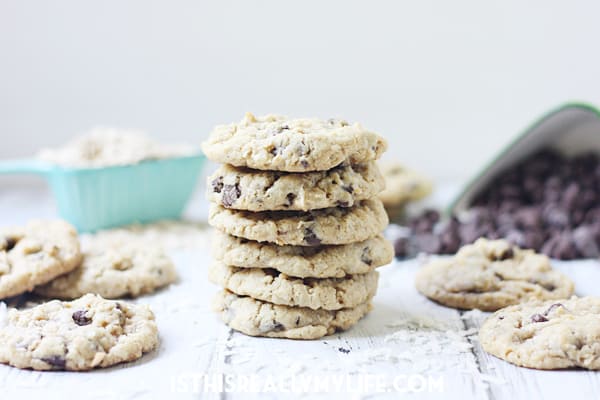 .
These large batch cowboy cookies are perfect for summer get-togethers because the recipe makes just over 6 dozen (using my favorite medium cookie dough scoop) and they're both kid and grownup friendly. They also freeze really well so you can easily bake a few dozen, freeze and defrost them the day of the party. No one will know the difference!
I didn't add pecans because we have friends with nut allergies, but if you're nut allergy free, by all means go for it! I love walnuts and pecans in cookies and brownies!
.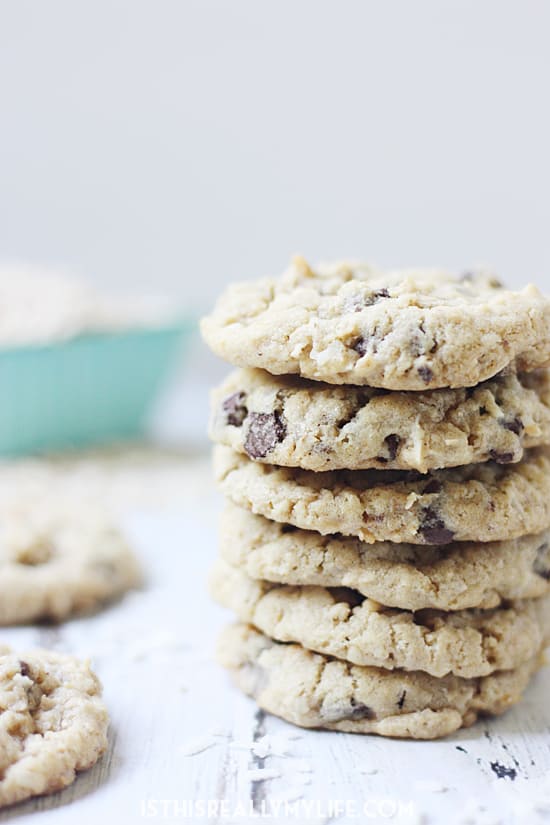 .
Printable recipe for large batch cowboy cookies below. Enjoy!
.

Large Batch Cowboy Cookies
This recipe for cowboy cookies makes just over 6 dozen of the yummiest oatmeal + chocolate chip + coconut cookies you've ever tasted!
Author:
Emily ~ isthisREALLYmylife.com
Ingredients
1½ cups unsalted butter, softened
1½ cups sugar
1½ cups packed brown sugar
3 eggs
1 T vanilla extract
1 tsp baking soda
1 tsp baking powder
1 tsp salt
1 tsp cinnamon
3 cups all-purpose flour
3 cups quick-cooking oats
3 cups semisweet chocolate chips
2 cups flaked coconut
2 cups chopped pecans (optional)
Instructions
Preheat oven to 350 degrees.
Sift together flour, baking soda, baking powder, salt and cinnamon in a large bowl; set aside.
Beat butter in large bowl until creamy. Add sugars and beat until light and fluffy. Add eggs and vanilla and mix until thoroughly combined.
Add flour mixture to creamed mixture and stir until combined. Fold in oats, chocolate chips, coconut and pecans.
Drop dough by rounded tablespoonfuls onto baking sheet approximately 2 inches apart.
Bake 10 to 12 minutes or until edges are light golden brown and centers are mostly set. Let cool 2 minutes on cookie sheet before removing to wire rack to cool completely.
.
If you like that chocolate and coconut combo, you might want to try these delightful recipes.
.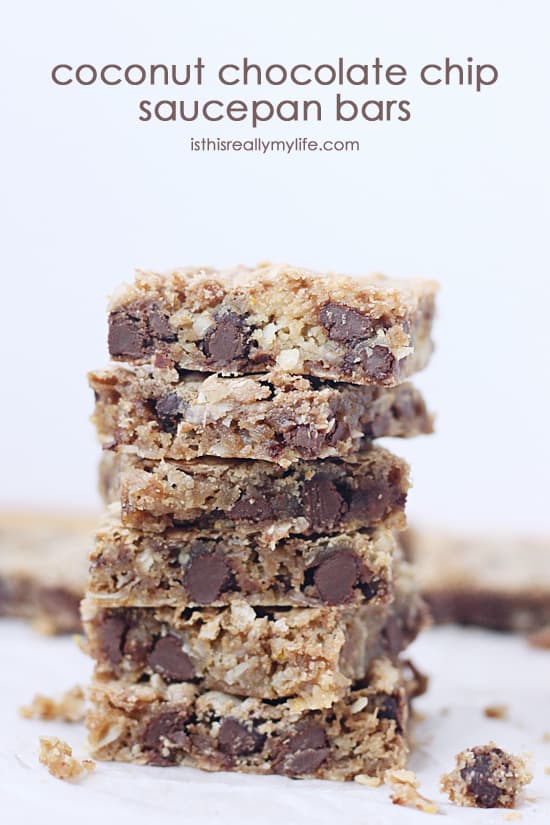 Coconut chocolate chip saucepan bars
.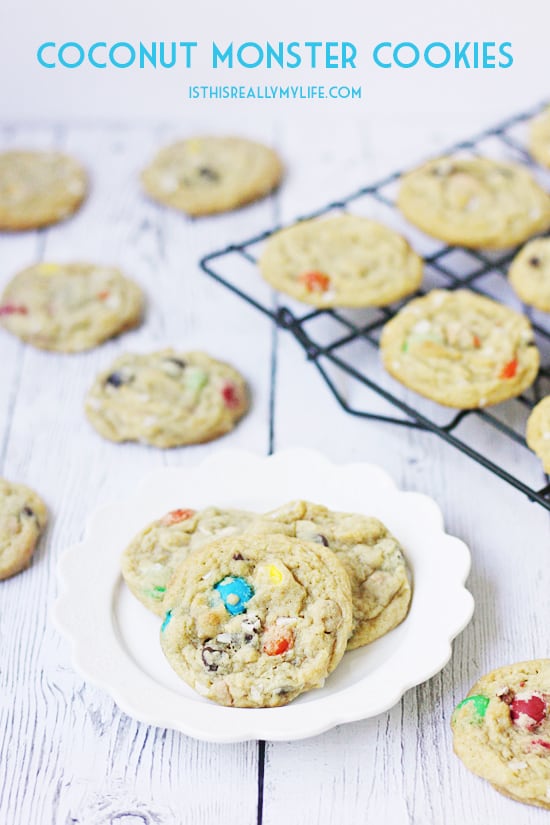 .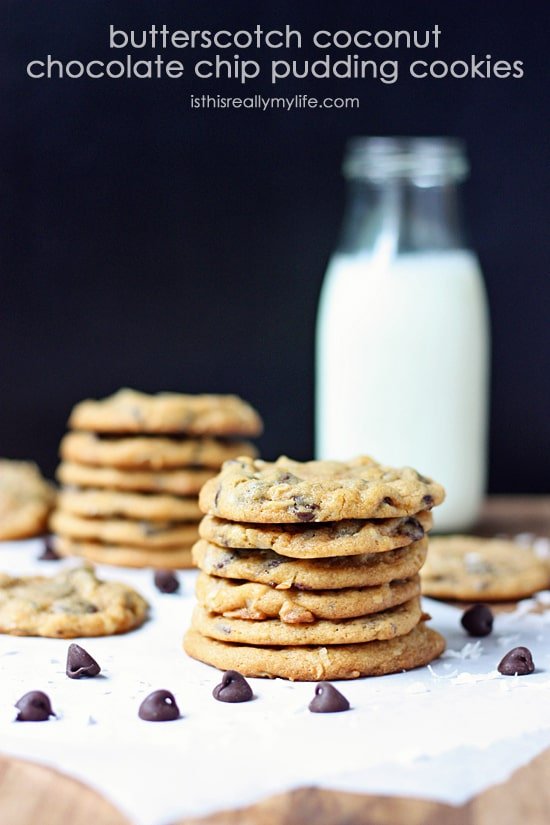 Butterscotch coconut chocolate chip pudding cookies
.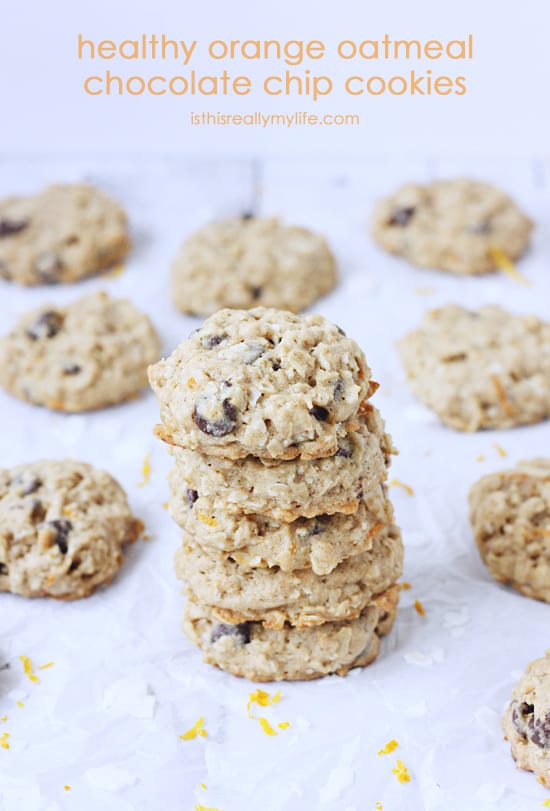 Healthy orange oatmeal chocolate chip cookies
.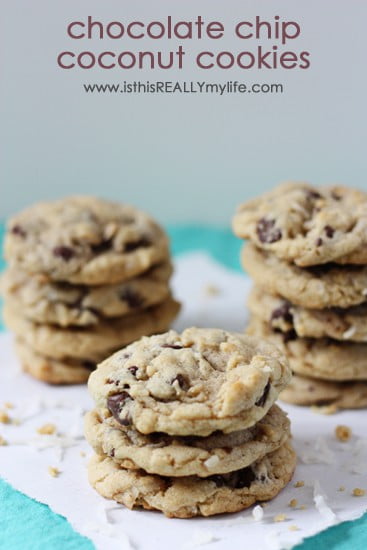 Chocolate chip coconut cookies (posted a while ago but still so yummy!)
.
Looking for more yummy cookie recipes? Try browsing my best of Is This Really My Life Pinterest board. I guarantee you'll find quite a few!
.
.

Feel free to "like" is this REALLY my life? on Facebook. It won't always earn you an extra entry in a giveaway but it will give you warm fuzzies.
Don't forget to sign up for free is this REALLY my life? updates via RSS or email so you don't miss a single awesome post.
.