Last week or the week before (it's all a blur), Madison stayed after school for a little extra cello practice with the middle school orchestra teacher. I waited for her call and after about an hour, I simply assumed she was having a really good—and really thorough—lesson. A half hour after that, she walked through the front door.
It threw me for a second because I couldn't remember driving down to pick her up, yet here she was, 50-pound backpack and all. It is quite the walk from school, so I asked her why she had walked home instead of calling. Come to find out her lesson had ended almost an hour earlier and she'd tried to call quite a few times, both on my cell, which I never heard, and the house phone, which is also a cell phone and works when it feels like it. I didn't get any of the calls, so she caught a ride home with a friend's mom who happened to be driving by the school.
What kind of mom lets her daughter sit at school for over an hour, all the time thinking that must be one awesome cello lesson? Um, that would be me. I felt terrible and of course apologized profusely the rest of the day. I probably even bought Sonic slushes for everyone (and a Route 44 Diet vanilla Coke with extra pebble ice for me) to try and ease the guilt I felt for accidentally abandoning my child. (Let's not confuse accidental abandonment with purposeful abandonment. You know, when I threaten to leave my child on the side of the road because she's throwing the ultimate tantrum in the car and make her walk home—or at least a good 30 feet—to save my sanity and her future as a teenager.)
Later that night I walked into my bedroom to find this on my bathroom mirror: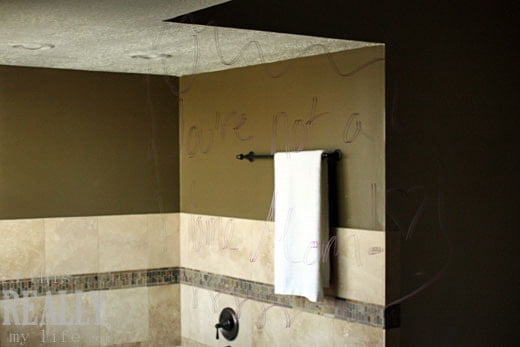 ...
Inside the swirly border it reads, "You are not a lame mom!"
Gosh, I love that kid...as I do all my kids because they continue to forgive my many, many shortcomings. Somehow they still love me, this super lame mom, even though I:
Feed them a rotating menu of pancakes, quesadillas, Dino Nuggets, corn dogs with a side of petite carrots. (Sometimes I impress all of us by whipping up a batch of tacos, fettucine alfredo or something in the slow cooker.)
Don't get out of bed to fix breakfast but rather teach George and Livi how to open a Special K or Nutri-Grain cereal bar. (The older ones learned how to fix toaster waffles and cereal a long time ago.)
Taught Livi at the very young age (was it 18 months or 2 years old?) how to use the mouse so she could open Firefox, click on a bookmarked page (e.g., Fisher-Price, Minimops, Nick Jr., Playhouse Disney) and play a game or two. (Now she can bake and decorate a batch of sugar cookies on GirlsGoGames.com better than her older sisters!)
Make Lauren walk home from school when it's 35 degrees outside. (Hey, as long as it's not a blizzard, they can find their way home!)
Let the little ones watch lots and lots of preschool on TV and the older ones watch lots and lots of the History Channel. (It's my way of supporting quality programming.)
Take George and Livi to the gym in their pj's when I'm running late because it's more important I get my favorite spin bike than they arrive dressed to the nines.
Use Ovaltine to switch them from the bottle to the sippy cup. (At least I don't let them eat Ovaltine straight out of the can...)
Can't remember the last time I gave George and Livi a bath.
Forget to order replacement contacts so Madison has to wear her glasses to school three days in a row.
Ask Madison to babysit way too often. (Again, it's all in an effort to maintain my sanity so I ignore that twinge of guilt.)
And that's not a complete list, trust me.
I am not a crafty mom or a playful mom or an imaginative, creative, super spontaneous mom, but I am their mom and no other mom loves them as fiercely as I do.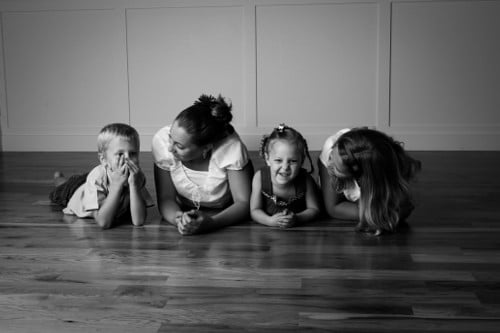 I may not do art projects with them, but I will sit down and play an hour of Wii Super Mario Bros. (and still not get past world 8 level 3). I may not take them hiking in the nearby canyons, but I will teach them how to bake a mean batch of chocolate chip cookies—and even let them decorate sugar cookies to their hearts' content. I may not stay consistent with reading lessons, but I will help them with their homework until they understand the concepts.
And I may not always hear my cell phone or remember to pick them up from school, but every night I will read to them, sing to them, kiss them goodnight and tell them I love them.
There just might be hope for me yet.
...
P.S. Don't forget to sign up for free is this REALLY my life? updates via RSS or email.
...