Right now the Crafting Chicks are hosting their Christmas Traditions Series and somehow I made it on their email list when they put out the call for guest posts.
With that kind of luck, I should head to Vegas and try my hand at the blackjack tables.
Once I got over the initial shock I suffered when the email hit my inbox, I started thinking of our family's favorite holiday traditions. Of course my guest post was going to be about food—90 percent of our family's traditions involve something sweet and/or savory. And then I knew just the one to give those seriously adorable and oh-so-lovable Crafting Chicks.
…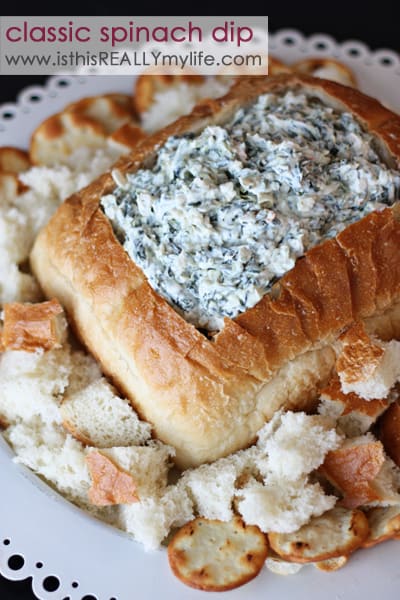 …
My family loves the Knorr classic spinach dip, and with a few alterations (you'll have to check out the post for my secrets), it's become a must-have at every holiday party. It's also a favorite on game day; believe you me, we eat it every chance we get.
I could eat half a bread bowl on my own, so I only make this spinach dip when I know a lot of other people will be around to enjoy it.
I'd love for you to head over to the Crafting Chicks and show them some love by commenting, pinning, tweeting, whatevering my spinach dip recipe. While there you should also check out the coconut hot chocolate from The Crafted Sparrow and the cute Christmas countdown prints from Lolly Jane. So fabulous and festive!
…


Feel free to "like" is this REALLY my life? on Facebook. It won't always earn you an extra entry in a giveaway but it will give you warm fuzzies.
Don't forget to sign up for free is this REALLY my life? updates via RSS or email so you don't miss a single awesome post.
…