My friend Beth over at Sugar Mountain PR sent me the greatest holiday playlist for kids and I couldn't wait to share it with you. This Tasty Food Songs for Thanksgiving playlist has some of my favorite children's music artists (e.g., The Okee Dokee Brothers) and a few artists who might surprise you (Lisa Loeb and Danny Weinkauf, the bassist for They Might Be Giants).
.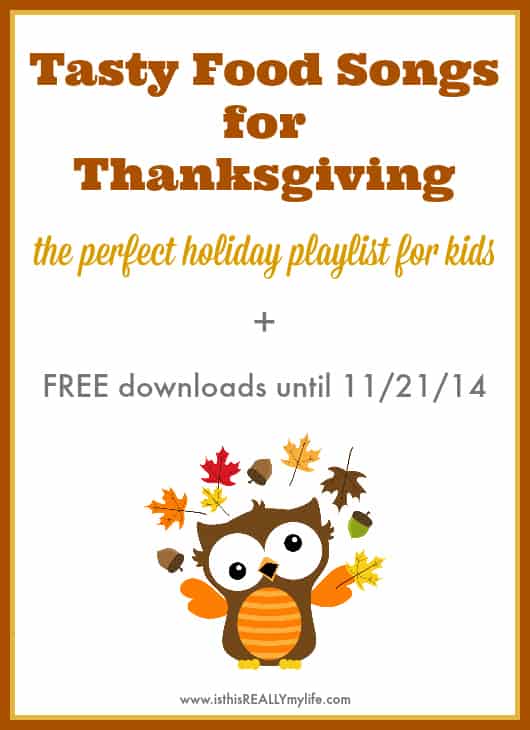 .
Every song on this holiday playlist is delightful, and who doesn't love some great themed background music while enjoying Thanksgiving dinner? Plus it's the perfect way to keep the kids entertained while you enjoy your post-turkey, tryptophan-induced food coma.
You can listen to the Tasty Food Songs for Thanksgiving playlist here: https://soundcloud.com/bethbcpr/sets/tasty-food-songs-for or by checking them out below.
BUT THAT'S NOT ALL!
Beth has asked all of the artists to allow for FREE downloads for a week. That means you can download all the musical tastiness to create your own holiday playlist! The free downloads will end on Friday, November 21st, so get 'em while they're hot!
.
.
To learn more about the featured artists, you can visit their websites listed below. I've also included a "tasty" fact about each one. Enjoy!
Cathy and Marcy
Website: cathyandmarcy.com
Tasty fact: Cathy and Marcy are folk legends and 2-time GRAMMY Award winners; "Bon Appetit" is from their GRAMMY winning album by the same name
Lisa Loeb
Website: lisaloeb.com
Tasty fact: Lisa wrote the hit song "Stay (I Missed You)" and has a couple of children's book-CDs.
The Okee Dokee Brothers
Website: okeedokee.org
Tasty fact: The Okee Dokee Brothers won a GRAMMY in 2013.
Brady Rymer
Website: bradyrymer.com
Tasty fact: Brady is a GRAMMY-nominated artist.
Heidi Swedberg
Website: sukeyjumpmusic.com
Tasty fact: Heidi played "Susan" on the TV series Seinfeld.
Danny Weinkauf
Website: dannyweinkauf.com
Tasty fact: Danny is the bassist for the band They Might Be Giants.
Key Wilde & Mr. Clarke
Website: keywildeandmrclarke.com
Tasty fact: Key Wilde & Mr. Clarke have super fun music and visuals; their latest album is Animal Tales.
Kira Willey
Website: kirawilley.com
Tasty fact: Kira is a children's yoga expert and musician-mom.
.


Feel free to "like" is this REALLY my life? on Facebook. It won't always earn you an extra entry in a giveaway but it will give you warm fuzzies.
Don't forget to sign up for free is this REALLY my life? updates via RSS or email so you don't miss a single awesome post.
.