Remember that sweet onion crack dip?
You know, this one . . .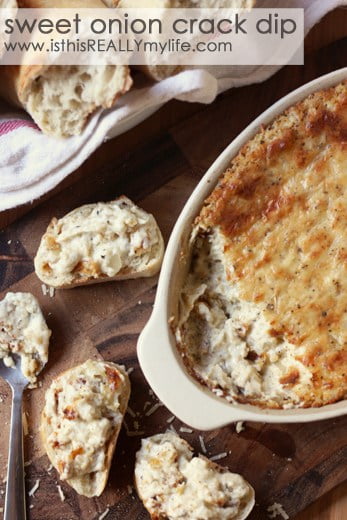 Like I said in that post, it's one of many (MANY) recipes I love from the new Bountiful: Recipes Inspired by Our Garden
cookbook from White on Rice Couple. And today I bring you another.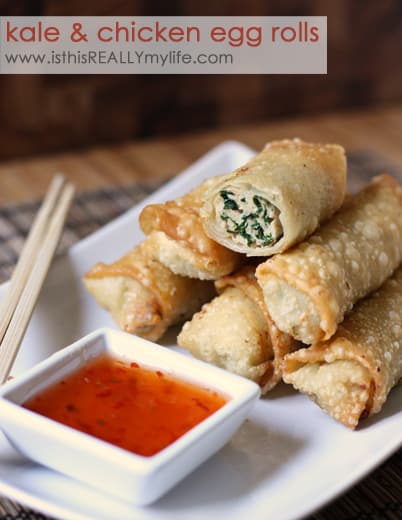 I was worried, as was my oldest daughter, the kale in these kale and chicken egg rolls would overpower the other flavors—yes, even the garlic—and would lead to many uneaten egg rolls.
But miracles never cease in our home (Lauren's room has been clean for three days straight) and the kids loved them. In fact, they were inhaled eaten in record time, especially with a side of sweet Thai chili sauce.
Sweet Thai chili sauce is right up there with sriracha.
Next time I'm going to hit up an Asian market for thinner egg roll wrappers like those used in the cookbook so they fry up a bit lighter and crisp up even better.
And I may throw in some julienned carrots like Kelly did when she posted her recipe on Just a Taste.
For my thoughts on the new Bountiful cookbook, read my original post here.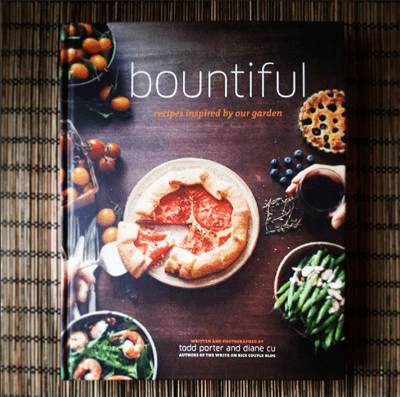 Printable recipe for kale and chicken egg rolls below.
…

Kale & Chicken Egg Rolls
Adapted from the kale and chicken egg rolls recipe in Bountiful: Recipes Inspired by Our Garden (White on Rice Couple).
Author:
Emily ~ isthisREALLYmylife.com
Recipe type:
Appetizer, Main Dish
Ingredients
2 lbs ground chicken
3 to 4 large kale leaves (or more if you prefer; original recipe called for ½ lb)
1 egg
½ tsp sugar
3 tsp soy sauce
3 cloves garlic, minced
⅛ to ¼ tsp pepper
2 dozen 7- to 8-inch egg roll wrappers
Water (for sealing wrappers)
Canola oil (for frying)
Sweet Thai chili sauce (for dipping)
Instructions
In a medium bowl, combine the chicken, kale, egg, sugar, soy sauce, garlic and pepper. Mix well. Cover and let marinate for 20 to 30 minutes.
To roll the egg rolls, place one wrapper at a time on your work surface. (Keep remaining egg rolls covered.) Spoon about 1 tablespoon of filling onto the lower one-third of the wrapper. Begin rolling from the bottom, tucking the filling under and folding in the sides as you roll. Moisten the edges of the wrapper with water to seal them.
In a large frying pan, add enough oil to fill the pan ¾ inches high. Heat oil over medium heat. Test the heat of the oil by adding a small piece of egg roll wrapper to the pan. If it sizzles and browns too quickly, the heat is too high. If it sinks to the bottom, the heat is too low.
Gently place the egg rolls in the heated oil and fry for 5 to 10 minutes or until they are golden on the bottom. Turn them over and cook until golden on the other side and filling is cooked through.
Serve immediately with a side of sweet Thai chili sauce or a combination of ½ cup soy sauce and 2 tsp grated fresh ginger (from the original recipe).