I'm going to be completely honest. I'd never heard of the Junior League of Salt Lake City (JLSLC) before I was invited to attend a small taste-testing event for their new cookbook, Salt to Honey: Recipes for Great Gatherings.
But I had a chance to read more about the organization and I must say, I'm impressed:
The Junior League of Salt Lake City, Inc. is a charitable organization of women committed to promoting voluntarism, developing the potential of women and improving communities through the effective action, education and leadership of trained volunteers.
You can do some pretty amazing things when you combine women, charity and volunteers.
Throw some delicious, Utah-inspired recipes into the mix and you have the JLSCL's fourth cookbook, Salt to Honey. Before I share some photos from the taste-testing event, let me give you a little background on the new cookbook:
Salt to Honey: Recipes for Great Gatherings pays tribute to our state by highlighting two of the most basic and celebrated ingredients found in abundance both in Utah and in cooking and baking.

The 250 recipes in Salt To Honey were tested and hand selected from more than 1,000 submitted by members of the community. … Salt To Honey … focuses on the local food movement and includes delicious recipes from Utah restaurants and businesses including Slide Ridge Honey, Pago, Hell's Backbone Grill and Amano Artisan Chocolate. …
You did catch that part about Amano chocolate, right?
Mmmmm…
My favorites of the evening were the walnut shortcake biscuits and chocolate chip meringues.
…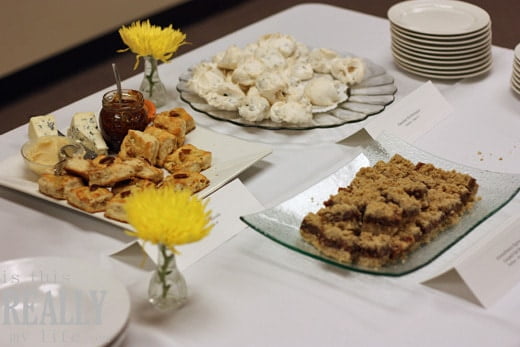 Chocolate Chip Meringues in top right corner
…
The evening was full of other tantalizing dishes. Even the salmon, which I didn't try due to my disliking the fish, was a hit according to Aimee (who also doesn't love salmon but was braver than I and gave it a shot).
…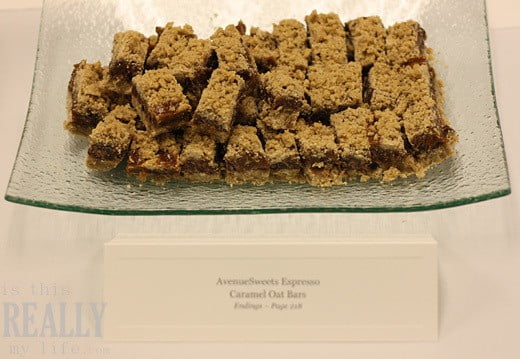 AvenueSweets Espresso Caramel Oat Bars
…
…

Quinoa Salad with Grilled Asparagus, Goat Cheese & Black Olive Vinaigrette
…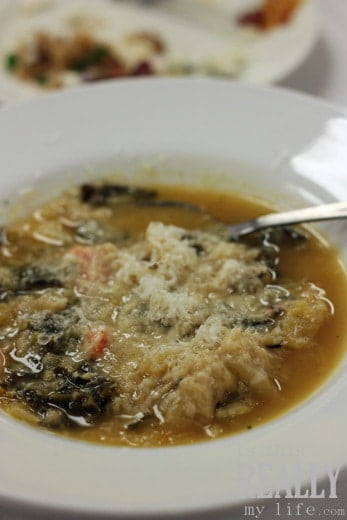 A yummy soup with a name I can't remember
…
Too bad we didn't like what we tasted…
For the record, that's not my wine glass and I polished off my walnut shortcake biscuit. The only reason you see one on that plate is because its owner had at least two of them earlier. I'm pretty sure we collectively licked most every plate clean.
On the way out we were handed a gift-wrapped loaf of zucchini bread, which—unbelievably—made it home in one piece. Of course, Nathan and I downed half of it the minute I walked into the kitchen and the other half the next day.
The only thing I found lacking in Salt to Honey was the food photography. While the quality was impressive, the quantity was not. I prefer a cookbook that averages one photo for every two or three recipes; Salt to Honey probably had one for every seven or eight—not nearly enough for my taste.
Still, Salt to Honey would be a great addition to any cookbook collection. You can pre-order a copy now, or better yet, attend the Salt to Honey launch party this Thursday, February 9th at the new Museum of Natural History. The evening will include samples of food and drink recipes from the new cookbook with proceeds from ticket sales benefiting the Junior League of Salt Lake City.
All proceeds from the sale of Salt To Honey will go to the Junior League of Salt Lake City to help fund projects that benefit women and children in the local community.