Disclosure: This post is part of a social shopper marketing insight campaign with Pollinate Media Group™ and Jimmy Dean, but all my opinions are my own. #pmedia #RedboxBreakfast http://cmp.ly/3/8vNxcO.
If you've been reading is this REALLY my life? for a while then you know our family affectionately calls Wednesday dinner "Waffle Wednesday" (or #WaffleWednesday on the Twitters). I love any excuse to have breakfast for dinner (aka "brinner") as do my kids. Usually we whip up a batch of cinnamon waffles or ultimate meat and cheese burritos. But sometimes it's one of those crazy nights and I haven't the time to cook before the kids head off to extracurricular activities or the husband heads off to another church meeting. They need something a bit more filling than cereal yet prepped just as quickly. And that's where Jimmy Dean Redbox breakfast come in.
I headed to my local Walmart to pick up a couple boxes…
…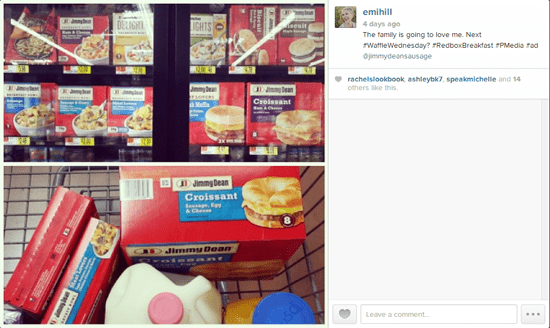 …
There was such a selection I was a bit overwhelmed. (I took a mental note to return and pick up a couple boxes of the Jimmy Dean Delights—they seem like a great alternative to protein shakes before spin class.)
For this review I narrowed it down to the Jimmy Dean Redbox breakfast and then narrowed it further to the Jimmy Dean Redbox Sausage, Egg & Cheese croissant sandwiches because, let's be honest, it's all about the word "croissant."
…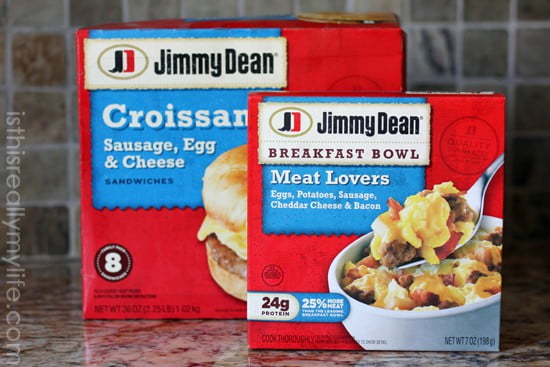 …
If my kids had to choose between croissant, muffin and biscuit, croissant would win every time (with biscuit a close second).
Because I knew these Jimmy Dean Redbox breakfast sandwiches would most likely be microwaved, we prepared them that way for this review.
…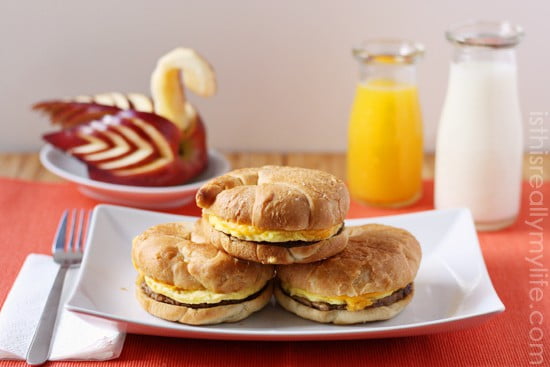 …
Believe it or not, they turned out just fine. In fact, they were even better than expected when you consider it's a frozen breakfast sandwich that includes a croissant element. No soggy croissants, no rubbery cheese and no dry sausage patty. That's a win in my book!
…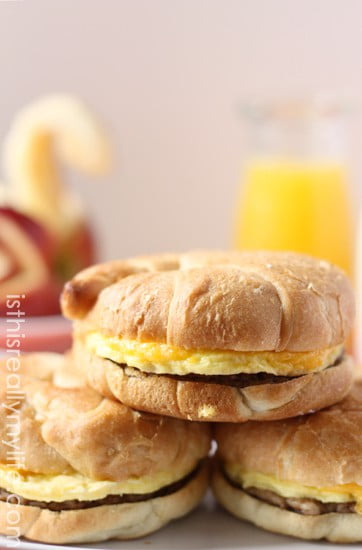 …
Of course, Jimmy Dean Redbox breakfast isn't necessarily a well rounded brinner, and if you're having breakfast for dinner, you want well rounded. I suggest throwing in a side of sliced bananas, low-calorie orange juice and glass of skim milk. Or even better, pair the breakfast sandwich with a green smoothie.
…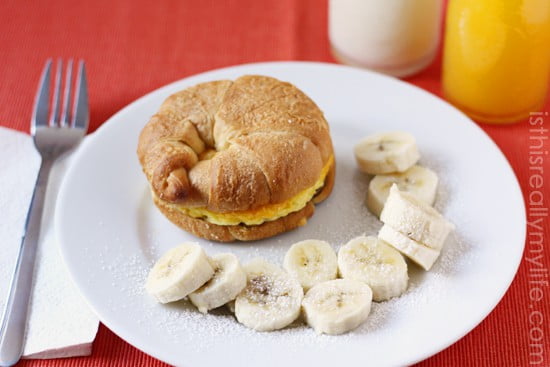 …
We inhaled our Jimmy Dean Redbox breakfast immediately after I finished photographing them. It's a good thing I purchased the family size box; at least we'll have leftovers for last-minute breakfasts this week!
Speaking of last minute…okay, not really speaking of last minute because this has nothing to do with last minute…but check out the awesome apple swan Lauren made so I had a cool food prop for the photos. She's amazing!
…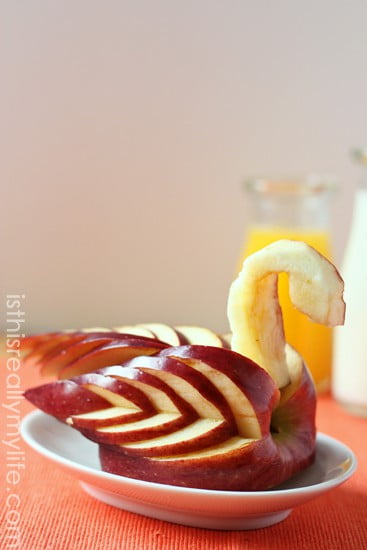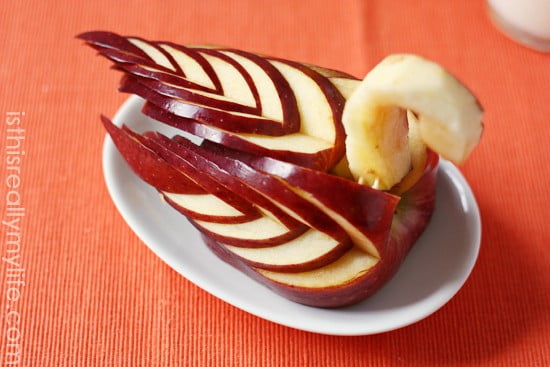 But back to Jimmy Dean…
You can find Jimmy Dean Redbox breakfast at your local Walmart. You can also check out their entire selection of breakfast options on their website at JimmyDean.com and find them on Facebook, Twitter, Pinterest and Instagram.
…


Feel free to "like" is this REALLY my life? on Facebook. It won't always earn you an extra entry in a giveaway but it will give you warm fuzzies.
Don't forget to sign up for free is this REALLY my life? updates via RSS or email so you don't miss a single awesome post.
…