Do you ever wonder where the phrase "it takes a village to raise a child" originated? It appears heavily in African culture but no one really knows its origin. I don't think it matters; the saying is true no matter your culture or country.
In my nearly 17 years as a parent, I have become a firm believer in "the village." And no, I'm not talking about the poorly rated M. Night Shyamalan movie by the same name. What I'm talking about is the group of family, friends and neighbors who rally around me (and my kids) as I try to navigate this crazy parenting thing.
…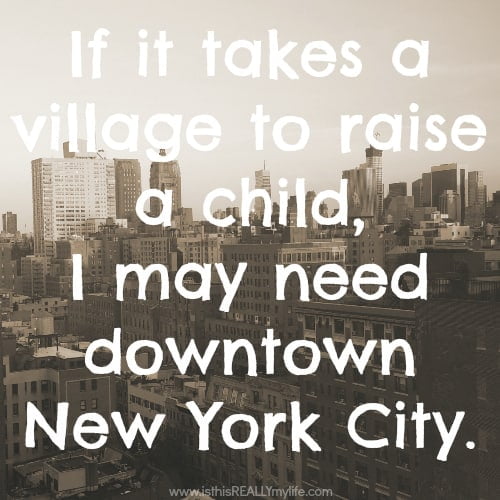 …
Let's start with family. I am fortunate to have been blessed with the most amazing parents. (I'm counting in-laws too.) They love my kids and in turn my kids adore them. With their different backgrounds, they offer my children a wondrous collection of life experiences and wisdom—wisdom I have yet to gain. Their grandparents are teaching them the benefits of things like service, hard work, generosity, kindness, obedience and faith.
They're also learning about how NOT to travel through Europe but we'll leave my mother -in-law's travel adventures for another day.
Thanks to my parents, my kids know they are loved.
And then there's my sister. We used to joke she got her Masters in Social Work just for us after an incident in which one of my girls, at age two, attempted to drink a bottle of children's cough syrup and ended up drunk as a sailor. But in all seriousness, that degree has come in handy as Nathan and I try to raise teenagers dealing with challenges we never dreamed they'd face. Her experience working with people struggling with truly hard things brings perspective for us and real tools for our girls to use in their lives as they deal with the craziness that is middle school and high school. The fact she knows and loves my girls makes her guidance all the more meaningful and gives me great comfort through difficult times.
Thanks to my sister, my kids know they are loved.
And thanks to amazing friends, my kids may survive our parenting. I can't count the times I've reached out to my girlfriends in frustration, exasperation or sadness over something a child has done in hopes they will offer words of comfort and advice. And I welcome that advice because these friends have experienced similar stellar moments in parenting. I'm all about having them share what has and hasn't worked so I can try to figure out the best plan of action (or reaction).
Even better, sometimes they do the parenting for me. I have one very dear friend whose youngest is in college, which puts her a stage ahead of me. Her children have gone through things mine are currently going through. I have no problem sending my kids to her when I haven't the slightest clue about what to do when your best friend borders on narcissism and shows a complete disregard for your feelings. And guess what? She's a genius, and between the two of us (mostly her), we manage the situation with minimal fallout.
Thanks to my friends who have my kids' best interests at heart, my kids know they are loved.
And without neighbors, my kids wouldn't have play dates, last-minute babysitters with trampolines, and a second (and third and fourth) pair of eyes watching out for them. And neither would I. Read this post if you don't believe me. Even better, let me share a recent experience.
I was playing tour guide during SNAP! Conference and received a call from Madison while downtown. She had forgotten her English essay and desperately needed it emailed to her. This was the same day she'd been rear ended on the way to school, so she was already emotionally on edge. Sensing tears in her voice, I told her I would see if Kelli, our neighbor, could get on my computer, open my email and send it to her.
I called Kelli and relayed the "emergency." Of course she was willing to help because that's the kind of wonderful neighbors we have. Armed with our garage code and Madison's email, she found the essay and quickly sent it to her. Though the assignment didn't receive full credit, it saved her grade and Kelli saved the day. Again.
Kelli has saved the day many a time. I think her life would be a lot easier if we weren't neighbors…and friends.
Thanks to my neighbors, my kids know they are loved.
My family, friends and neighbors are my village, and this village is helping me raise my children so I don't get too terribly lost without the ever elusive map.
I can only hope to return the favor as family, friend and neighbor.
…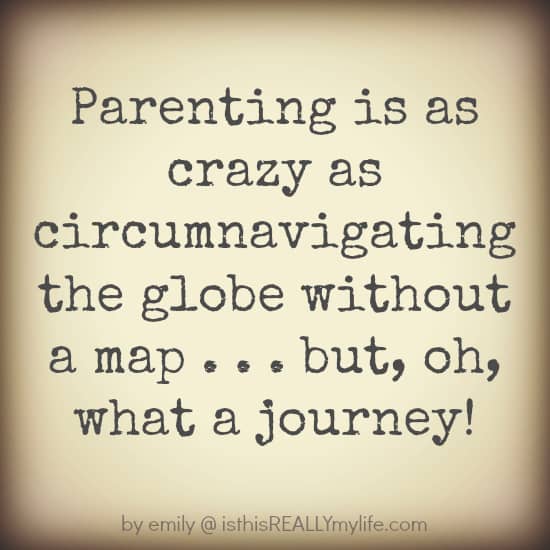 …

Feel free to "like" is this REALLY my life? on Facebook. It won't always earn you an extra entry in a giveaway but it will give you warm fuzzies.
Don't forget to sign up for free is this REALLY my life? updates via RSS or email so you don't miss a single awesome post.
…