Disclosure: Though intelliBED provided us with a Relief Perfect bed, we purchased the Tempur-Pedic all by ourselves and regretted every minute of sleep on that thing. Post may include affiliate links.
.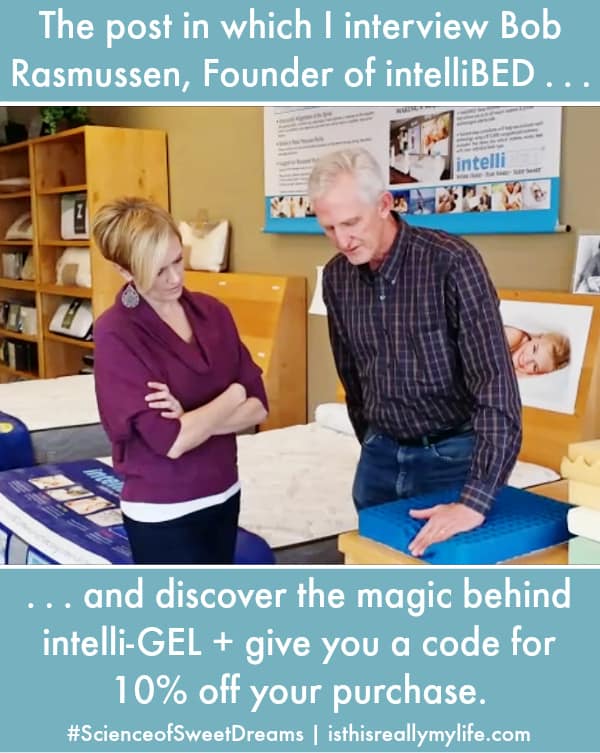 .
In February I wrote about why we switched from Tempur-Pedic to intelliBED and included our top five reasons for doing so. I meant to follow up within a couple weeks sharing our experience sleeping on intelliBED but life and Snap Conference got the better of me and here it is two months later.
*sigh*
But that's okay because the wait will be worth it, promise. I finally had time to edit our February interview with Bob Rasmussen, founder of intelliBED. Nathan and I met Bob at the local Draper intelliBED store to find out the science behind the mattress and why that Intelli-GEL is so dang amazing. Fortunately for the average human's attention span, I edited down nearly 30 minutes of video to 15. Sadly, Nathan somehow recorded over part of my interview—I'm fairly certain it was the best part. But that's okay because I may have had a bit too much fun with the captions. (It's a problem, I know.)
After the video, you'll find a link where you can get 10% off your intelliBED purchase and receive a 60-day risk-free trial to boot!
.
.
I have to say this about Bob…he is the nicest guy EVER. I'm not gonna lie, I was a little nervous to talk to the intelliBED founder but he immediately put me at ease. And considering he's been sleeping on the same intelliBED for 15 years, I feel pretty confident in the longevity of our new intelliBED mattress.
.
If you'd like to give intelliBED a try, click on my super awesome quote below (or click here) and you'll receive 10% OFF your purchase AND a 60-day risk-free trial.
.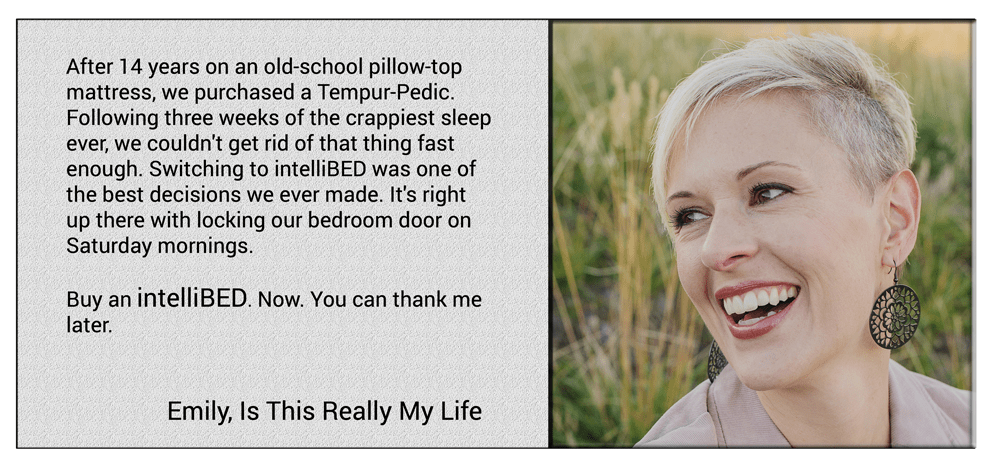 .
If you have a minute, you should check out my first post, "We Switched from Tempur-Pedic to intelliBED Faster Than You Can Say Sweet Dreams." The "Top 5 Reasons We Dislike Tempur-Pedic video" is much shorter than the interview and for sure more fun. And yes, it has captions.
Let's be honest, it wouldn't be a video of mine without captions.
.
**UPDATE** Check out my latest post, Why I Replaced My Tempur-Pedic with an intelliBED (and You Should Too).

Feel free to "like" is this REALLY my life? on Facebook. It won't always earn you an extra entry in a giveaway but it will give you warm fuzzies.
Don't forget to sign up for free is this REALLY my life? updates via RSS or email so you don't miss a single awesome post.
.