No, I will not be getting smashed at BlogHer (unless San Diego's Diet Coke makes me tipsy), but I will be sizzlin' in the San Diego sun (yay!) and savoring all the workshops/networking/parties. As fun as all that sounds, the real smashin'. sizzlin' and savoring will be me working with Smashburger—more specifically the San Diego location—to make sure BlogHer attendees get addicted to a taste of the company…and hopefully a few will even get a taste of the menu!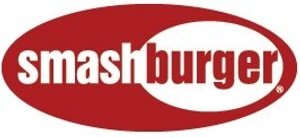 I am a huge fan of Smashburger, and not just because I helped create the Team Awesome burger (#TASmash) for their West Valley location (pictured below; and yes, that's a fried egg). The company has great food (have you tried the Team Awesome burger yet or the smashfries or the fried pickles or the Baja Cobb salad?) and is always supporting local causes. What's not to love?
I had already dubbed myself Utah's unofficial Smashburger spokesperson, so it made sense to think outside the state and work with corporate and the San Diego location as its unofficial spokesperson at BlogHer. At least it makes sense to me, and that's all that matters in my little world.
Stay tuned for more details as we work out our plans for BlogHer. I have a strong feeling it will include a few giveaways, some smashgear and perhaps a contest or two. In the meantime you can check out Smashburger's locations, view their menu (the San Diego smashburger sounds delicious!) and join the smashclub for special promos and offers. (Heck, yes I'm a member!)
You can also find them on Facebook and Twitter (@smashburger).
Oh, and if you're heading to Smashburger for lunch and need a lunch date, I'm always free…especially if you order a side of fried pickles.
P.S. I am also working with a fabulous group of women planning the second annual Best Little Party at BlogHer. I am super excited. Like, super.
P.P.S. I'm  now thinking I should have asked for a lifetime supply of their Mushroom Swiss burger with a side of half fried pickles and half sweet potato smashfries as part of the sponsorship. I am an idiot (and a really big fan of that burger, obviously).