This Thanksgiving we decided to escape the frigid temps that are Utah and visit friends living in Arizona. A week in 65-degree weather, t-shirts, flip-flops and hours at the park? Total no-brainer. We left the Saturday before the holiday week started, stopping in St. George overnight to visit the in-laws and break up the trip a bit.
Late Sunday we arrived in Queen Creek, a miracle in and of itself considering we hit a cougar just outside St. George (I have the dent in my car to prove it) and were misdirected (thank you, GPS) through a very snowy, non-plowed Flagstaff.
After a week of eating, gaming, playing and laughter-induced crying, we headed home, choosing to make the full drive on Saturday to avoid the treacherous storm predicted to hit Utah on Sunday. We woke up Sunday morning to inches and inches of that white stuff skiers and snowboarders like but with which I have yet to fall in love. I find it's only good for curling up with a good book and mug of hot cocoa—Stephen's Candy Cane Cocoa to be exact. (Sorry, Utah. I'm a California girl at heart. (I actually think I'm a San Diego girl who was mistakenly born in the Bay Area.))
But this year I'm going to be super stylishly warm, and no, I didn't break the bank and buy a pair of Uggs. What I did buy is a leopard-print Snuggie. Yes, you read that correctly. A Snuggie. In leopard print. My good friends and fellow Sassies Steph and Kristina have convinced me of the power of the Snuggie, especially for warding off frostbitten toes and fingers while sitting at my computer. I mean, just look how toasty-warm and happy I am!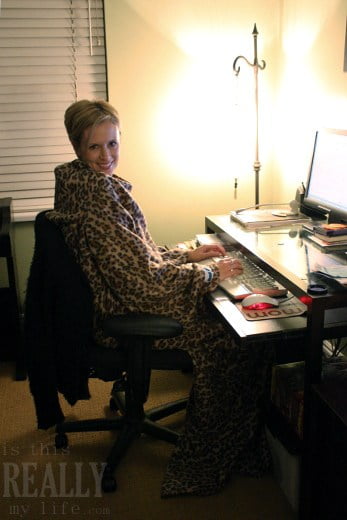 WARNING: When working in a home office that includes one of those plastic mats for rolling office chairs, be careful not to step on your Snuggie. You might slip and have to catch yourself on your husband's office chair.
What better way to kick off this crappy festive holiday weather than with a Snuggie-fied giveaway? I couldn't resist buying an extra one for my fabulous readers!
That's right—I am giving away one (1) leopard-print Snuggie!
To enter, leave a comment telling me how you plan to wear your leopard Snuggie if you win.
For extra entries you can do any/all of the following. Please leave a separate comment for each one you do (each one earns you an extra entry).
~ "Like" ITRML on Facebook (or tell me you already did).
~ Follow ITRML on Google Friend Connect (sidebar) and/or subscribe to ITRML (or tell me you already have).
~ Tweet about this giveaway and leave the URL of your tweet.
~ Update your Facebook status with a link to this giveaway.
This giveaway will end at midnight on Monday, December 6th. Good luck!
* Disclosure: I bought my own dang Snuggies before writing this post . . . and my Snuggie conversion story is completely true.