We're still on vacation in Italy (thanks again to this chicken Marsala panini recipe), and so it's time for number two of the three most pinned recipes. Today's is probably my most favorite. In fact, these old-fashioned iced oatmeal cookies have jumped ahead of snickerdoodles as my favorite cookie of all time.
And that's saying a lot.
…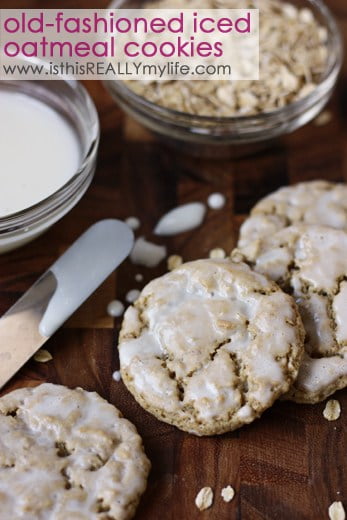 …
We pretty much cornered that market on oatmeal and powdered sugar once we discovered these old-fashioned iced oatmeal cookies because we were making them multiple times a week. And by "we" I mean "Madison." She has perfected them, icing and all.
If you haven't tried baking a batch, do it. NOW.
Then again, it is swimsuit season and these are highly addictive so maybe you should wait until October. Just sayin'.
To see the full recipe, click here: https://www.halfscratched.com/2013/04/old-fashioned-iced-oatmeal-cookies/.
…


Feel free to "like" is this REALLY my life? on Facebook. It won't always earn you an extra entry in a giveaway but it will give you warm fuzzies.
Don't forget to sign up for free is this REALLY my life? updates via RSS or email so you don't miss a single awesome post.
…