Because July 4th fell on a Sunday this year, many holiday events took place on Friday and Saturday. We decided to hit up the Riverton City 4th of July parade to support my sister and brother-in-law who had the honor of being on the Bank of American Fork float trailer. They were going to be surrounded by a few Costco-size bags of Tootsie Rolls, so of course we'd be there to cheer them on.
With the promise of candy thrown by the wayside, we packed up the kids and a few reusable grocery totes and met my parents along the parade route. By the way, if you your kids want to secure the most candy, position yourself toward the beginning of the parade route. Most candy throwers have yet to figure out how to ration the saltwater taffy, Laffy Taffys and Tootsie Rolls and often run out before hitting the end of the route.
I of course snapped a ton of photos and had a hard time narrowing it down to the 15 you'll see in this post. Yes, 15 is still a lot of photos but I promise they're worth a browse, as is my commentary. Okay, at least the photos are worth a browse…
On Thursday I'll be posting part two of our 4th of July celebration (i.e., the joy and excitement that is fireworks in the front yard). Gotta love those sparklers!
And now for your front-row seat at the Riverton City parade! Lucky for you I didn't photograph all 99 floats.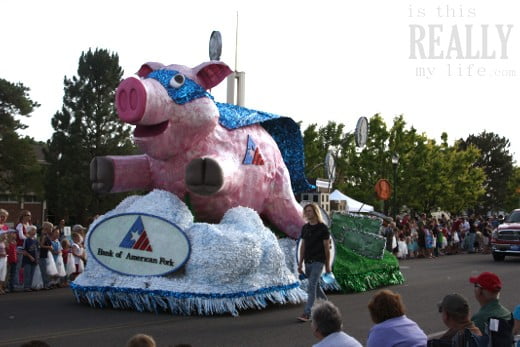 Is it a bad sign it took me until editing this photo tonight to figure out why they had a ginormous pig on their float? For those still scratching their heads, it's Utah's largest piggy bank…obviously. And that guy walking alongside the float? He's so excited to be there, he can hardly control himself.
…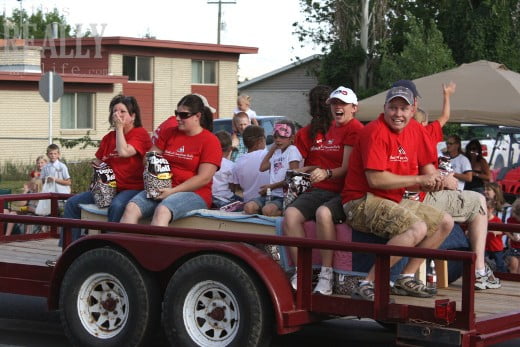 That's my sister and her hubby on the far right about ready to chuck handfuls of Tootsie Rolls at us. (We made it there just in time.) And the lady on the far left? She's either doing the "one for you, a handful for me" thing with her Tootsie Rolls or scratching her nose. The jury's still out.
…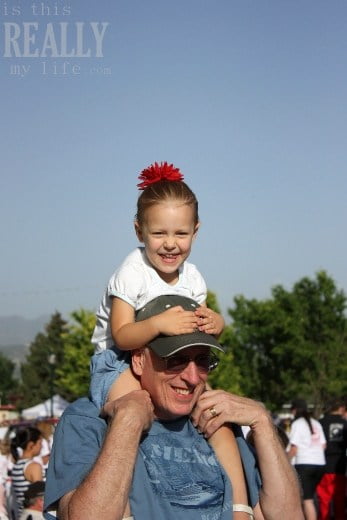 Papa's shoulders make for the best seat in the house!
…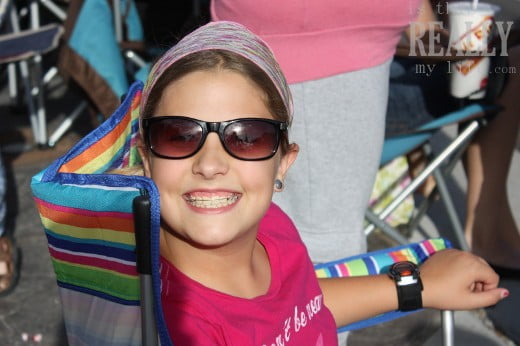 I had no idea a Hollywood celebrity would be there!
…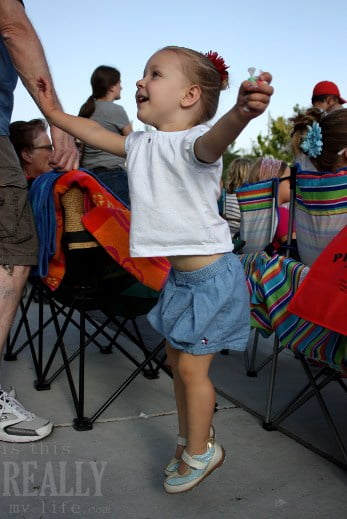 Parades (and free candy) make me jump for joy too!
…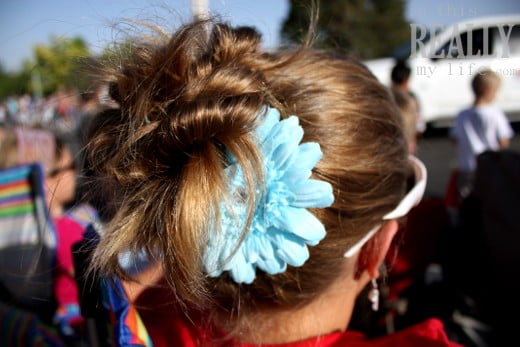 I may not be crafty but I can give my daughter a stylin' 4th-of-July hairdo.
…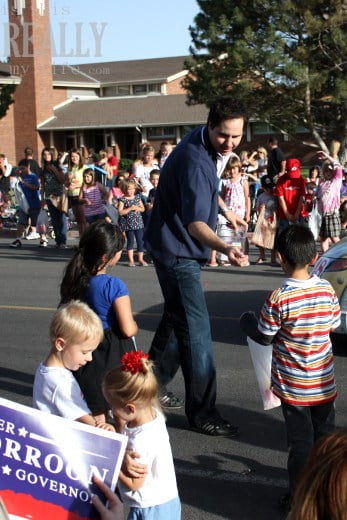 Do my kids not realize that's Daryn Tufts, star of Singles Ward, American Mormon in Europe AND the Questar Gas Energy Wiseguy?
…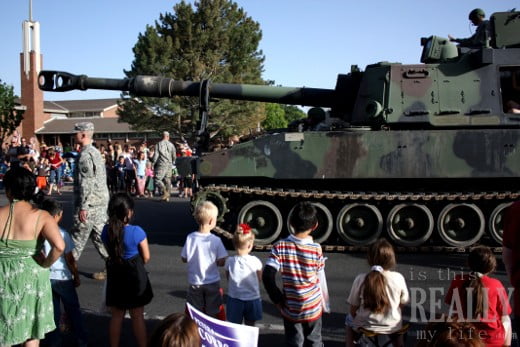 Nothing like a man in uniform. The end.
…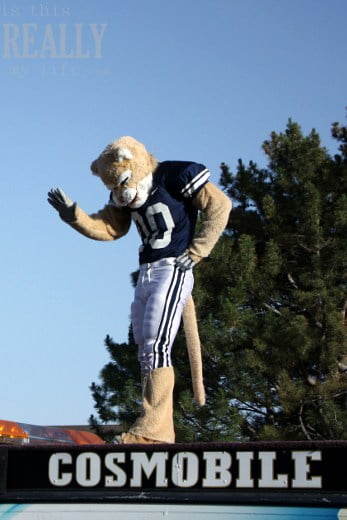 As far as mascot's go, this one's pretty handsome. And yes, I went to BYU. Go, cougars!
…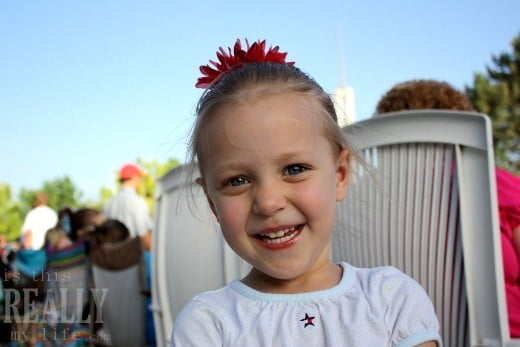 This one's priceless—and wordless.
…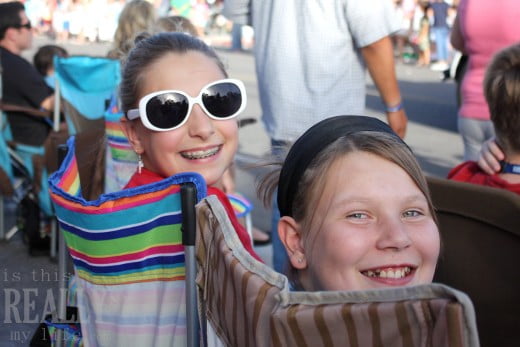 Nothing better than watching a parade with your best friend, especially if she has the same nickname as you. (By the way, isn't it great when you love your daughter's best friend?)
…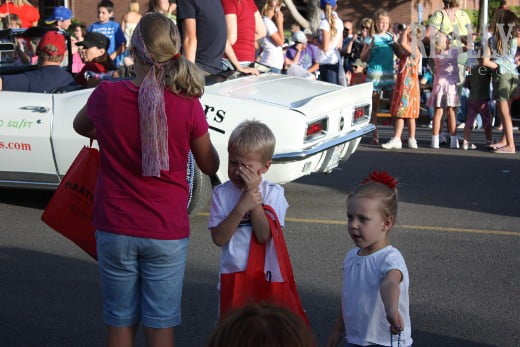 How about we throw the candy to the kids, not at them?
…

Never fear! Little sister is here! My huge hug will make it all better.
…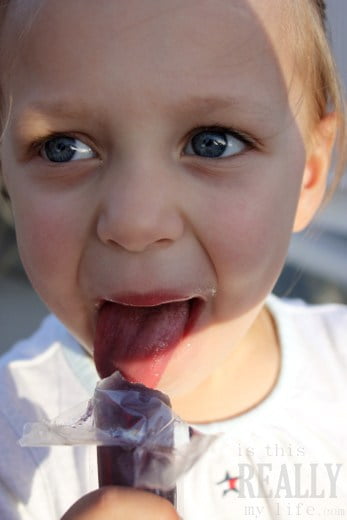 Thank you to whomever handed out the popsicles at the end of the parade. You are my child's new favorite person EVER (besides me of course).
…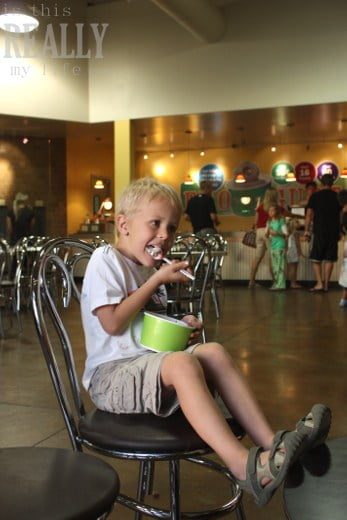 A ginormous tub of frozen yogurt from Frogurt is the only way to end a 4th of July parade. If you don't believe me, just ask my kids and my parents and my sis…
…
Hope your 4th of July was as candy-, parade- and yogurt-filled as ours!