I wrote this quick tutorial on peeling garlic and dicing onions to go along with the Slow Cooker Anyday recipe for Pioneer Woman's Spicy Pulled Pork and Pico de Gallo. These methods are quick and easy—two great things that go great together!
How to peel garlic
Take a clove of garlic and lay it on its side on a cutting board. Place the flat side of a paring or chef's knife on top of the garlic clove.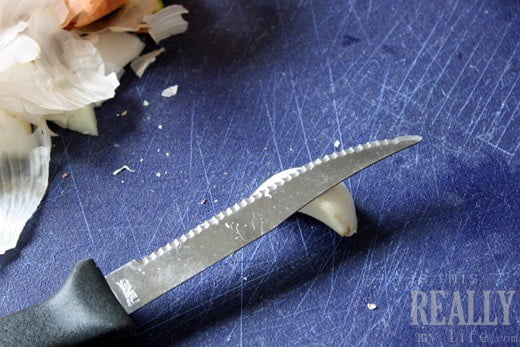 The knife pictured is a good 14 years old and super cheap, but it still works for this little project! Yay for wedding gifts!
Using the heel of your hand, tap the side of the knife using a quick, sharp movement. (Think the same movement you'd use to hit your forehead during one of those "D'oh!" moments.) You don't want crushed garlic, so don't pound it like you would a food chopper tool!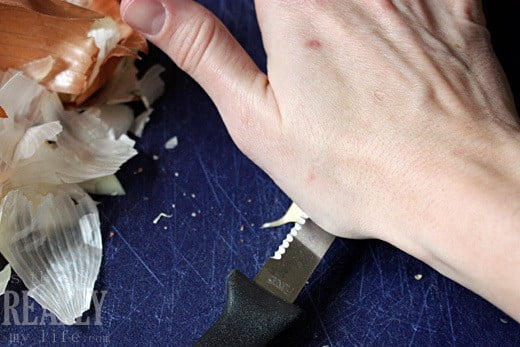 …
That's it! Slice off the root end of the clove and peel away. I always start from the larger, tougher end and peel down the clove. You'll find it so much easier than trying to peel it without gently breaking the "seal" first.
…
How to dice an onion
Slice an onion in half lengthwise.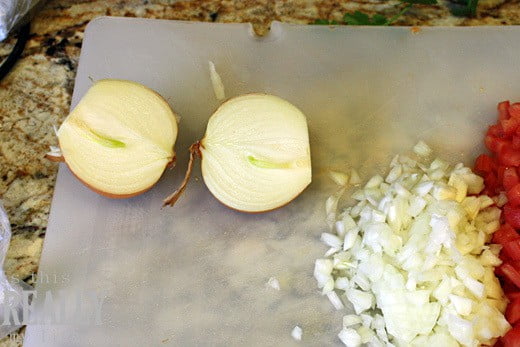 …
Peel off the outer layer. Using a sharp chef's knife or larger paring knife, remove both ends. Lay the onion flat side down on a cutting board and without cutting through one end, make lengthwise vertical slices.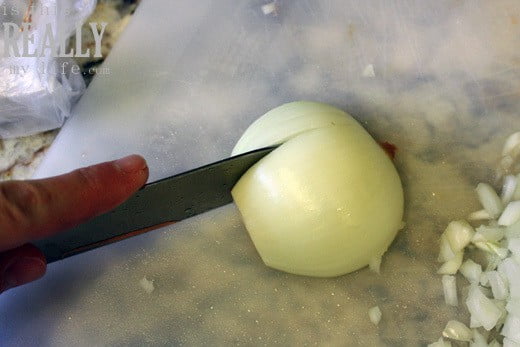 I am not slicing through the far right end of the onion. I'm leaving about a 1/4-inch space.
…
Next, cut the onion in slices horizontally. Again, make sure you leave that same 1/4-inch or so space at the end. Don't cut all the way through!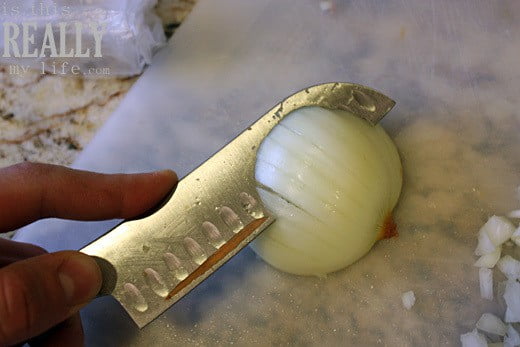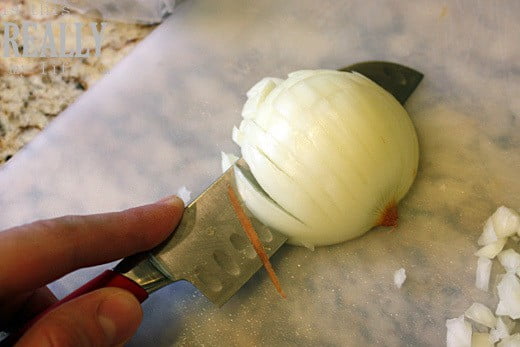 …
Now all you need to do is make vertical slices perpendicular to your original ones and you'll have freshly diced onions!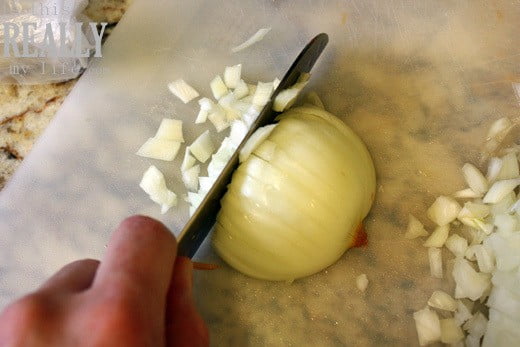 …
In fact, I often use this method to dice a few onions at a time and then freeze the extra so I always have "freshly" diced onion on hand! You can use this same method to chop garlic as well. Just be careful—those cloves are small and the knife is sharp!