Remember those super cute cupcake cell phone charms I made for the Cupcake Conference? Well, I was at it again but this time I went with a wise, old owl that fit my "knowledge" theme for a church lesson. (I'm not ashamed to admit I bribe the young women so they'll like my lessons. Or at least remember I actually taught them something.)
These owl cell phone charms seemed a bit easier to make than the cupcake cell phone charms. It was probably because I wasn't trying to make the perfect headpin loop. Dang, that thing is tricky! This technique was a bit more forgiving. I think I'll stick with it because I can use all the forgiveness I can get when it comes to crafting of any kind.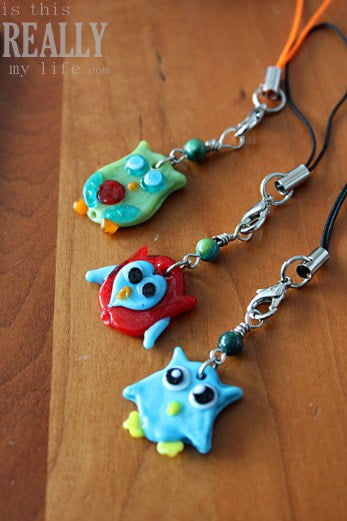 How to Make an Owl Cell Phone Charm
1. Order super cute owl lampwork glass beads from Oriental Trading Company. While waiting for those to arrive, browse eBay for cell phone strap lariats with a lobster clasp (less work for you). Or go for all black, which is what I did for the owl charms. You can find those on eBay as well!
2. Hit your local craft store for the rest of the supplies (aka "findings"). You'll need:
Silver metal eye pins: These are similar to a headpin but have a small loop at the end. Like the cupcake charms, I went with a longer length because I wanted/needed to leave room for error.
Small colored beads: I used green, the color assigned to the "knowledge" value, but you can choose whatever color you'd like (or whatever color is on sale!).
Silver metal jump rings: I'm not sure the size I used (I believe it was 6mm), but I would have a variety of sizes on hand.
Small jewelry making kit: I'd say this is a necessity if you plan to make more than a couple charms. The multiple pliers and the jump ring opener in a kit like this one (top of page) were super helpful.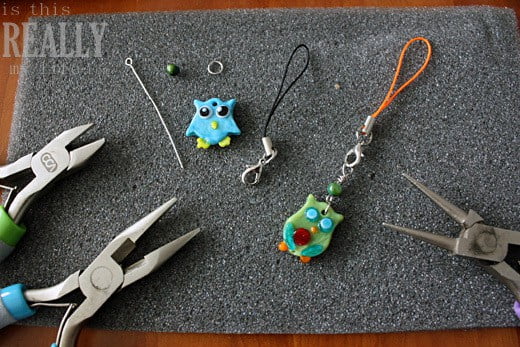 Here we go!
3. Slip your colored bead onto the metal eye pin.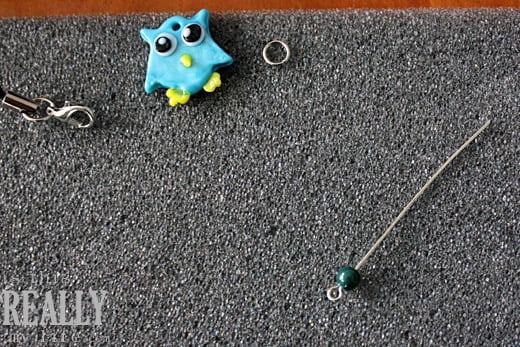 4. Take your needle nose pliers (not the round nose pliers) and leaving a little space above the bead, bend the metal eye pin 90 degrees.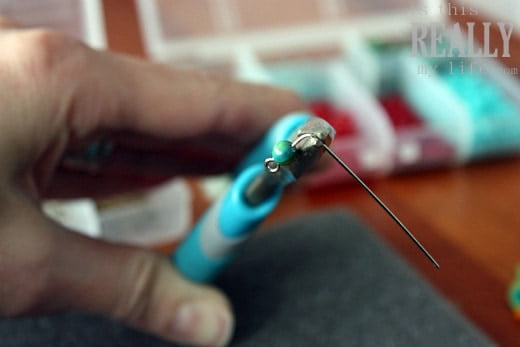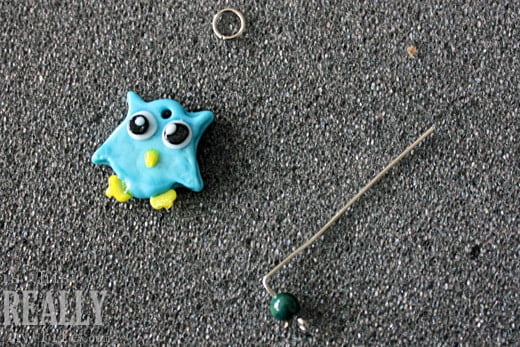 Note the small crumb in the top right corner of the bottom picture. I always have to snack when making charms (or pretty much doing anything).
5. Now, instead of that tricky head pin loop, we're going to simply place the round nose pliers right up against that right angle, clasping the wire between the noses. Grab the long end of the eye pin, wrap it around the top nose of the pliers until you can't go any further. Then switch your pliers so the bottom nose is now inside the loop you just created and finish wrapping it until the end of the eye pin is perpendicular to the owl. (Did I lose you yet?)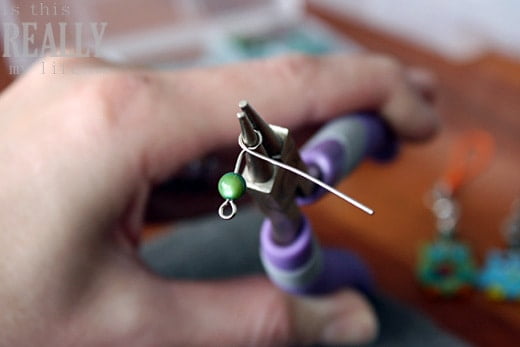 In this photo I've already completed the first part (wrapping the long end around the top nose). Then I removed the pliers and slipped the bottom nose into the loop and finished wrapping the eye pin so it's perpendicular to the charm. I promise it's easier than it sounds!

6. Using the needle nose pliers, hold your new loop and use your fingers to wrap the remaining wire around that space you left above the bead. Leave just a titch of room so you can cut the wire.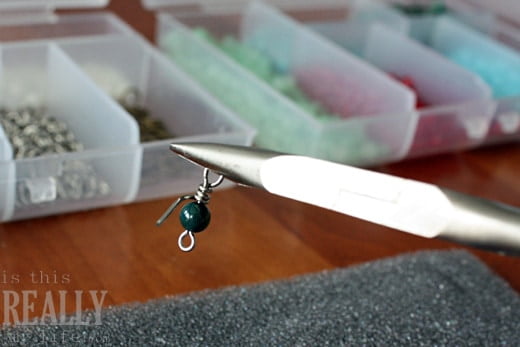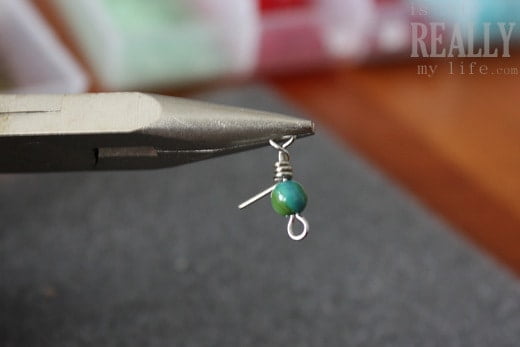 7. Use your flush wire cutter to trim the excess eye pin. Take your needle nose pliers and press the cut end flush with the wrapped wire. You don't want anything sticking out that might snag or catch on something.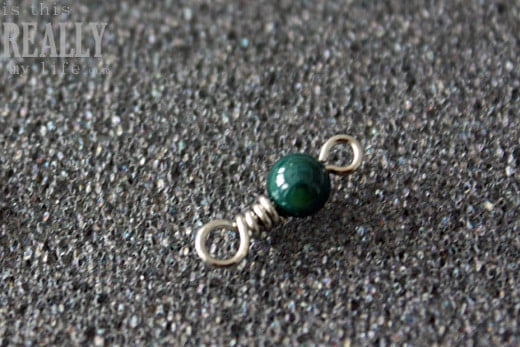 8. Use that handy jump ring opener to open your jump ring.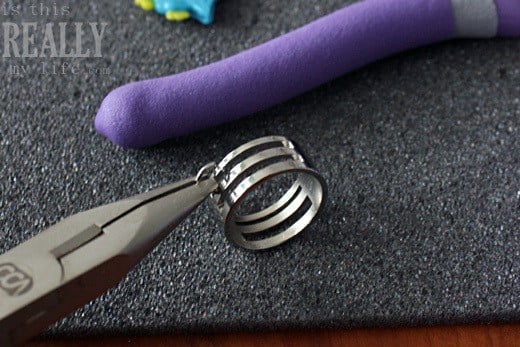 You would actually hold the jump ring opener in one hand and open the jump ring using the other hand, but I only have two hands and one of them had to snap the photo.
9. Insert the opened jump ring into the hole in the owl bead and then slip on your newly created beaded and wrapped eye pin.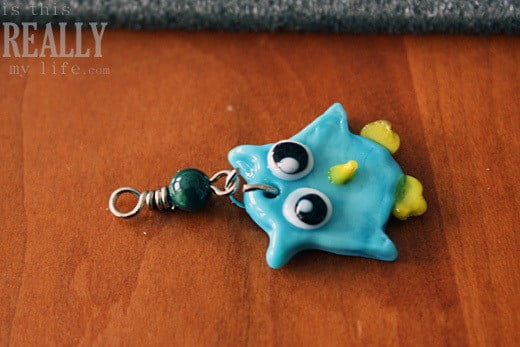 10. Use your needle nose pliers to tightly close the jump ring. Pick your favorite cell phone strap lariat and use the lobster clasp to attach it to the top of your charm.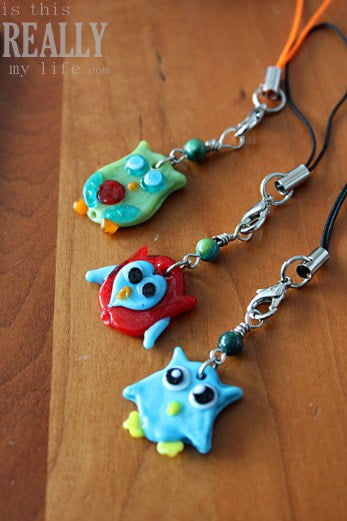 Now for the giveaway part!
I am giving away three owl cell phone charms to ITRML readers PLUS three super "tweet" cell phone charms! (Each winner will receive one of each charm.)
To enter:
Leave a comment telling me how many licks you think it takes to get to the center of a Tootsie Roll Tootsie Pop. (If you don't get the connection between owls and Tootsie Pops, I'm not sure we can be friends.)
For extra entries you can do any/all of the following. Please leave a separate comment for each one you do (each one earns you an extra entry). I like options so I've given you A LOT of them.
~ "Like" ITRML on Facebook.
~ Follow ITRML on Google Friend Connect (sidebar) and/or subscribe to ITRML.
~ Tweet about this giveaway and leave the URL of your tweet.
~ Update your Facebook status with a link to this giveaway.
This giveaway will end at midnight on Tuesday, March 29th. Good luck!
P.S. Because these are custom made and my life is NUTS, please allow a little bit of time for your charms to arrive. Thank you!