Now you all know I'm not the craftiest person around. Sure, I can whip up a cell phone charm and your basic flower hair clip, but anything beyond twisting wire or using a hot glue gun is going to give me the shakes.
Okay, that's not entirely true. I used Modge Podge once without completely destroying the project.
Well guess what? I found another craft project that's totally my speed: the flower cabochon ring.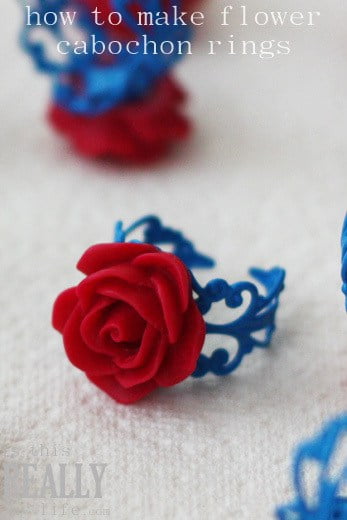 Making it involves only three items, a few seconds and little to no crafting experience. Perfect!
Did I mention each of these fabulous flower cabochon rings cost less than 75 cents to make? I know, the color choice may be a bit crazy but I wanted to give the young women at church an easy way to remember a lesson I taught about divine nature (blue ring base) and Proverbs 31:10 (ruby-red rose).
They're also the perfect accessory for the 4th of July. Extra awesome!
Total cost including shipping for 35 rings? Just over $31.15 thanks to Sun and Moon Craft Kits. I'm already planning my next round of rings—perhaps a few orange vintage cabochon resin flowers (love the #10) with the copper-plated filigree ring base...or maybe even the starburst filigree ring base. The crafty possibilities are endless!
You probably don't need a step-by-step tutorial for making your own resin flower ring because it's so simple, but for those who need an extra little hand holding, here you go!
How to Make a Flower Cabochon Ring
Materials
Cabochon flowers (Lucite roses pictured are 18mm)
Ring bases
E6000 adhesive
Toothpick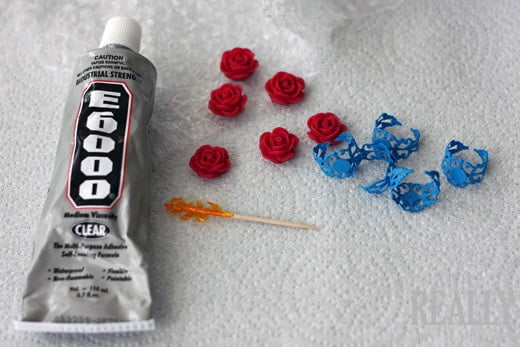 Step 1: Lay out all materials and breathe a sigh of relief the colors you chose are actually going to work.
Step 2: Lightly sand the pad on the ring base and the bottom of the flower cabochon as suggested by the tube of E6000. (I didn't do this and randomly break out into a cold sweat worried the glue won't stick.)
Step 3: Using the toothpick, place a small amount of the adhesive on the ring base pad...I'd guess less than a dollop and more than a titch.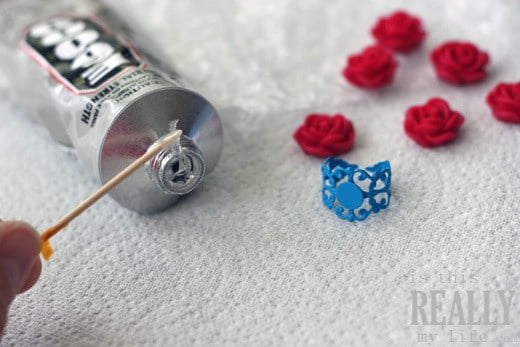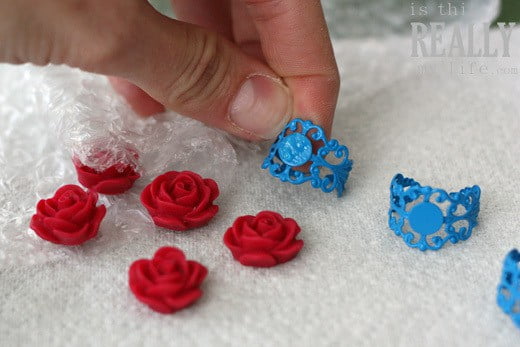 Step 4: Gently but solidly press the cabochon onto the pad. (I pressed it down until I could see a small ring of adhesive around the pad underneath the flower.)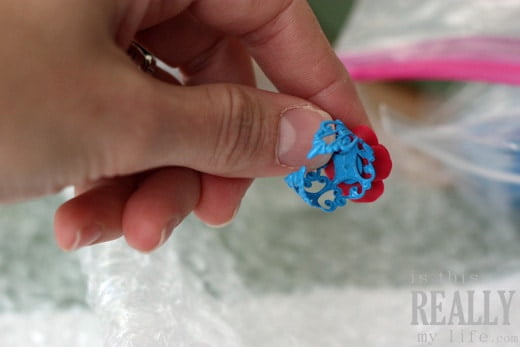 Step 5: Let dry at least 24 hours. I placed them flower-side down so the cabochon had less chance of slipping, but do whatever floats your boat.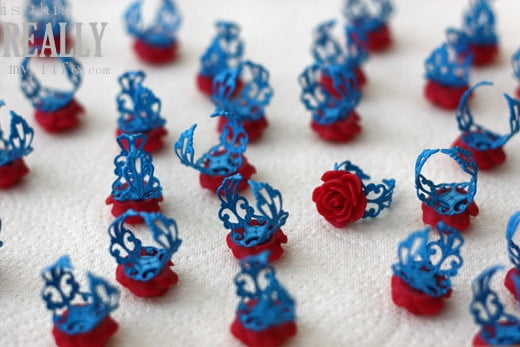 And that's it!
Ridiculously easy, even for me.