Remember my post about the yummy girls' night out (aka Cupcake Conference) and my brief mention about the awesome swag? Well, inside those fun little swag bags was a fun little gift bag with the tiniest of cupcakes—or should I say cupcake cell phone charm.
Believe it or not, I made that "sweet" little charm specifically for the Cupcake Conference. In fact, I made 60 of them. I made 60 of them and did so without any jewelry making or beading experience other than Fruit Loop and pasta necklaces on a string. Just like the conference, the idea started on Twitter with @ryles and @sahans and somehow ended with me looking lost amidst the jewelry supply aisles in Roberts Crafts. But it was well worth the numerous outbursts of  "what the crap am I doing?"
These cupcake cell phone charms may not be the most awesome cell phone charms ever, but they were handcrafted by a non-crafter and made with lots and lots of love (and only one or two swear words at most). The love more than makes up for their "uniqueness," right?
If you've ever felt the desire to make a charm of any kind, I thought I'd share a mini tutorial of how I made the cupcake cell phone charms for the conference. Keep in mind "beginner" is a bit of an overstatement. Also keep in mind I worked on these babies very late at night so the pictures aren't the best. And I don't have a ton of them because, well, I was making 60 charms and I didn't have time—or an extra hand—to mess around with the camera. Here goes!
How I Made Those Super Nifty Cupcake Cell Phone Charms
1. Ordered super cute cupcake lampwork glass beads (thanks, Ryley!) from Oriental Trading Company. While waiting for those to arrive, browse eBay for cell phone strap lariats with a lobster clasp (less work for you)  like these.
2. Hit your local craft store for the rest of the supplies (aka "findings"). You'll need:
Head pins: I went with the longer ones because I wanted/needed to leave room for error
Small red beads: That cupcake needed a cherry!
Silver flower beads: These have a specific name but I can't remember it, but I thought they looked like cute cupcake plates or wrappers
11/0 Japanese-made seed beads, white: You can choose whatever color you'd like. These come in small vials and are the tiniest of tiny beads.
Small jewelry making kit: Though not a necessity, I found having the multiple pliers in a kit like this one (top of page) was super helpful. (Don't forget your 50% off coupon—comes in handy when investing in craft kits for conferences!)
Here's what it all looked like late one night on my dining room table: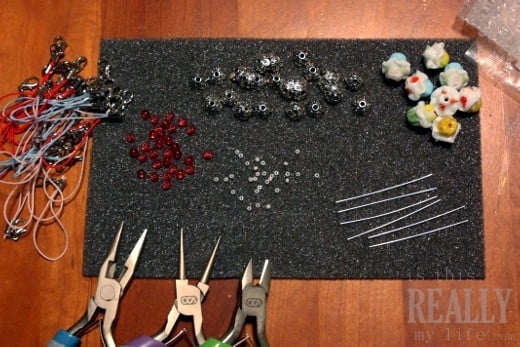 Charm supplies clockwise from left to right: Cell phone lariats with lobster clasp; small red glass beads; silver flower beads; cupcake lampwork glass beads; head pins; 11/0 seed beads. Tools from left to right: needle-nosed pliers, round-nosed pliers,flush wire cutters.
3. Google a decent tutorial on how to make a cell phone charm. I found this post to be the easiest for my non-crafty brain to grasp.
4. Take your headpin and add the following beads in this order: seed, silver flower, cupcake and red. It should look like this: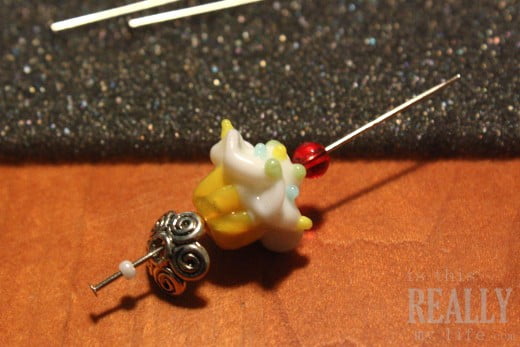 5. Here comes the part that was a bit tricky for me, but after about 50 of these charms I had it down: making a head pin loop. The post above didn't have enough detail so I found this YouTube video (ignore the cheesy background music and skip the 23-second intro):
Another option is after bending the head pin at a 90-degree angle as shown, don't trim it but rather hold the round-nose pliers in place and use the other hand to wrap the head pin around the pliers, then trim. I say do whatever works best! Just make sure the loop is large enough to fit around the lobster clasp.
6. Once you have the head pin loop done, the charm is only one step away from become a cell phone charm! Snag your favorite color lariat and attach it to the charm using the lobster clasp. Voilà! (You still think I'm nifty even though you now know how easy it is to make these charms, right?)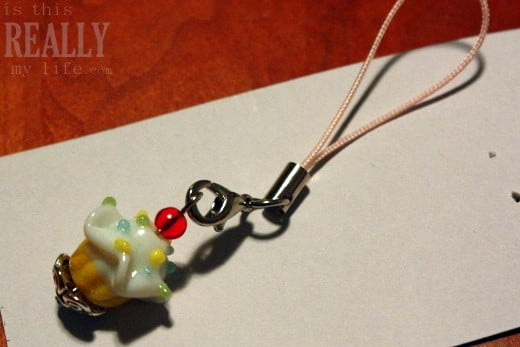 And once you've done steps4 through 6 59 more times or so, you'll have a collection of cell phone charms that looks something like this: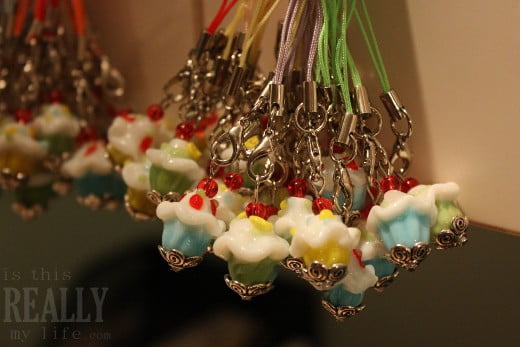 …
Now for the giveaway part!
…
I am giving away three cupcake cell phone charms to ITRML readers!
To enter:
Leave a comment telling me your favorite cupcake flavor. Are you a chocolate love through and through? Or do you prefer something a little fancier like grasshopper or turtle?
For extra entries you can do any/all of the following. Please leave a separate comment for each one you do (each one earns you an extra entry). Just like the FotoFly giveaway (did you enter yet?!?!) I like options so I've given you A LOT of them.
~ "Like" ITRML on Facebook
~ Follow ITRML on Google Friend Connect (sidebar) and/or subscribe to ITRML
~ Tweet about this giveaway and leave the URL of your tweet
~ Update your Facebook status with a link to this giveaway
This giveaway will end at midnight on Tuesday, October 19th. Good luck!