Last July I wrote about our family's trip to San Diego complete with a visit to LEGOLAND, Ruby's Diner, the San Diego Zoo and multiple visits to the beach…all made possible because of our vacation rental. Why? Because a vacation rental is a budget-friendly way to travel, especially when your group includes 6 adults and 5 kids. Saving money on lodging means a little more spending money for things like dinner at Ruby's Diner.
This was the view from the rooftop patio of our San Diego vacation rental:
Oh, and the ocean was about a half block away. The kids (and Grandpa) spend every spare second there.
Who knew one year later we'd find ourselves renting another vacation home.
It's like we knew July was National Vacation Rental Month or something.
This time we were headed to Anaheim and would be meeting another family. We'd have 4 adults and 8 kids between us; I knew a vacation rental was the only way to go. It's much more conducive to socializing and late-night board game parties.
With all those bodies—and all the fun to be had in southern California—I did my research to ensure the vacation rental had everything we needed. We were only a 1/2 mile from Disneyland Resort and a 1/2-hour drive from Huntington Beach. Plus it had a pool and a hot tub.
I'm pretty sure the pool paid for itself 110 times over.
.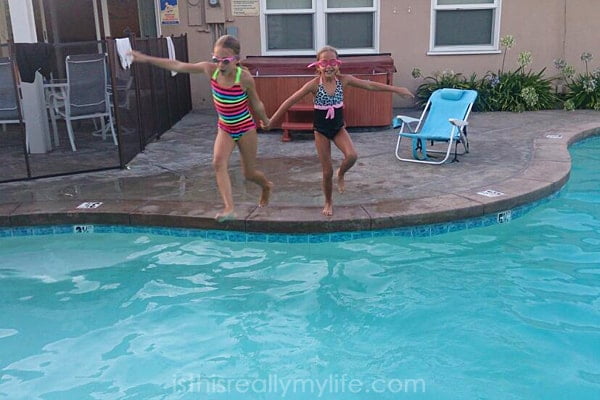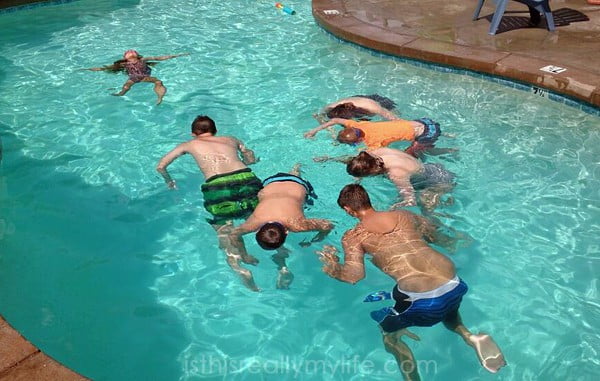 .
Gotta love it when the kids spend time relaxing in the pool, giving the adults a bit of peace and quiet…
In the post about our San Diego vacation, I shared how gifting family trips at Christmas is our newest holiday tradition. (You can read more about it here.) Because we've done the vacation rental thing twice now, I feel like I have some insight as to how to choose the perfect vacation rental and why it's the best way to vacation. But before I get to that, let's talk about Wyndham Vacation Rentals, one of the best resources for finding your home away from home.
And you can totally call it a home away from home because for less than a hotel stay (see last bullet in list below), you get extra space and privacy plus in-home amenities like fully equipped kitchens, washers and dryers, "real" living rooms and multiple bedrooms. Some properties even have shuttle service, concierge and housekeeping. It's like having your cake AND eating it too! Yum!
I hopped online and browsed some of the Park City vacation rentals to see what "staycation" options we'd have and I was surprised with the variety. I found everything from cozier rentals that sleep 4 to spacious (and gorgeous) mountain homes with amazing views and the capacity to sleep 12 or more.
Did someone say adult-only ski getaway???
Not quite sure Wyndham Vacation Rentals is right for you? Check out these stats:
92% of vacation rental travelers say they feel more relaxed after a trip spent in a vacation rental home compared to other lodging options.
On average, vacation rental travelers report having saved $106 per day, or $742 over the course of a week, by preparing some meals in their vacation rental.
73% of rental travelers feel having a kitchen on vacation reduced their stress level every day during a week-long vacation because they were able to save money.
The average price per bedroom per night for a vacation rental is $72.40 compared to $120.98 for hotels (sources: Wyndham Vacation Rentals data; Smith Travel Research U.S. data).
.
Visit the Wyndham Vacation Rentals deals page at WyndhamVacationRentals.com for the latest offers in some of the best summer destinations.
Even if you're not ready to book your rental, you can celebrate the vacation rental journey all month long with Wyndham Vacation Rentals and the company's Road to Happiness Sweepstakes. Join the 33 days of giveaways and the chance to win the grand prize: your own road trip getaway! Enter now and learn how to play at Road2HappySweeps.com!
If you're joining in the National Vacation Rental month celebrations—and who wouldn't want to?—use #VRMonth in your social sharing so we can follow along.
And now for my tips for choosing a vacation rental and why you've gotta try this method of travel.
.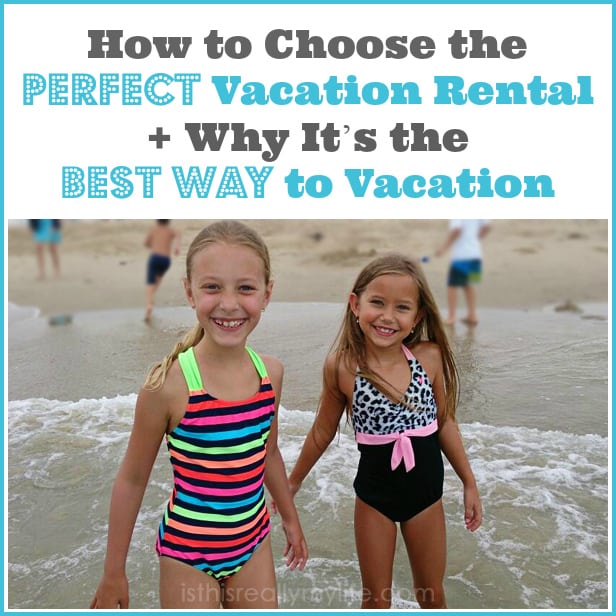 .
How to Choose the Perfect Vacation Rental
Know exactly how many people will be staying at the rental and make sure you have enough beds for every body. And yes, an included air mattress counts as a bed.
Decide how far you'd like to be from your main points of interest. You'll pay more to stay closer to popular attractions but it can be worth it if you're saving money on parking passes and gas and time on travel.
Understand what kind of parking is offered and how many spaces are included. If you need two spaces but only one is attached to the building, ask if there is street parking nearby.
Make sure you know exactly what amenities are included. Do you need/want a slow cooker? Is there a washer and dryer? Does the rental have a private or community pool? If it's a private pool, is there a safety gate? If you need a portable crib, is one available? Are there pool toys, beach towels, board games, DVDs, etc.?
Check to see if the rental includes housekeeping. This is a super nice option but I don't think it's necessary if there's a washer and dryer in the unit and extra linens on hand.
Find out if the property has local maintenance and/or support during your stay. The owner(s) should be easily accessible and quick to respond.
Understand what's included in the price. Is there an original deposit and/or cleaning deposit? Does it include local calls (not that anyone uses old-school landlines much anymore but still), access to on-site amenities like fitness rooms or the shuttle?
Read the reviews! I read as many reviews as I feel I need to until I'm familiar with the rental and feel I know its pros and cons. Hopefully there aren't many cons, but if it has one or two, I ask myself if it's something we can live with, especially if everything else about the rental is perfect. I especially love looking for repeat renters. This tells me they truly enjoyed staying there.
.
Why Vacation Rentals Are the Best Way to Travel
When you do the math, vacation rentals are generally far more affordable than a hotel stay. The money you save on food alone will surprise you.
If you have a larger family, you can avoid the problem of coordinating multiple hotel rooms. Of course, multiple hotel rooms could be nice if the adults are in one room and all the kids are in another…
You'll enjoy a lot more personal space in a vacation rental than you would in a hotel room. This helps cut down on the occurrences of "he touched me!" and "she's totally in the way!"  It doesn't cut down on the occasional "he's looking at me funny" but I haven't yet found something that does.
Vacation rentals make traveling with friends and extended family a lot more fun. It's much easier to hang out when you have a family room or living room in which to congregate. Plus, that vacation rental can get even more affordable when you're splitting the cost.
Being able to do laundry whenever you need to (and in your pj's) is a total bonus, especially if you're staying anywhere near water, be it swimming pool, lake or ocean.
Access to a full kitchen is more awesome than you think. It makes packing meals a cinch (saving you money!) and allows you to refrigerate and reheat yummy restaurant leftovers. Plus you can dine in as often as you'd like, which is super nice after a long day. No need to change out of your swimsuit, sweats or yoga pants.
More bathrooms! This comes in super handy when you have 4 kids and 2 of them are teenage girls.
Some vacation rentals allow pets making that vacation easier on your checkbook…and your heart.
A vacation rental feels more like a home.
.
Happy vacationing!
I was selected for this opportunity as a member of Clever Girls and the content and opinions expressed here are all my own.
.
If you're looking for more vacation and travel ideas, you should browse my vacation & travel Pinterest board.
.
Follow Emily Hill's board vacation & travel on Pinterest.
.

Feel free to "like" is this REALLY my life? on Facebook. It won't always earn you an extra entry in a giveaway but it will give you warm fuzzies.
Don't forget to sign up for free is this REALLY my life? updates via RSS or email so you don't miss a single awesome post.
.