Or in other words, how two parents went from "you can get a dog when you're living on your own (or when hell freezes over, whichever comes first)" to buying their 11-year-old daughter a puppy for Christmas.
This puppy, to be exact.
…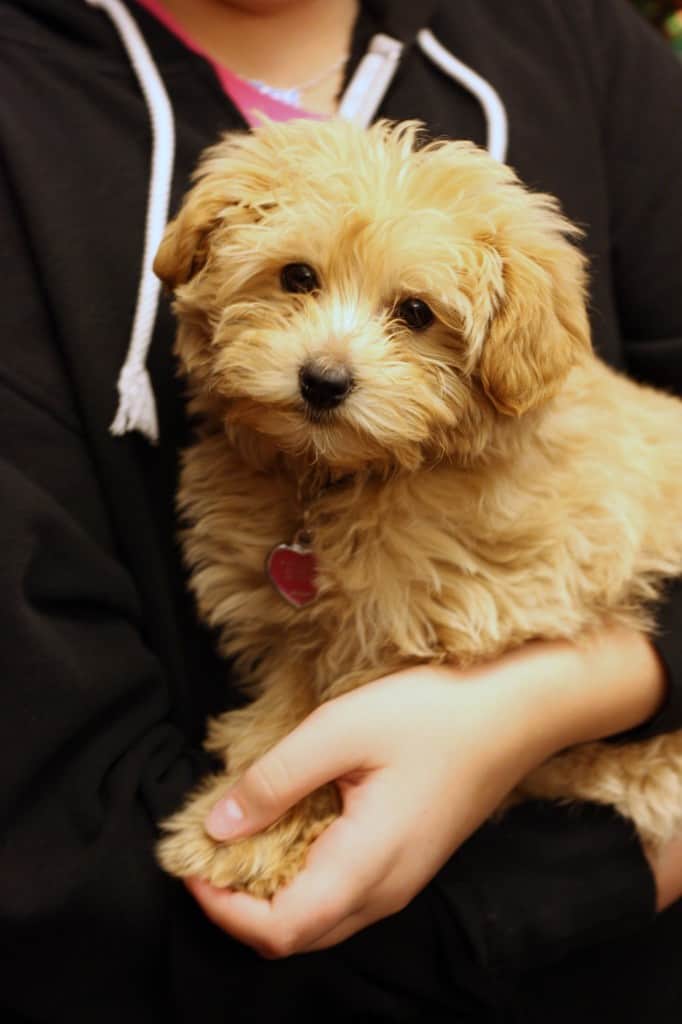 …
It's a good story.
About seven years ago when Lauren was five…
…I convinced Nathan to go with me to a PetSmart adoption day to "just look" at the dogs needing families.
Yeah, I know. "Just looking" ends up being "just taking one of those adorable dogs home."
And home we came with a puppy that looked like a mini black lab. Lauren was in heaven. I was not. Jack was super cute and easily trained but the girls? Not so much. I did it all, and when I found myself pregnant a couple months later—and found dog hair on my kitchen counter, I was done. We quickly found Jack a nice home with a dog-experienced family and knew that was the first and last dog we'd own.
Flash forward seven years. Actually, let's flash forward about five when Lauren decided she would ask us for a pet at least once every few weeks. Sometimes a month or two would go by and we'd think she'd finally given up. Alas, no. When Nathan and I told her numerous we were not pet people and would never have another dog (or a hamster or gerbil or guinea pig or cat or lizard or frog or turtle), she thought we were really saying we'd think about it and get back to her when we changed our mind…because we'd eventually say yes.
I love the way kids think.
And I love that we had no idea she was right.
Now for the moment when the universe shifted.
It was late November and nighttime, just before Lauren headed to bed. She asked if she could talk with Nathan and me for a moment. We sat around the kitchen counter and watched as she pulled out a few papers. The papers contained extensive research she's conducted over the past week or two. She'd not only found what she felt was the perfect dog breed for our family (Yorkshire Terrier) but she'd also calculated the cost of owning a dog that size, including food and grooming. Lauren had also listed everything she would do for the dog, from walking and training to brushing and picking up poop. (We'd heard that before.)
But here's where that shifting-of-the-universe thing happened.
As we're sitting there, Lauren starts to tear up as she tells us how this dog will always be her best friend, and how it will be her best friend even when her other friends turn on her at school or don't want to hang out with her.
She can barely get through this part because she's trying so hard not to cry.
Nathan and I know all too well the struggles Lauren has had with friends. They started in kindergarten. Her grade has a group of girls who are downright nasty, and I'm not just saying that because my daughter has been their target. A girl in our neighborhood changed schools because of this group's behavior, and since second grade the teachers have told me it's constant drama. My heart has broken many a time for my sweet Lauren, but not as many times as hers.
As Lauren heads upstairs, Nathan and I look at each other and without saying a word, I know we're thinking the exact same thing: hell just froze over.
Granted, it took a good couple weeks for me to realize Lauren would get her wish (and another good week or two for Nathan to hop on board). I was still iffy about the whole thing until my mom sealed the deal.
Yes, my mom. The same mom I thought would tell me we were crazy for getting another dog. After our conversation—and her reminding me how alike Lauren and my sister are—I knew Lauren would be getting a dog for Christmas.
And after endless hours of searching PetFinder.org and KSL classifieds, we found Coco. My sister and I visited the KSL puppies on Thursday, December 15th. Two days later, after the Utah Symphony and The Pie—and under the ruse we were visiting Megan's horse at the barn—, we pulled up in front of what my kids thought was a random house at the end of a dirt road.
We walked through the front door and when Lauren saw the puppies, the first thing she said was, "Are you trying to make me jealous?" Yes, my daughter thought I brought her there to tease her. I may be mean, but I'm not THAT mean. I turned to her and said, "MERRY CHRISTMAS!" and saw her eyes light up like I've never seen before.
Once Lauren had finally chosen Coco, we started to head out the door. That's when, with tears in her eyes, Lauren passed her new puppy to Madison so she could thank me as she hugged me.
This time those tears were joyous ones.
Oh, how we love our Coco. And our Lauren.
And I will say, Lauren has done everything. Those first couple nights, she got up with Coco every time she wimpered, taking her outside in 30-degree weather and getting very little sleep. She's been training her, brushing her, even bathing her after a romp in the backyard mud. (Holy crap, that little thing hides a lot of dirt in that hair of hers!) And that Coco loves Lauren best of all…which is just how we had hoped it would be.
All is right in the world.
Or at least it will be once that puppy is finally potty trained.