For a while I was on this kick to make homemade honey whole wheat bread for the family instead of buying our favorite Prairie Grain Bread Co. bread from Costco. Steph was once again my inspiration with all the bread making she was doing and the beautiful loaves of whole wheat bread coming out of her oven.
…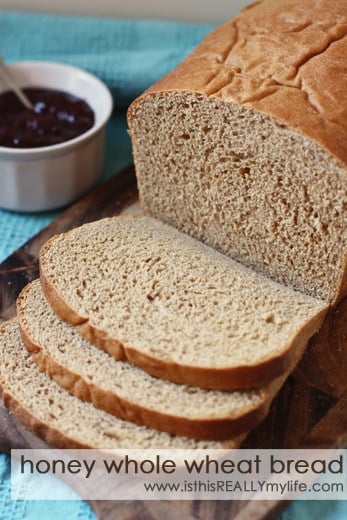 …
I probably made at least eight loaves of whole wheat bread, two of which were edible. I either killed my yeast with boiling hot water or forgot the salt or left the loaves to rise until they overtook my kitchen.
I blame that last one on an outdoor Christmas program followed by hot chocolate and donuts during our annual neighborhood Walk to Bethlehem.
In fact, I blame a lot of things on donuts.
But I'm here to tell you those two loaves of honey whole wheat bread I made were absolutely delicious. And believe it or not, it was a recipe I created by combining three different whole wheat bread recipes.
I know—I totally created my very own recipe. It's another Christmas miracle!*
Through the process of discovering what I think is an absolutely delicious loaf of honey whole wheat bread, I realized baking bread weekly is not my thing. Life gets far too distracting and I haven't the patience for it. So until I do, we'll let Prairie Grain Co. bake our loaves of bread and save the homemade stuff for special occasions…like late-night TV watching with Nathan.
And PMS.
Printable recipe for honey whole wheat bread below.
…

Honey whole wheat bread
After trying multiple wheat bread recipes, I finally tweaked one until I'd found the perfect one. My family thinks it's the best so far!
Author:
Emily ~ isthisREALLYmylife.com
Ingredients
1 cup lukewarm water
2½ tsp instant yeast
¼ cup orange juice
¼ cup melted butter
¼ cup honey
2 cups red wheat flour
1 to 1½ cups white wheat flour
¼ cup nonfat dry milk
2 T gluten
1¼ tsp salt
Instructions
Dissolve yeast in warm water and set aside.
In a large bowl, combine remaining ingredients and stir until dough starts to leave the sides of the bowl. Dough should be soft and pliable though not overly sticky.
Transfer dough to a lightly greased surface and knead for 6 to 8 minutes. You can also mix and knead the dough using an electric mixer with a dough hook.
Transfer dough to a lightly greased bowl, cover and allow to rise until nearly doubled in size, approx. 1 to 2 hours depending on the temperature of your kitchen.
Remove dough and place on lightly greased mat or counter. Shape into an 8" log and place in a greased 8½" x 4½" loaf pan. Cover loosely with lightly greased saran wrap or kitchen towel and let rise for another 1 to 2 hours or until the center of the loaf is 1" above the edge of the pan.
Preheat oven to 350 degrees and bake for 20 minutes. Tent with aluminum foil and bake another 15 to 20 minutes until done.
Remove from loaf pan and place on a wire rack to cool completely before slicing. Store at room temperature in a plastic bread bag or covered with saran wrap.
Notes
* Play around with the amount of flour, starting with less rather than more. Depending on how you measure your flour (e.g., spooned into the measuring cup versus dipping the cup into the container), you'll need more or less than the recipe calls for. Weather can also play a huge part in the dough's consistency and amount of flour and/or water needed. * You can find bread bags at most grocery stores next to the sandwich and freezer bags. Instead of a zip lock, they feature a twist-tie design.
…
* The first miracle was getting 90% of our Christmas presents wrapped before midnight on Christmas Eve.
…

Feel free to "like" is this REALLY my life? on Facebook. It won't always earn you an extra entry in a giveaway but it will give you warm fuzzies.
Don't forget to sign up for free is this REALLY my life? updates via RSS or email so you don't miss a single awesome post.
…